Baking with healthy fats. This Fudgy Chocolate Avocado Cookies recipe uses the creaminess of the plant based avocado over butter and it works like a charm! They are rich, creamy and super soft.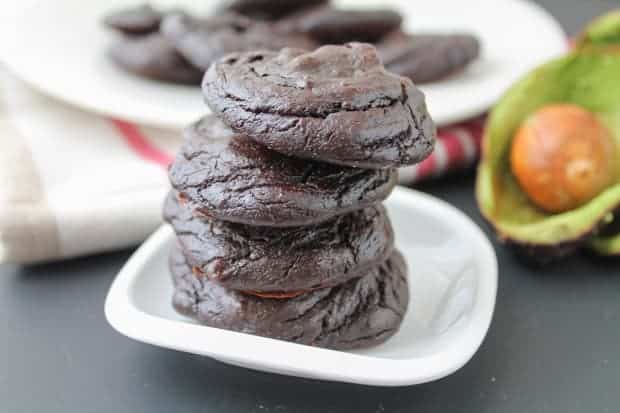 Before I get started on what's involved in making these incredibly decadent and healthy cookies, I have to disclose the secret ingredient.
You would probably have no idea what's behind the fudgy consistency if I didn't tell you.
Buuuuuut, since this IS a healthy recipe blog, the entire point is to break down the components.
So here it is: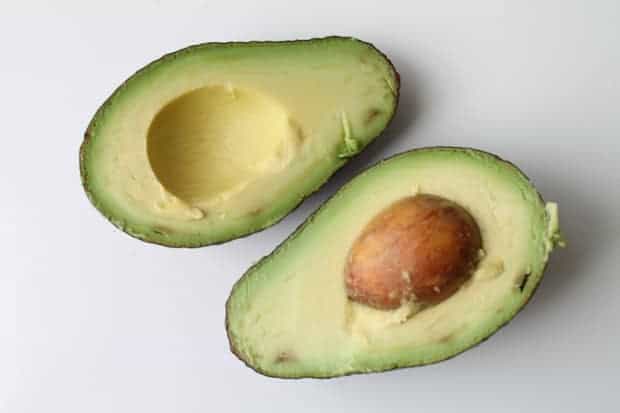 That's right! Avocado!
Some of you may remember these fudgesicles I made last summer using avocado. If you tried them I'm sure you were blown away as I was at not only how creamy and fudgy the avocado made the ice pops, but how well the flavour just blended. Virtually no hint of avocado.
It's a great way to sneak in the healthy fats and get rid of the less beneficial ones.
And not that I'm an advocate of lying but, if you have a picky family member, there is no need to tell them. That's not really lying anyways. Just offer them a chocolate peanut butter cookie and end it at that. Then you will be busy stopping them from eating the whole batch.
Trust.
FUDGY CHOCOLATE AVOCADO COOKIES
The chocolate flavour is from cocoa powder. Did you know that cocoa may provide antidepressant benefits? Makes sense if you think about it. I know I feel happier after I've scarfed down a handful of chocolate chips. 😉
Cocoa contains a substance which is a neurotransmitter found in the brain that acts as a mood elevator and natural antidepressant.
Nice.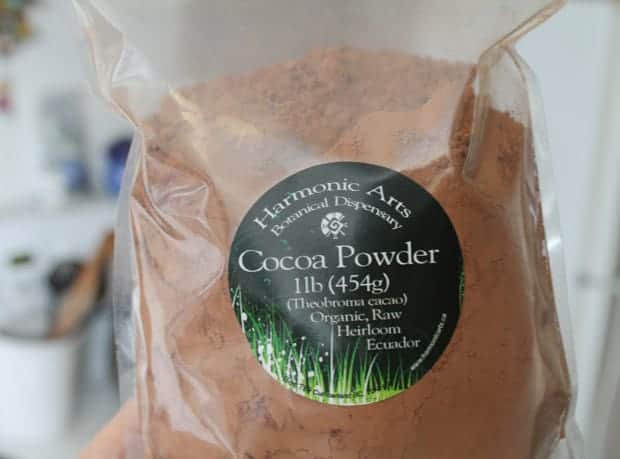 Blend together the avocado with your sweetener.
I'm loving coconut sugar lately.
It has such a rich, caramel-y taste and blends up well in cookie batter. Give it a good mix so there aren't any tell-tale chunks of avocado.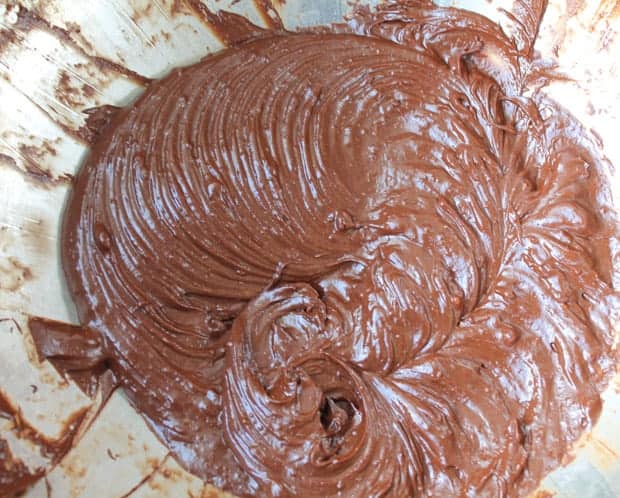 Scoop heaping tablespoons of the batter onto a parchment lined baking sheet.
After they have baked, let them fully cool.
As per my taste, I like my chocolate-y treats cold so I popped these babies into the fridge. Joe preferred his at room temperature.
They were heavenly after dinner with a piping hot peppermint tea.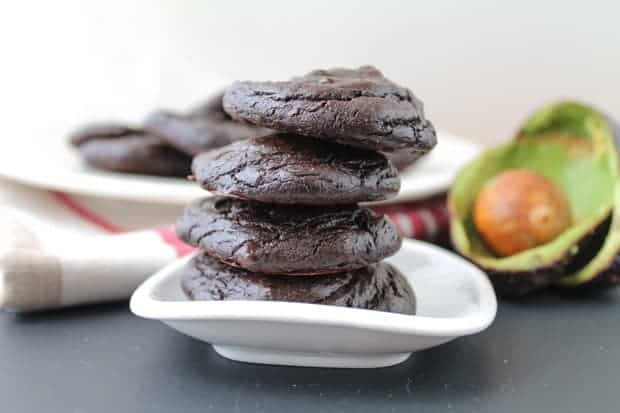 With that winning combo of chocolate, peanut butter, and avocado (!) these didn't last long. 😉
Enjoy!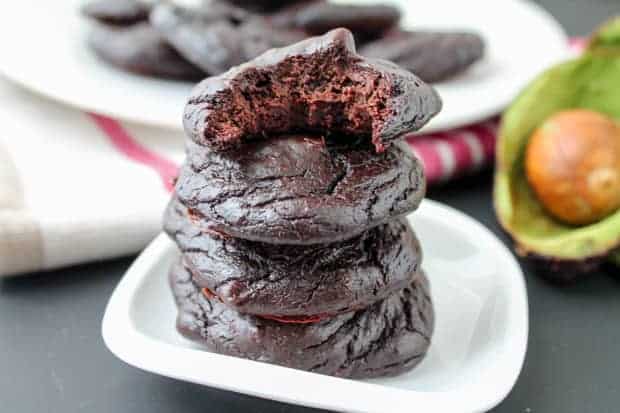 MORE GLUTEN FREE SNACK RECIPES:
Double Chocolate Hazelnut Torte
Lemon Berry Quinoa Flour Muffins
Chocolate Chip Chickpea Cookie Bars
Originally posted  February 3, 2014. Updated September 1, 2019
Be sure to follow me on social media! I love pinning to Pinterest, sharing on Facebook and posting pics to Instagram. See you there. 🙂
As an Amazon Associate I earn from qualifying purchases.
I use non toxic ceramic cookware.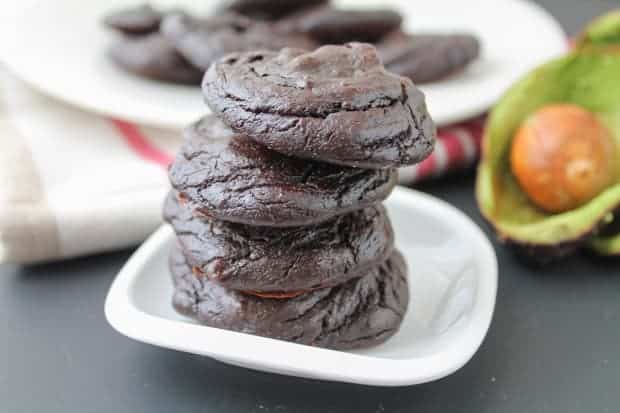 Fudgy Chocolate Peanut Butter Cookies
Baking with healthy fats. This Fudgy Chocolate Avocado Cookies recipe uses the creaminess of the plant based avocado over butter and it works like a charm!
Keyword:
chocolate avocado cookies
Instructions
Preheat oven to 350 and line a baking sheet with parchment paper

In a large bowl, using a mixer, cream together the avocado and coconut sugar until smooth, then add in the egg. Mix it all together until no chunks of avocado remain

Add in the cocoa powder and peanut butter and mix again

In a small bowl, dissolve the baking soda in the water and stir it into the cookie batter

Spoon heaping tablespoon portions (this recipe makes a dozen) onto the parchment lined baking sheet. Use a spoon to swirl the batter into flattened even rounds. They won't spread out very much

Bake for 10-12 minutes and let cool for another 10 minutes. They may slightly stick to the parchment so peel them off carefully

Store these in a covered container in the fridge
Nutrition Facts
Fudgy Chocolate Peanut Butter Cookies
Amount Per Serving
Calories 125
Calories from Fat 72
% Daily Value*
Fat 8g12%
Cholesterol 13mg4%
Sodium 122mg5%
Potassium 210mg6%
Carbohydrates 11g4%
Protein 4g8%
Vitamin A 45IU1%
Vitamin C 1.7mg2%
Calcium 13mg1%
Iron 0.8mg4%
* Percent Daily Values are based on a 2000 calorie diet.