Fudgy Black Bean Brownies – Gluten Free + Vegan
These Fudgy Black Bean Brownies will make you a flour-less believer! This recipe is healthy, easy to make and also both vegan and gluten free.
I debated whether or not to put 'black beans' in the title of this recipe.
Truly you would never know the beans were there and I don't want to scare people off from trying these amazingly fudgy and decadent brownies.
After the massive success of these Chickpea Cookie Bars, I knew that baking with beans was going to become a thing.
I mean, seriously, baked goods like brownies and cookie bars with the natural protein power of beans?
Gluten Free?
Vegan to boot?
Done, done, and done!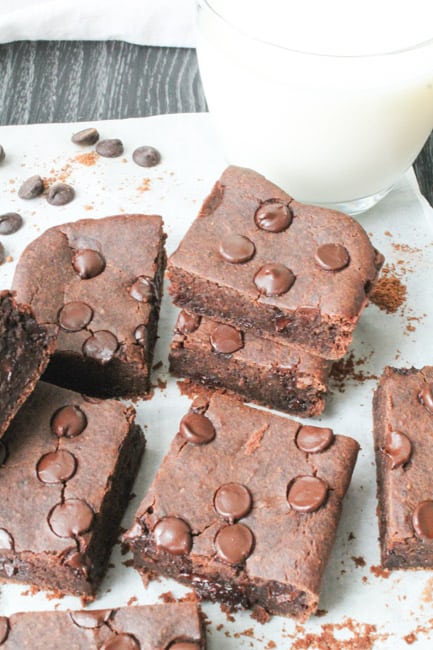 OK, enough yakking about it! Let's get going!
HOW TO MAKE FUDGY BLACK BEAN BROWNIES
Like the cookie bars these babies are super easy.
I tossed some oats (look for certified gluten free varieties) and whizzed them into a flour in my food processor.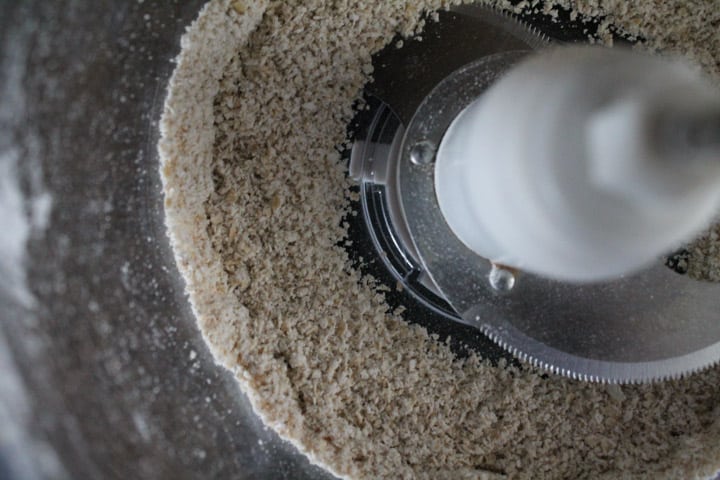 Add in the rest of the ingredients, less the chocolate chips, and process until totally smooth.
Look how fabulously fudgy and creamy this batter looks!
No evidence of beans whatsoever. 😉
Stir in the dark chocolate chips.
I poured this delicious batter ( which did get sampled more than once! 😉 ) into a parchment lined loaf pan and dotted the top with a few more dark chocolate chips.
Into the oven it goes to create magic.
Keep baking it until the delicious cracks start to form on top. Tell me this doesn't look soooo good!
Slice them into bars and share.
Don't tell anyone the ingredients first, though.
I love the look in people's face when I disclose the 'secret' ingredient. It's fun!
Most of my friends and co-workers already know that when I come bearing treats there's always a 'healthy' twist to them so I can be greeted with some suspicion, but even the biggest skeptics always hit me up for a second piece.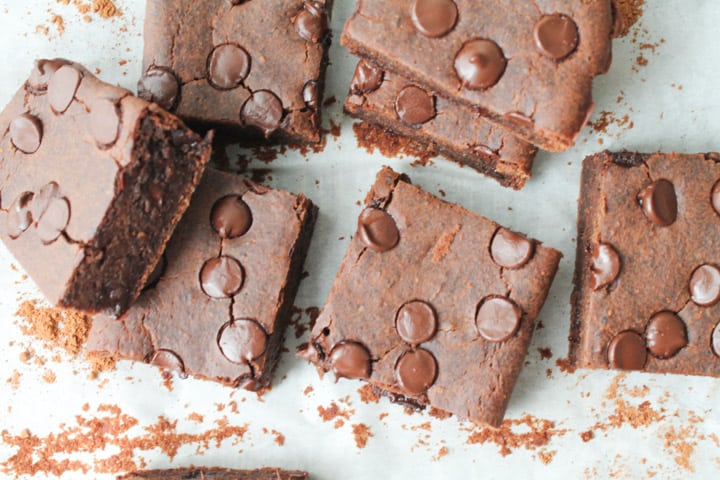 I cut this batch into small squares so there was enough to go around.
This would be an awesome dessert if you cut it into large bars and top them with ice cream and maybe a drizzle of chocolate sauce or caramel.
Even just a big glass of milk is a nice accompaniment.
Enjoy! 🙂
MORE HEALTHY GLUTEN FREE SNACKS:
Chickpea Chocolate Chip Cookie Bars
Chocolate Peanut Butter Hemp Seed Balls
Originally posted on June 13, 2014 . Updated March 18, 2020
Be sure to follow me on social media! I love pinning to Pinterest, sharing on Facebook and posting pics to Instagram. See you there. 🙂
As an Amazon Associate I earn from qualifying purchases.
Fudgy Black Bean Brownies – Gluten Free & Vegan
Instructions
Preheat oven to 350 and line a loaf pan with parchment paper

In a food processor, grind the oats into a flour

Add the remaining ingredients, except the chocolate chips, and blend until completely smooth

Stir in the chocolate chips and pour into your prepared loaf pan. Scatter the extra chocolate chips over the top

Bake for 25-30 minutes, checking that the centre is firm and the edges are beginning to brown and crack

Transfer to a wire rack and allow to cool in the pan for 15 minutes. Transfer it from the pan and allow to cool for another 30 minutes before slicing
Nutrition
Calories:
137
kcal
Carbohydrates:
20
g
Protein:
4
g
Fat:
4
g
Saturated Fat:
2
g
Sodium:
141
mg
Potassium:
231
mg
Fiber:
3
g
Sugar:
10
g
Vitamin C:
0.7
mg
Calcium:
54
mg
Iron:
1
mg