Hey everyone! I've missed you. 🙂 My vacation out west was so nice. I do have a lot of photos to sift through ( by a lot, I mean 300+ ) and once that is done I plan on tossing up a post or two about my trip. You know, in case anyone is interested or maybe have plans to travel to Vancouver Island. And also, it's kinda nice for me to have to look back on. Like a little travel diary of sorts.
But first, a girls gotta eat.
And even though that's pretty much what I did for the entire time I was on the island, I still needed some energy to see me through the process of getting back to the grind.
Work, clean, laundry, repeat.
Ooops … and EAT. Don't forget eat. Work, eat, clean, eat, laundry, eat, Real Housewives of Wherever, eat. 😉
The cute bowl and sweetheart teaspoon set were gifts from my best friend. Bought for me during our travels up Vancouver Island. Thanks Julie!
So since I have a crap load of laundry to do, you know how it is when you get back from a trip, I wanted something quick. I also wanted something cold. Ontario = Humidity. Ugh. For me, chocolate is the best cold, so I immediately went into chocolate balls mode.
Chocolate and peanut butter. Am I speakin' your language?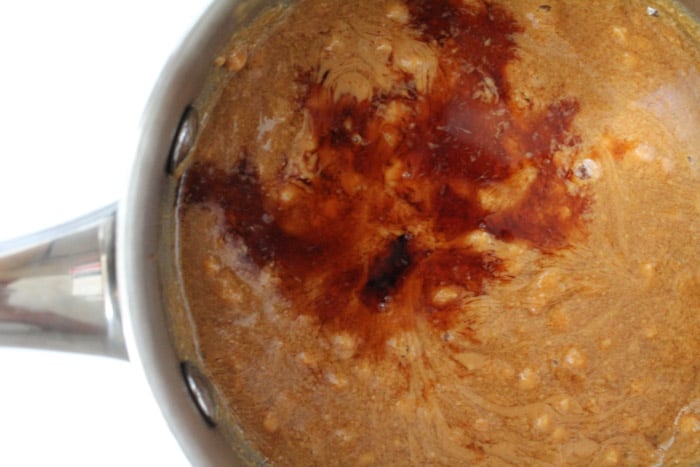 To give these balls a little oomph, I rolled them up with oats (choose a certified gluten-free if needed) and my favourite little nutritional powerhouse, the mighty hemp seed. Hemp seeds are so great for texture.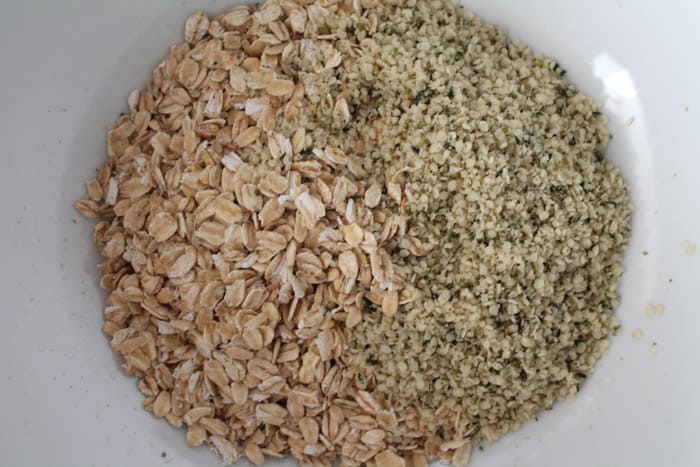 Mix it all together and you have something that looks a little like this: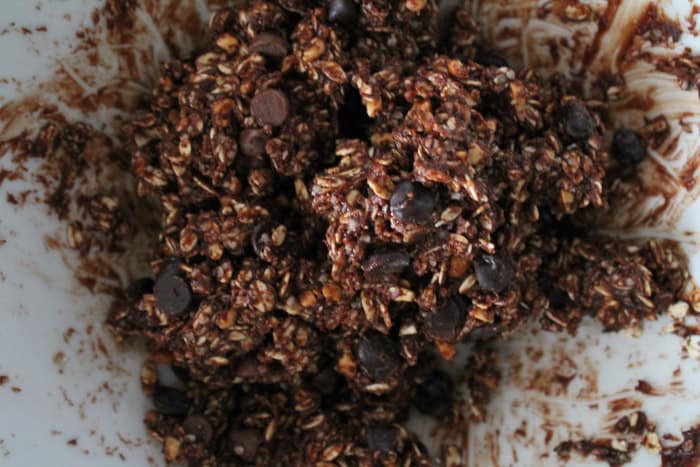 Roll it into golf ball sized ball and into the freezer they go to set.
I liked mine best after a good stint in the freezer. I'm all about the cold, chocolaty treats.
Enjoy!
As an Amazon Associate I earn from qualifying purchases.
Chocolate Peanut Butter Hemp Seed Balls
Keyword:
chocolate peanut hemp balls
Instructions
In a large mixing bowl, stir together the oats and hemp seeds and set aside

In a small saucepan over medium low heat, melt together the maple syrup and peanut butter. Once it is well blended, stir in the vanilla, herbamere, and then the cocoa powder

Add the peanut butter mixture to the oats/hemp seeds and mix together really well

Pop the bowl into the fridge for five minutes to cool it down before adding the chocolate chips. This ensures they don't melt and the chocolate chips remain whole

Stir in the chips ( I used my hands) and mix well again

Roll into golf ball sized balls, wetting your hands every now and then. Let them firm up in the freezer for about an hour

Store in the fridge or freezer
Nutrition Facts
Chocolate Peanut Butter Hemp Seed Balls
Amount Per Serving
Calories 248
Calories from Fat 144
% Daily Value*
Total Fat 16g 25%
Sodium 104mg 4%
Potassium 234mg 7%
Total Carbohydrates 18g 6%
Protein 10g 20%
* Percent Daily Values are based on a 2000 calorie diet.