This Strawberry Hemp Milkshake is a sweet, healthy treat! Vegan and gluten free, this recipe caters to all. Skip the processed sugar laden milkshakes and enjoy what nature has to offer. So easy to make and packed with plant protein via creamy hemp seeds. It's is the perfect refreshment for spring or summer.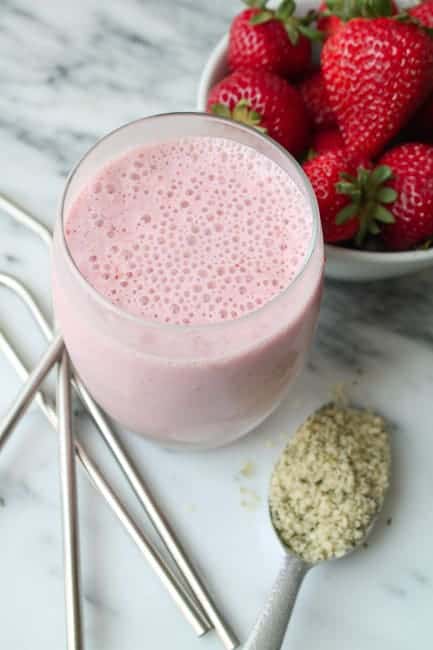 Usually, writing posts for my website is a breeze. I grab my laptop and a cup of tea and get comfortable. For the next thirty or so minutes you will hear the steady click of the keys as the voice in my head translates to words on the screen.
Boom.
But what do I do when the words don't come? Until today I haven't had that issue. Today, I'm still profoundly sad about Robin Williams' tragic passing and it's hard to think about anything else. The weirdest thing was that when I heard the news I wasn't totally surprised. I almost immediately teared up and was instantly sad, but not shocked.
He's mostly remembered for comedic roles like "Mrs. Doubtfire" or "Mork from Ork", but I was incredibly moved by his serious roles. You could feel the heartbreak in his voice when talking about his wife in "Good Will Hunting". I was depressed for a week after seeing "Awakenings". There is a palpable sense of grief that he could 'portray' on screen. I put portray in quotes because I suspect a lot of that emotion was painfully real.
Growing up with mental illness liberally peppering both sides of my family, I am sensitive when it comes to matters relating to it. Frankly, it's a huge factor why I educate myself on preventing illnesses of all kinds through nutrition. It's why I meditate. It's why I remind myself daily of all of the things I'm grateful for. To keep me sane.
Comfort foods are good for times like these and this milkshake is a timely recipe. A childhood favourite renewed with whole food healthy ingredients.
STRAWBERRY HEMP MILKSHAKE
I used frozen organic strawberries, almond milk, and a hit of vanilla and maple.
Hemp seeds are always a favourite method of obtaining plant protein and are great in this milkshake. Toss it all in the blender.
You can see my cat, little Louis in the background. He's eating his lunch and is now giving me the stink eye because he sees the blender. Blender = noise. Sorry about that, Lou.
After a nice spin in the blender, this mixed into a pale pink, frothy pitcher of sweet, creamy goodness.
I actually popped our glasses into the freezer before I started making this milkshake and they were the perfect frosty vessel to enjoy it in.
I already started feeling a little better.
So, please forgive me if you found this post a little heavy. It's just what's reality right now.
Please take care of yourselves, everyone.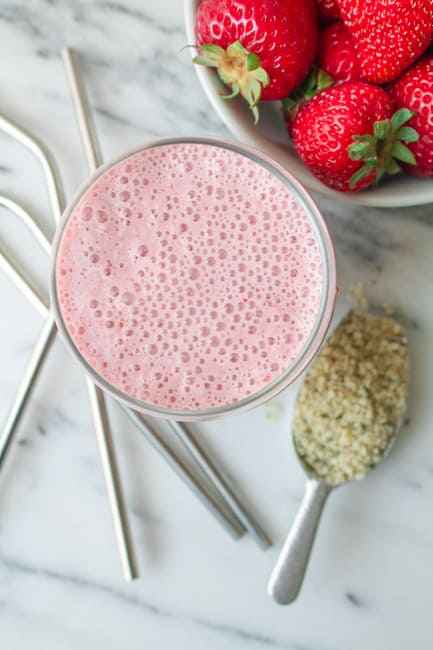 MORE HEALTHY SMOOTHIE RECIPES:
Creamy Blueberry Breakfast Smoothie
Creamy Orange Avocado Smoothie
*Originally posted August 13, 2014. April 14, 2019*
Be sure to follow me on social media! I love pinning to Pinterest, sharing on Facebook and posting pics to Instagram. See you there. 🙂
As an Amazon Associate I earn from qualifying purchases.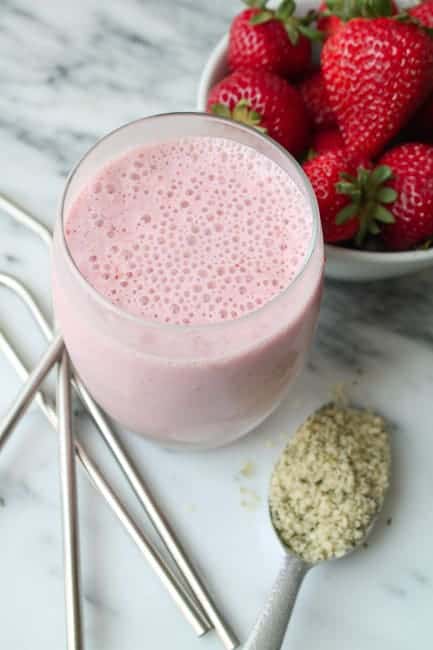 Strawberry Hemp Milkshake – Vegan & Gluten Free
This Strawberry Hemp Milkshake is a sweet, creamy healthy treat! Vegan and gluten free, this recipe caters to all. So easy to make and packed with plant protein.
Keyword:
strawberry hemp milkshake
Instructions
Place all ingredients in your blender and blend until smooth and creamy