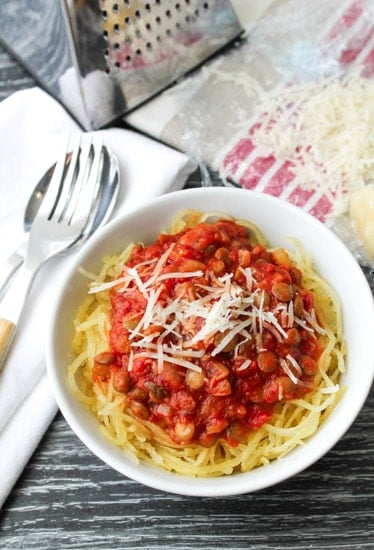 The first time I made a lentil stew my impression was that lentils were kinda beefy. It was unexpected. Lentils did not taste anything like I thought they would. They also don't smell good when you cook them. That's an FYI for the lentil newbies out there. Cooking lentils smells a bit gross, but eating lentils is not! The 'beefy' flavour that I pick up makes them a great meat free dinner option and works perfectly in this tomato based sauce.
This is a great idea for a lazy Saturday dinner. It's not super fiddly or anything like that. Everything falls together in a little assembly line. Pop in the spaghetti squash, cook the lentils, sauté the veg, stir up the sauce, eat!
If you need a good method to follow for cooking spaghetti squash I wrote a how-to post a few months back.
I can't tell you how much I love the spaghetti squash. Why oh why did I wait so long to try it? I suppose it's the same with lentils. My inspiration for trying lentils for the first time was actually during a cleanse. When I initially saw the list of foods on the 'included' list, I never thought I'd be able to make it through 28 days. Not only did I make it through the full term, it completely changed the way I ate. My entire way of looking at food changed for the better. It's meals like this one, satisfying, nutritious, but still tasty that I really love to share. Still reminiscent of the old stand-bys, just with a nutritious twist.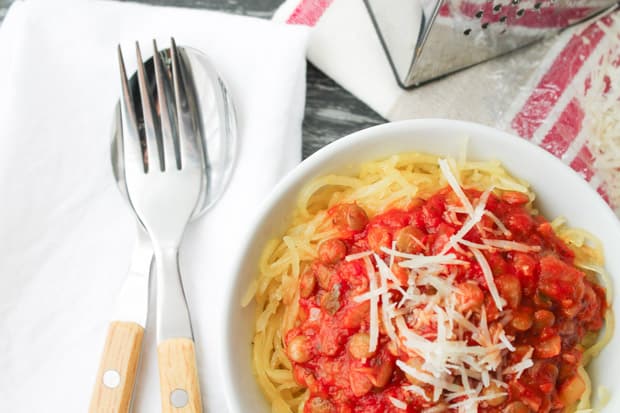 I know a lot of people that read this blog are already health minded individuals, (and I love you!) but I also hope to inspire those who are just embarking on a healthier lifestyle, or the folks that know how to eat well but maybe need a kick-start. I could use a bit of a kick start right about now too! I always put on a few extra pounds around the winter months (too much Olympic watching from the couch and not enough really busting my butt at the gym) and now is the time to check myself with spring, then summer just around the corner! 😉 This kind of meal should motivate us all and remind us that eating light and healthy isn't a chore at all.
Speaking of summer and all that jazz, my little Louis spent some time basking in the sunshine this afternoon. I'm so looking forward to doing the same! How much longer till it's time to open the pools? I must admit I was a tad jealous of Lou the cat. He was just. so. comfy.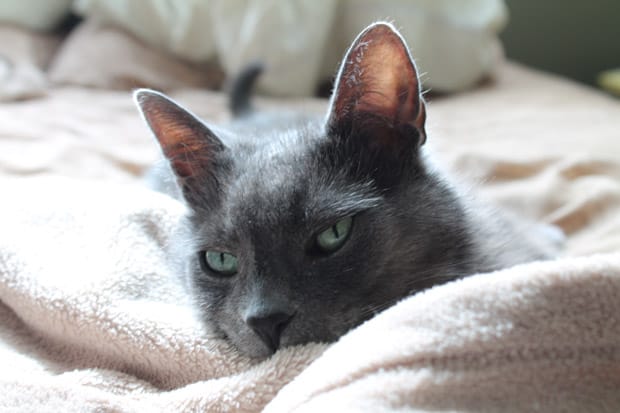 I guess it's only fair as I had the comfort food. 🙂
Lentil Marinara Sauce – Vegan & Gluten Free
Ingredients
1 spaghetti squash, cooked and shredded
1 cup dry lentils
2 cups water
1 tbsp olive oil
1 medium onion, diced
1 stalk celery, diced
2 cloves garlic, minced
1 jar marinara sauce (650 ml)
1 tsp dried basil
1 tsp chili flakes (optional)
Sea salt & fresh pepper
Instructions
If you need to cook the spaghetti squash cooked, start that now. Follow my how-to post for the method I use if you need one
Rinse your lentils (sprout them if you can) and combine them with the water in a medium saucepan. Bring it to a quick boil and reduce to a simmer for 30 minutes
Meanwhile, heat the oil in another larger saucepan and sauté the chopped onion and celery until softened, about 5 minutes. Stir in the garlic until fragrant then add in the marinara sauce and spices. If you find it a little thick for your taste you can add a little water or broth
Once the lentils have cooked, stir them into your marinara
By now the spaghetti squash should be ready and can be topped with the sauce. Sprinkle on a little grated parmesan if that's your thing.
7.6.7
298
https://thehonoursystem.com/lentil-marinara-sauce-with-spaghetti-squash/