Looking for an interesting meatless dinner option? This Walnut Bolognese Sauce might surprise you. It's rich flavour and pleasing spice blend proves vegetarian meals aren't missing a thing.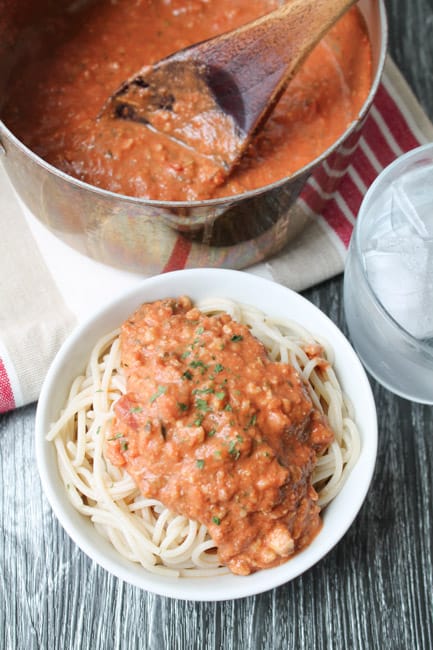 OK!
So this recipe turned out so much better that I anticipated.
Being my very first time using walnuts as a meat substitute there was no point of reference so I really had not idea how it was going to turn out.
Well, turns out I LOVE using walnuts to replicate beef in a rich pasta sauce to . die . for.
For real.
For starters, walnuts have a wide variety antioxidant and anti-inflammatory nutrients.
Nice!
And secondly, they taste freaking amazing when processed together with a bunch of delicious spices. 😉
My inspiration was from a ton of recipes floating around using walnuts as taco 'meat'. "Hmmm", thought I. "What an interesting idea."
I set about making an Italian-ish version to add to some leftover tomato sauce that I had in the fridge. My thinking was it would replicate that rich, beefy Bolognese sauce that is so popular in Italian cucinas.
I say Italian-ish because I know things like smoked paprika aren't your typical Italian seasonings but it lent the walnuts a remarkable essence of grilled meat. The spice blend that I came up with worked beautifully. I was really patting myself on the back on this one!
I just couldn't help myself. Too easy and so delicious. Win and win. 🙂
WALNUT BOLOGNESE SAUCE
To get started I put some jarred tomato sauce on the stove to heat. I know a ton of people are in the process of jarring all of the late summer bounty of tomatoes we have around these parts. This recipe was tailor made for those fresh sauces.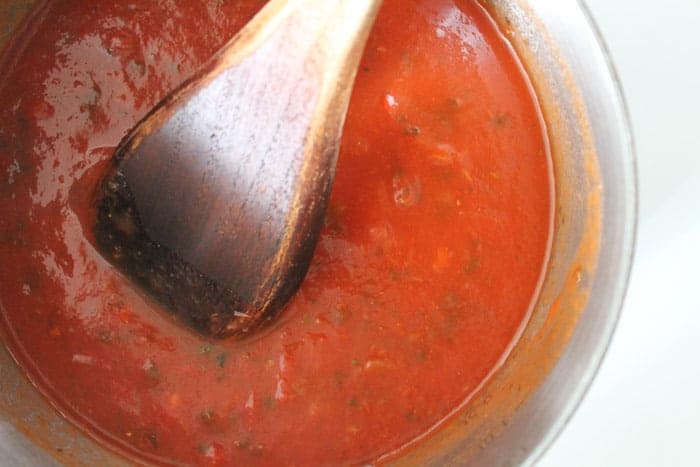 Meanwhile, the walnuts were tossed into the food processor with the spices and pulsed into crumbles resembling ground beef. Be sure not to over blend or you will wind up with a spicy butter.
Not that there's anything wrong that. 😉
Stir the crumbled walnuts to the sauce and stir.
In the meantime, I cooked up my pasta. This brand of brown rice pasta is tried an true for me.
I've used the shells before in this pasta dish and they work like a charm. This time I opted for the spaghetti noodles and was not disappointed.
My favourite thing about brown rice pasta is how easily it digests. No stomach bloat or sluggishness like with the white pastas. The key to perfectly cooked brown rice pasta is to not over cook.
Keep your eyes on the prize, people!
Speaking of prizes …
Your reward is this creamy, tomatoey, savoury spaghetti sauce that could even fool your Nona!
Well … maybe not … but it was delicious.
If your looking to minimize your red meat intake or maybe just don't eat meat period, this is such a fabulous meatless option.
Enjoy!
 

MORE VEGAN DINNER RECIPES:

Be sure to follow me on social media! I love pinning to Pinterest, sharing on Facebook and posting pics to Instagram. See you there. 🙂

As an Amazon Associate I earn from qualifying purchases.
Walnut 'Bolognese' Spaghetti Sauce – Vegan & Gluten Free
Keyword:
vegan bolognese sauce, walnut bolognese sauce
Instructions
In a medium sauce pot, set your sauce over medium heat

Meanwhile, place walnuts and spices in your food processor and pulse until crumbled. Don't over mix or it will turn to butter

Add the crumbles to the sauce and stir well

Cook 4 portions of your choice of pasta. I use brown rice spaghetti, which is awesome

Serve sauce over pasta