If you are looking for a vegetarian meal to impress this Roasted Vegetable Pasta is the dish for you! Roasted Squash, broccoli and cauliflower get the roasted treatment and are tossed with brown rice pasta and topped with grated Parmesan cheese.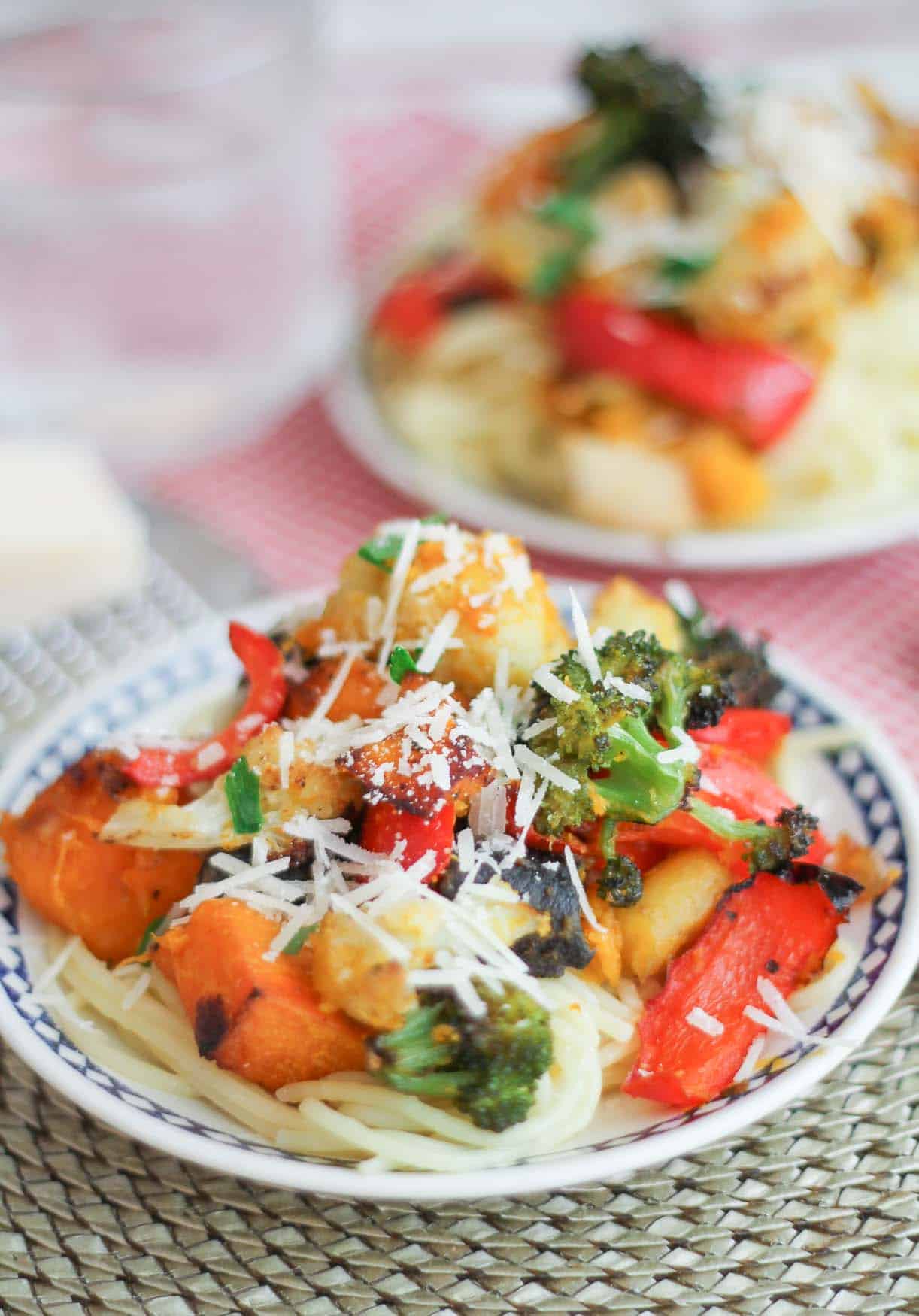 Mmmm – MMM. I love me some roasted veggies. Fall is the most amazing time for vegetables. I couldn't decide which one I wanted so I went for a whole bunch of 'em.
ROASTED VEGETABLE PASTA
My cheat to make it easy and fast was to take full advantage of Whole Foods pre-cut organic vegetable selection. It may sound like an ad for Whole Foods ( I wish 😉 ) right here, but I can't say how much I enjoyed this store.
Yes, it's expensive, but not unreasonable. Instead of going out for drinks or eating in restaurants, I choose to spend my entertainment budget on things like organic cold pressed coconut oil and pre-cut butternut squash.
If you've ever attempted a full on butternut squash cubing procedure, you'll appreciate the value of a container full of perfectly peeled squares of squash.
They also had a small container of broccoli and cauliflower cut into little florets.
Boom. I was in.
We always end up with too much of either of those. Unless it's a soup, we eat broccoli or cauliflower for like two weeks. I get the stink eye from the middle of week one, so you can imagine. 😉
Whole Foods offered a nice mix about 2 cups worth. Best dollar-fifty I ever spent.
We had a nice walk to the store too.
We caught a nice sunny day and the Fall colors were in full bloom.
It has rained a lot, but it's been tolerable and hasn't stopped us from doing what we need to do or exploring the city. Showers leave the city feeling clean and fresh. You would not believe how lush and green the grass is right now.
I totally want to roll around it, but with all the dogs in the hood, it's probably not a wise choice. 😉
Anyway, the recipe for this dish is probably why you're here so I'll get right to it.
It's so easy, especially if Whole Foods is your prep cook. I paired it up the easiest pasta sauce.
Olive oil and Parmesan. That's it. Salt and pepper then the roasted veggies, maybe a little more parm since you have it, and you are happy as cappy <– inside Joe joke.
He loved this dish too, by the way, if you are thinking of cooking this for the family. It was a big hit for both of us.
Enjoy!
MORE HEALTHY PASTA RECIPES:
Gluten Free Shells in Rose Sauce
*Originally posted October 14, 2015. Updated March 11, 2019
Be sure to follow me on social media! I love pinning to Pinterest, sharing on Facebook and posting pics to Instagram. See you there. 🙂
As an Amazon Associate I earn from qualifying purchases.
Roasted Vegetable Pasta - Gluten Free & Vegetarian
Roasted Vegetable Pasta. Butternut squash, broccoli, carrots and cauliflower get the roasted treatment and are tossed with brown rice pasta and topped with grated Parmesan cheese.
Keyword:
roasted vegetable pasta
Ingredients
4

cups

cubed butternut squash

2

cups

broccoli & cauliflower florets

1

cup

carrots

1

shallot

cut the bulb in half and peel the layers off

4

cloves

garlic

peeled and smashed

1

red pepper

sliced in four, then eight, then sixteen

2 -3

tbsp.

olive oil
pasta of choice

I used 1/2 package of brown rice spaghetti for four portions

FOR THE PASTA SAUCE

1/4

cup

olive oil

1/2

cup

grated parmesan

1/4 -1/2

cup

reserved pasta water
Instructions
Heat oven to 400

Toss the veggie ingredients into a roasting pan, I used a 9x13, and toss well with the olive oil, sea salt & pepper

Roast the veggies for 45-60 minutes depending on how charred you like them. I do about 55 minutes for slightly browned edges. Stir twice to make sure nothing is burning to the bottom

Meanwhile, start your salted pasta water and get going on whatever noodles you are using. I like brown rice spaghetti, but you do you. Cook to the package instructions. Reserve about 1/2 cup of the pasta water for your sauce

For the sauce, heat the olive oil over medium low in a skillet. Add the cooked and drained pasta while it's still hot and toss. Add the parmesan cheese and toss again. Add the pasta water a bit at a time to make the noodles saucy. This depends on how many noodles you're using. For my four portions, I used 1/4 cup

Plate out your pasta, top with the roasted veggies and a little more parmesan cheese