Oven Baked Turkey Meatballs – Gluten Free
These healthy Oven Baked Turkey Meatballs are an easy gluten free and paleo meal as they are made with no breadcrumbs. I like to pair them up with spaghetti squash and a big salad for a nutritious dinner.
Since my first time making turkey meatballs ended up in a noodle soup, it was time to try again with these Oven Baked Turkey Meatballs.
Is turkey really healthier than beef? This is a good article explaining the difference. As usual it is all about the quality of your product.
For this attempt, my goal was a traditional tasting 'spaghetti and meatballs' while at the same time keeping things light and gluten free.
The 'noodles' part was easy. Spaghetti squash for the win! You can find a simple method to cook up a spaghetti squash with this how-to post.
HOW TO MAKE OVEN BAKED TURKEY MEATBALLS
For the turkey meatballs, I went with baking them.
To keep them gluten free? Coconut flour.
How about some flavour? I totally raided my spice cupboard and added in a plethora of powders. Smoked paprika, dried mustard, basil, cayenne, and chili flakes.
You might have noticed I like heat 🙂
Feel free to omit the spicier herbs if you're not crazy about the hotter flavors.
I sauteed some onion and garlic in a little coconut oil to add to the turkey mixture.
I know what you're thinking. Coconut flour? Coconut oil? Won't these meatballs taste a little … tropical?
Not at all!
We didn't pick up any taste of coconut. I found the baked turkey meatballs picked up the basil flavour the most. Plus, after they're baked, they get popped into a tomato-y sauce and take a nice long bath to soak up all the essence.
It was this combo of basil and tomato that really gave this dish the traditional flavour I was looking for.
Once the meatballs were cooked, I left them simmering in a pot of tomato sauce. I used a store bought organic tomato sauce from a glass jar.
That's important tip by the way.
Tomatoes are very acidic and when they are stored in cans with a BPA lining it's a bad combination. The acid leaches the chemical from the lining and causes toxicity. Try to buy your tomato products stored in glass. Or, if you're ambitious, make your own!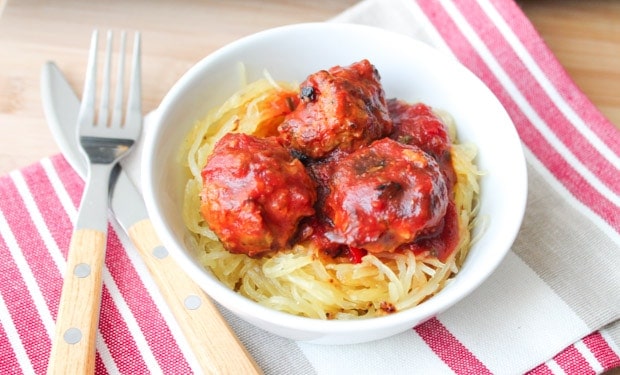 While the turkey meatballs stewed away in the tomato sauce, I popped the spaghetti sqash into the oven and tossed a simple romaine salad.
I am so into spaghetti squash.
Joe had his with regular penne noodles and I actually felt sorry for him!
Fancy taking a pass on delicious spaghetti squash and eating lame noodles instead. Weirdo!
I eagerly gobbled up my dish, feeling no guilt (or stomach bloat) after a half sized second portion. There also may or may not have been some cheese grated on top.
This meal will make you say 'cheese' as well 🙂
Buon appetito!
MORE GLUTEN FREE DINNER IDEAS:
Instant Pot Turkey Sausage Soup
Be sure to follow me on social media! I love pinning to Pinterest, sharing on Facebook and posting pics to Instagram. See you there. 🙂
As an Amazon Associate I earn from qualifying purchases.
Oven Baked Turkey Meatballs – Gluten Free
Instructions
Preheat oven to 425 and lime a baking sheet with parchment (photo shows foil but I've stopped using it and now use parchment paper)

In a mixing bowl combine the ground turkey with the spices and coconut flour and set aside

Heat coconut oil over medium low heat and saute onions for 4-5 minutes, until translucent, then stir in the garlic. Add this to the turkey mixture

Add the egg and mix everything thoroughly, using your hands

Roll the turkey mixture into golf ball sized balls on your lined sheet

Bake for around 35 minutes until thoroughly cooked

Heat a large pot with your choice of tomato sauce over medium low heat. Add in the cooked meatballs, stir and simmer over low heat for 35 minutes

Serve over spaghetti squash!
Nutrition
Calories:
211
kcal
Carbohydrates:
6
g
Protein:
29
g
Fat:
7
g
Saturated Fat:
4
g
Cholesterol:
103
mg
Sodium:
87
mg
Potassium:
429
mg
Fiber:
2
g
Sugar:
1
g
Vitamin A:
1070
IU
Vitamin C:
2.5
mg
Calcium:
28
mg
Iron:
1.9
mg