Traditional Australian cookie made healthier by using spelt flour and coconut oil. The results are Chewy Anzac Biscuits, a coconutty vegan delight!
A big hello to 2018! My year played out with lots of baking, which is always a good thing, right? The year also ended on a high note with some sunny days that enabled me to actually be able to snap a few photos before these beauties were gobbled up.
Vancouver is known for epic rainfall during the winter, so I need to take full advantage when the sun is shining.
CHEWY ANZAC BISCUITS
These Chewy Anzac Biscuits became a personal project after becoming slightly obsessed with an Australian author.
I've been reading anything by Liane Moriarty that I can get my hands on. All of her books were wait-listed at the library which confirms her awesomeness. 🙂
One of her novels is called 'The Hypnotist's Love Story' and in it one of the characters bakes a batch of Anzac Biscuits.

Anzac Biscuits?
I had never heard of them.
I know that biscuits generally means cookies but the rest was a mystery. After a quick visit to good old Google's search bar, I found this recipe and learned that Anzac Biscuits were sent out to Aussie and Kiwi troops during WW1, being egg-less made them safe to travel without spoiling.
I also decided they could be made much healthier by replacing butter with coconut oil, white flour is OUT and spelt is in, and my usual coconut sugar sub in seems natural with all of the other coconut action going on.
It's the start of a new year and I'm into reflecting and goal setting and all of that fun stuff.
This time last year when I wrote about 2016 things were so different! 2016 was a hard year but I felt optimistic about 2017. I'm so happy to report that those positives feeling resulted in a year to remember.
Some highlights include: seeing Depeche Mode live (amazing – and I don't use that word lightly – it was amazing), being the maid of honour in my sisters wedding, and breaking a few page view records to the Honour System. Not too shabby. 😉
One of my intentions in 2018 is to continue reading for pleasure. I have this great cookie recipe because of a book! I was even invited to join a book club. SO excited. We joked that if the first rule of book club was you can't talk about book club we'd all be thrown out. We keep talking about our book club. It's a bunch of book nerds and I'm in heaven.
Lol.
Best wishes to all of you for an incredible 2018!
Based on this recipe.
MORE HEALTHY COOKIE RECIPES:
No Bake Chocolate Coconut Cookies
Almond Butter Flaxseed Cookies
Banana Bread Breakfast Cookies
Be sure to follow me on social media! I love pinning to Pinterest, sharing on Facebook and posting pics to Instagram. See you there. 🙂
As an Amazon Associate I earn from qualifying purchases.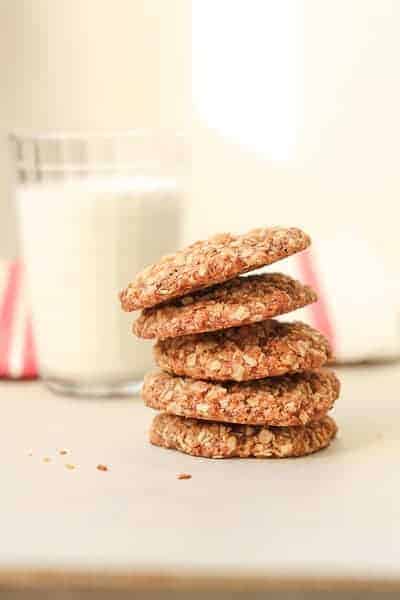 Chewy Anzac Biscuits (Coconut Cookies) – Vegan
Traditional Australian cookie made healthier by using spelt flour and coconut oil. The results are Chewy Anzac Biscuits, a coconutty vegan delight!
Keyword:
anzac cookie recipe, coconut cookie recipe, vegan cookie recipe
Instructions
Preheat oven to 325 and line a sheet with parchment paper. Set aside

In a large bowl, combine the oats, spelt, coconut, coconut sugar and stir well. Set aside

In a small saucepan over low heat melt together the coconut oil and maple syrup. Meanwhile in a small bowl, dissolve the baking soda into the boiling water. Pour the baking soda/water into the melted coconut oil, remove from heat and stir it well.

Pour the coconut oil mixture over the dry mixture and stir until fully combined

Roll tablespoon sized balls and place three across on the baking sheet, leaving room between each as they spread a bit

Bake 12 - 15 minutes, shorter bake times means a chewier cookie
Nutrition Facts
Chewy Anzac Biscuits (Coconut Cookies) – Vegan
Amount Per Serving
Calories 100
Calories from Fat 45
% Daily Value*
Fat 5g8%
Cholesterol 2mg1%
Sodium 76mg3%
Potassium 15mg0%
Carbohydrates 10g3%
Protein 1g2%
Vitamin A 25IU1%
Calcium 22mg2%
Iron 0.3mg2%
* Percent Daily Values are based on a 2000 calorie diet.