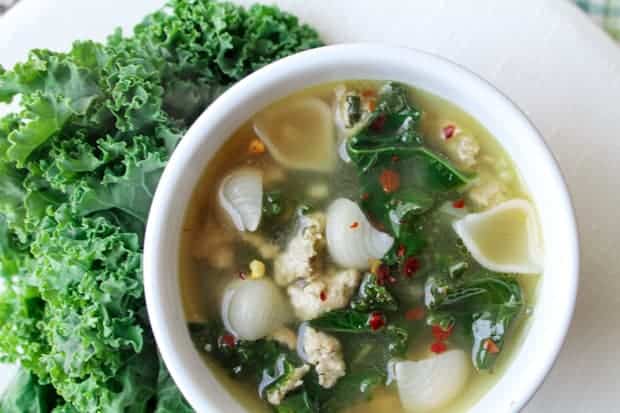 Who isn't craving warming soups at this time of the year? If you are looking to lighten things up, skip the cream based soups and try this high protein, yet low fat, slightly spicy and oh-so satisfying ground turkey soup packed with veggies and brown rice pasta shells. I loved using these shells with the pasta in rose sauce I made a couple of weeks ago and they became destined for this meal as well.
I started with the seasonings for the ground turkey. First up, fresh basil. I adore the smell of freshly sliced basil. So fresh and clean.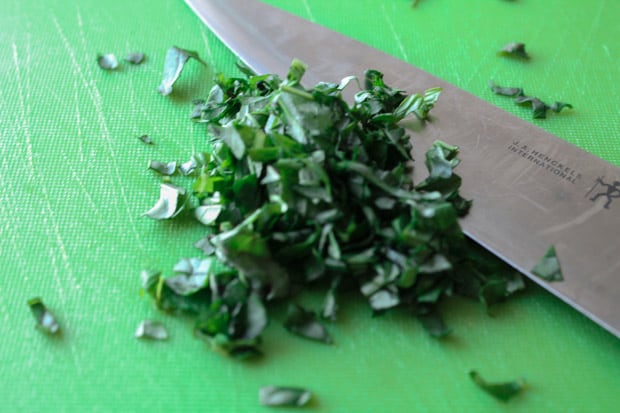 So this turkey soup was actually supposed to be meatballs. I was all prepped up and ready to go with my little assembly line of turkey meatballs. Well, it was clearly not to be. The balls totally fell apart in the pan and I was close to abandoning the project all together. But, not to be deterred, I soldiered on, threw the rest of the meat in and browned it.
Here are my cute little turkey balls before disaster struck …
Oh well. Anyone have turkey meatball tips for me? I was thinking perhaps baking them first?
Once the turkey was cooked through, I just made soup. Threw in some shallots and celery. Tore of a good handful of kale and tossed that in as well. Basically, I cleaned out the crisper of any and all veggies that were left at the end of the week. The turkey was inspired by the screaming deal I got on ground turkey at my local grocery store. I . love . deals .
I also sprinkled in a good pinch or three of crushed chilis because, as you may know, I love the spicy. This is totally optional. There are a lot of other seasonings and flavours going on, so you won't have a bland soup. I find that using the ground turkey added a richness that was very satisfying.
Once everything was simmering away I cooked the brown rice pasta shells in a separate pot. Even though it causes extra dishes, it's worth it to cook the brown rice pasta separately as a lot of starches are released from the noodles. You also really want to rinse them off once they are cooked. These steps are key to brown rice pasta that isn't glue-y, gummy, or soft. They are perfect al dente noodles that please even the pickiest of pasta eaters. I'm looking at you, man that I feed 😉
We both really enjoyed this soup. Feel free to use leftover cooked turkey, if you have any, or chicken to keep things light. The veggies are a guide line. This soup will shine with whatever you have going on.

As an Amazon Associate I earn from qualifying purchases.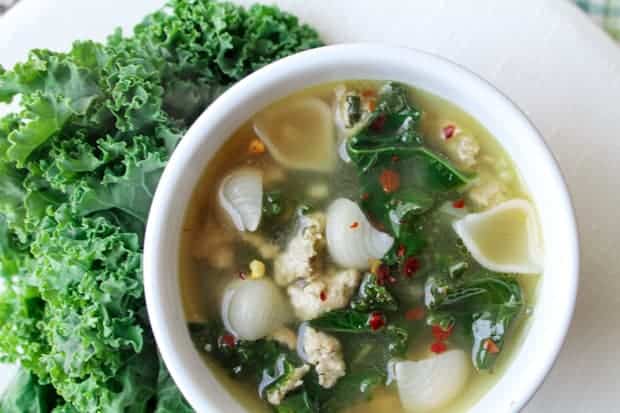 Turkey Vegetable Soup with Brown Rice Pasta – Gluten Free
Course:
Main Course, Soup
Keyword:
turkey vegetable soup
Instructions
In a large mixing bowl combine turkey with the parsley, basil, flaxseed, sea salt and pepper.

In a large soup pot, heat olive oil over medium low. Add in the ground turkey mixture and stir until completely cooked through

Strain turkey from the pot into a colander. Over the same medium low heat add in the shallots and celery with a pinch of sea salt & pepper. Cook for 4-5 minutes, stirring occasionally, then add in the garlic, and stir again

Add the cooked, drained turkey back to the pot with the veggies and stir well. Pour in the veggie stock, stir and bring to a boil. Reduce to a simmer; add in the kale and let stew for 2 hours

Meanwhile, cook the brown rice noodles according to the package directions. I prefer the shells. Make sure to rinse well & don't over cook the noodles

Add the noodles to your bowl, cover with soup and garnish with fresh basil

If you are using some of this for leftovers, store the noodles in a separate container
Nutrition Facts
Turkey Vegetable Soup with Brown Rice Pasta – Gluten Free
Amount Per Serving
Calories 413
Calories from Fat 180
% Daily Value*
Fat 20g31%
Cholesterol 93mg31%
Sodium 1375mg60%
Potassium 993mg28%
Carbohydrates 22g7%
Protein 37g74%
Vitamin A 4295IU86%
Vitamin C 42.9mg52%
Calcium 359mg36%
Iron 2.1mg12%
* Percent Daily Values are based on a 2000 calorie diet.