Nothing says classic like Oatmeal Chocolate Chip Cookies! This delicious cookie recipe uses sprouted grain flour and is naturally sweetened with maple syrup. The perfect snack with an icy cold glass of milk.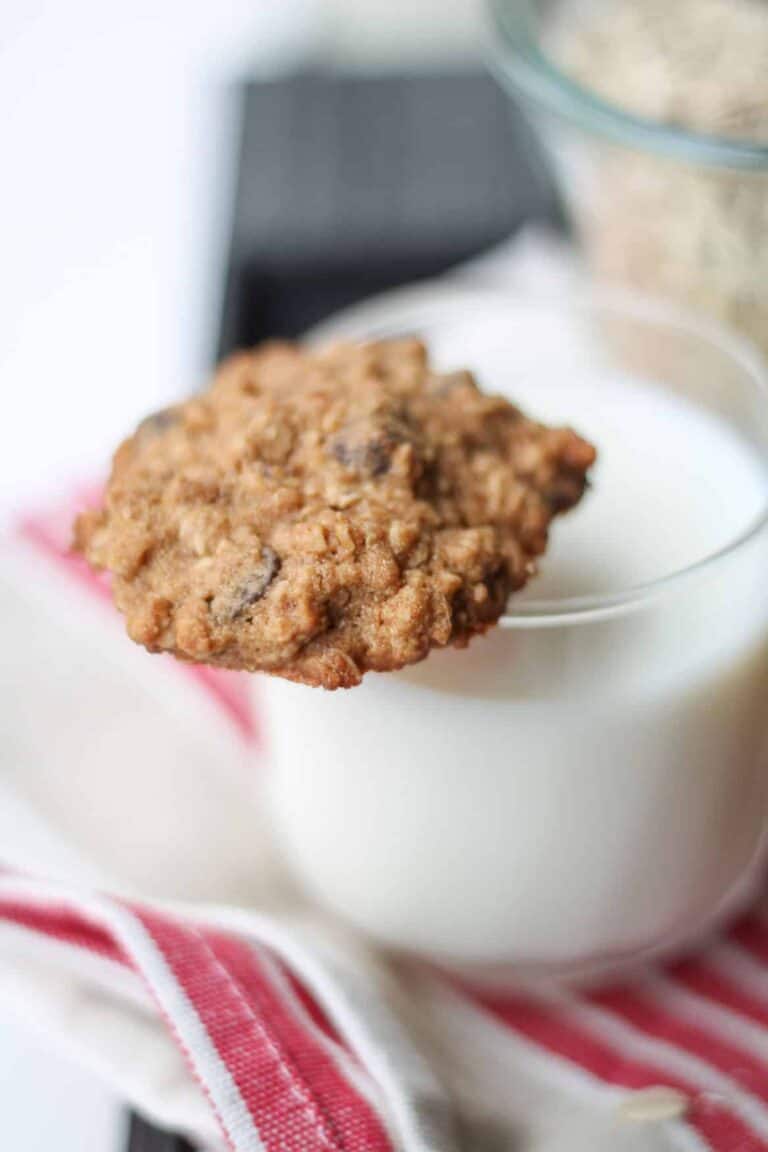 I've shared another oatmeal cookie recipe back in the early days of the Honour System that was a gluten free, flourless variety.
This one is not.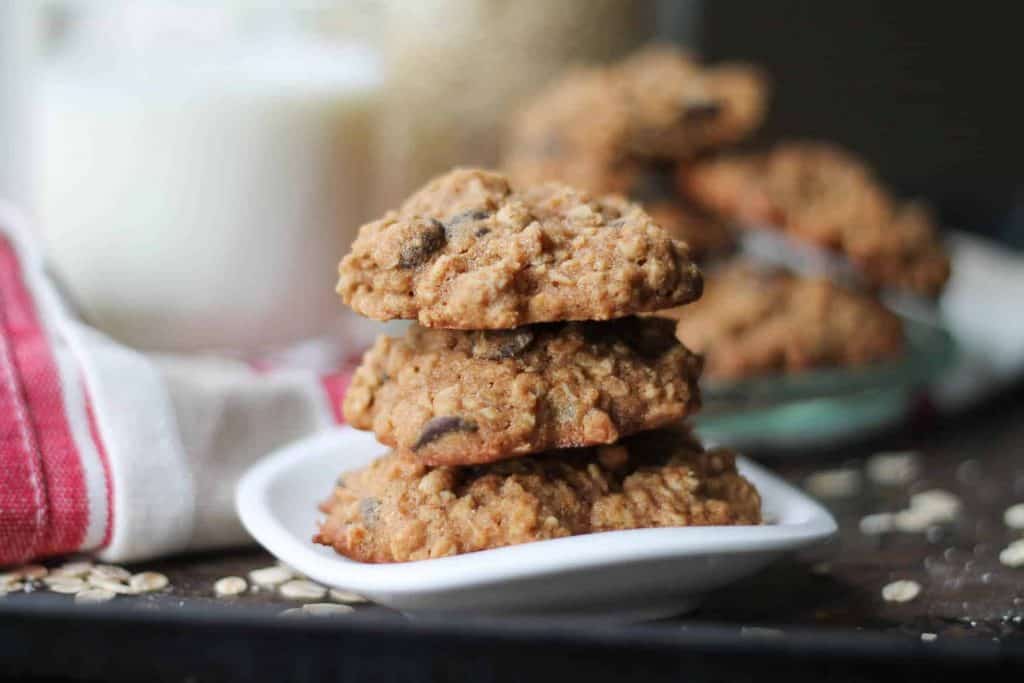 OATMEAL CHOCOLATE CHIP COOKIES
This cookie recipe has flour (sprouted grain, though 😉 ), it has butter, it has eggs. Think of it as an old school oatmeal chocolate chip cookie recipe with a healthier, whole foods twist.
It was my salvation last week during a particularly bad rainstorm, here in Vancouver. I wasn't working, but had an important appointment to make and was forced to venture out in the torrential downpour. Thankfully, it wasn't super cold and kudos to my great Fulton umbrella and fab raincoat, because I also stayed relatively dry.
When I arrived back home, it was time for cookies.
I worked out these beauties, made a pot of tea and joined Joe on the couch for a snuggle-y night in.
It was perfection.
Rainstorms are the best when you can stay home.
We had to refrain from eating the entire batch! I wanted enough cookies leftover to take photos of the next day. It was a good lesson in restraint for us. 😉 I'm not one who can freeze treats to eat for later. I'll eat most of what I make within two days.
What can I say? We like our food around here.
So when I mentioned the ingredients earlier, you will have seen butter among them. Dairy/animal products that I buy are organic and grass fed, when available. It's important to m and makes my Oatmeal Chocolate Chip Cookies a much better alternative to the store bought, chemical variety. Blech.
If you feel like cookies, go for these.
But, don't blame me if you eat the whole darned batch. 😉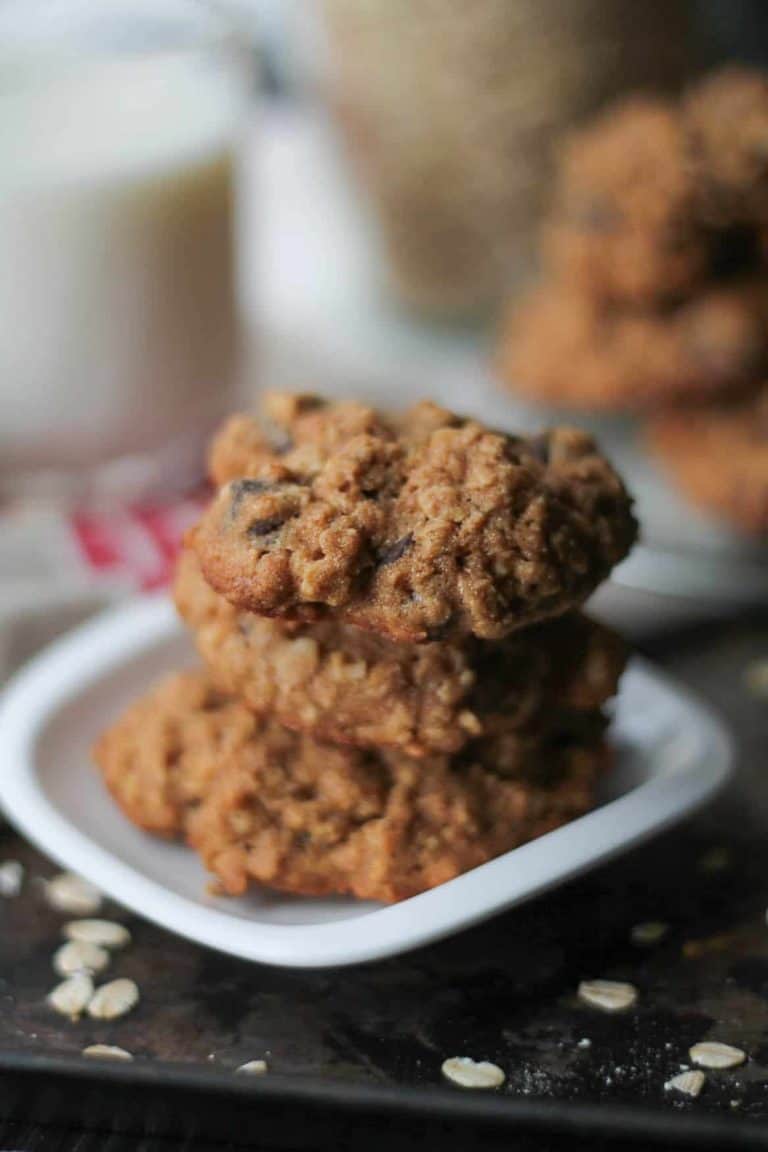 HEALTHY GLUTEN FREE COOKIE RECIPES:
Coconut Chocolate Chip Cookies
Almond Butter Flaxseed Cookies
Banana Bread Breakfast Cookies
*Originally posted November 18, 2015 Updated December 5, 2018*
Be sure to follow me on social media! I love pinning to Pinterest, sharing on Facebook and posting pics to Instagram. See you there. 🙂
As an Amazon Associate I earn from qualifying purchases.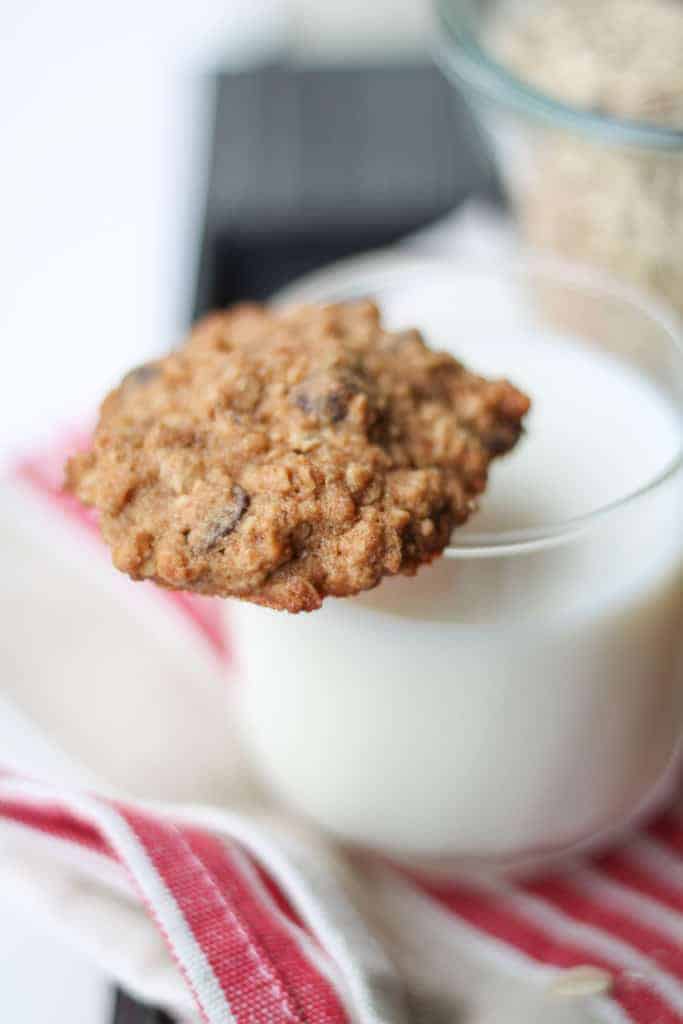 Oatmeal Chocolate Chip Cookies
Nothing says classic like Oatmeal Chocolate chip Cookies! This delicious cookie recipe uses sprouted grain flour and is naturally sweetened with maple syrup. The perfect snack with an icy cold glass of milk.
Keyword:
oatmeal chocolate chip cookies
Instructions
Line a large baking sheet with parchment and set aside. Pre heat the oven to 325

Meanwhile, in a large bowl using a wooden spoon, cream together the softened butter with the coconut sugar and maple syrup until smooth. Beat in the egg, then stir in the vanilla. Set aside

In a separate mixing bowl, combine the flour, baking powder, salt and oats.

Stir the dry mixture into the butter mixture until just combined then stir in the chocolate chips

Drop heaping tablespoons onto the lined baking sheet, 4 rows of 4. These don't spread out too much

Bake for 12-14 minutes, checking that the bottoms don't burn.

Let cool on the pan for 10 minutes then transfer to a baking sheet.

Store in an airtight container
Nutrition Facts
Oatmeal Chocolate Chip Cookies
Amount Per Serving
Calories 164
Calories from Fat 72
% Daily Value*
Fat 8g12%
Cholesterol 25mg8%
Sodium 107mg5%
Potassium 91mg3%
Carbohydrates 20g7%
Protein 2g4%
Vitamin A 190IU4%
Calcium 34mg3%
Iron 0.7mg4%
* Percent Daily Values are based on a 2000 calorie diet.