These deliciously healthy Almond Butter Flaxseed Chocolate Chip Cookies are easy to make and a great way to add fiber to your treats! Naturally sweetened with maple syrup and ripe banana which keeps these cookies soft like they just came out of the oven. Gluten free, egg free, and peanut free make these cookies suitable for vegans and those with allergies or celiac.
Have you ever wondered –
How can I make gluten free cookies?
Maybe this one –
How can I make GOOD gluten free cookies?
Well this recipe has you covered. These Almond Butter and Flaxseed Chocolate Chip Cookies are not only gluten free but they are vegan and feature some extra fibre and omega -3's by way of the flaxseed.
Winner times ten!
Today has been great day!
First, I took advantage of the free fitness class put on by the Burlington Downtown Business Association, as part of their Fit in the Core program.
On a beautiful Sunday morning, me and about 25 other bright eyed and bushy tailed people banded together in front of City Hall and were promptly put through the paces by Peter of Peter-Built Fitness. The hour went by quickly and I felt like a million bucks when we were done.
If you are local to Burlington, you should come on down next Sunday. It was an awesome way to start the day and I look forward to next week.
Then I baked cookies! I know!
I somehow managed to open 2 jars of almond butter last week so naturally, one must be used up quickly. Naturally, it should be in cookies. Naturally, they should have chocolate chips.
Um, naturally. 🙂
Almond Butter Flaxseed Chocolate Chip Cookies
In a medium sized bowl whisk together ground almonds, baking soda, sea salt and ground flax and set it aside.
Then in a large bowl mash up a banana with a fork…
…add in maple syrup…
…and the almond butter.
Combine these with a spoon but don't over-mix.
Then I fold in some dark chocolate chips.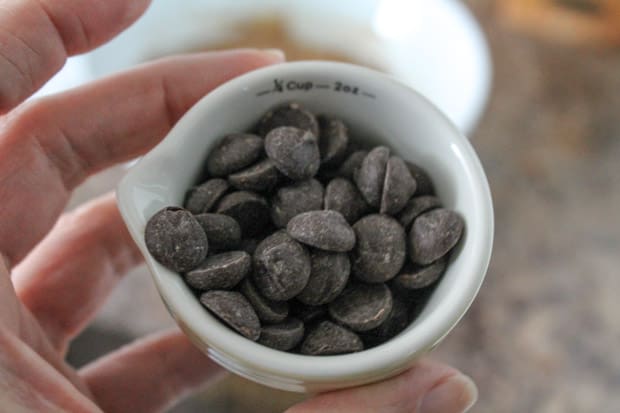 Drop tablespoon sized spoons of batter onto parchment lined sheets and bake them for about 12 minutes.
These cookies are crisp on the edges and chewy in the middle. The banana keeps these cookies moist and soft. I stored them in a sealed container at room temperature.
Whenever I have browning bananas these are on repeat in our house.
My day is now ending as great as it began as I sip a nice hot cup of tea and enjoy a cookie.
Or two. 🙂
LOOKING FOR MORE GLUTEN FREE COOKIE IDEAS?
Banana Bread Breakfast Cookies
*Originally posted May 27, 2013. March 26, 2019*
Be sure to follow me on social media! I love pinning to Pinterest, sharing on Facebook and posting pics to Instagram. See you there. 🙂
As an Amazon Associate I earn from qualifying purchases.
Almond Butter & Flaxseed Chocolate Chip Cookies
Keyword:
almond butter cookies
Instructions
Preheat oven to 350 and line baking sheets with parchment

In a medium bowl, whisk together ground almonds, ground flax, baking soda and sea salt and set aside

In a large bowl, mash banana with a fork

Pour in maple syrup, vanilla and almond butter and mix well

Add the dry ingredients and stir until just combined

Fold in chocolate chips

Drop tablespoon sized amounts of batter onto parchment lined cookie sheets

Bake for 10-12 minutes

Let cool for 2 minutes then transfer to wire racks to cool completely