This BERRY good recipe for Chia Overnight Oats is the BEST summer breakfast. Healthy blueberry and strawberry overnight oats with chia seeds that are waiting to brighten your morning!
As an Amazon Associate, I earn from qualifying purchases.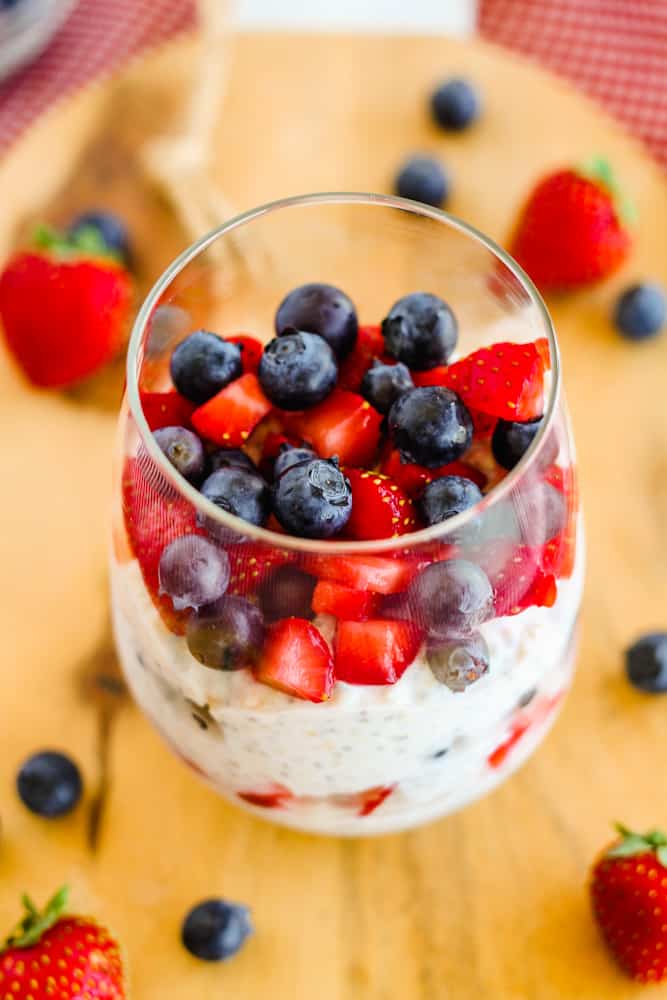 CHIA OVERNIGHT OATS
Are overnight oats healthy for breakfast?
Omgsh, yes!
Soaking the oats breaks down the strarches and they are easily digested. This is gentle to your system and allows you to absorb more of those nutrients! It also contains a natural carb called resistant starch that can aid in weight loss.
And anything that has a good source of protein is always benefical to keep you full.
Ingredients for this recipe:
yogurt plain, unsweetened
maple syrup – my go-to natural sweetener
milk – any kind you choose
salt
berries – I like to use fresh during the summer and frozen in the winter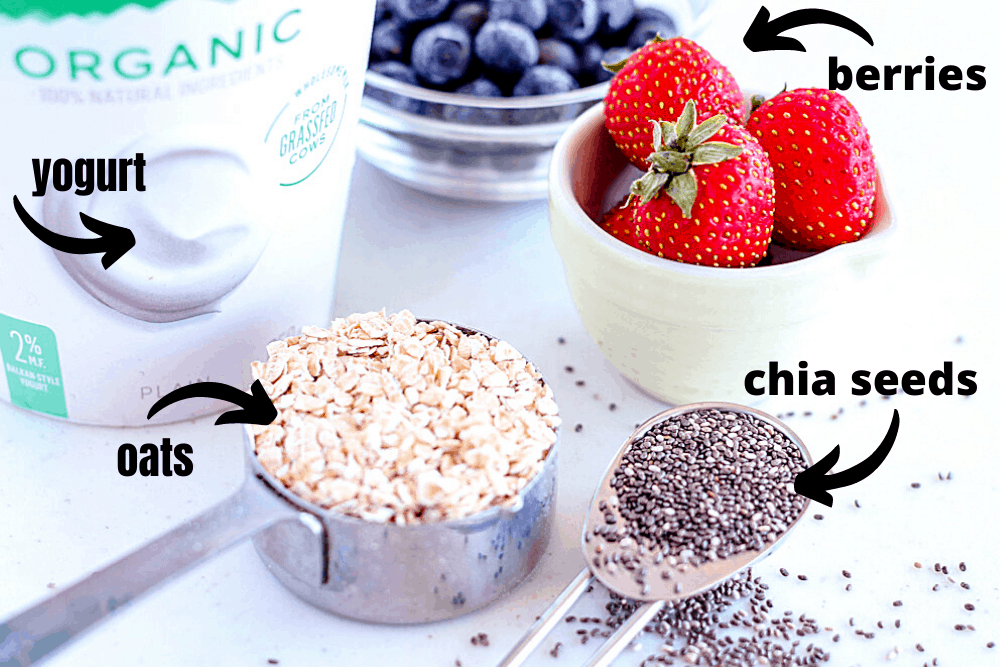 HOW DO OVERNIGHT OATS WORK?
Instead of boiling the oat flakes with water in the traditional way of making oatmeal, you use milk (you can totally use non dairy milk too – hemp milk is awesome!) and leave it in the fridge overnight. This time allows the oats to absorb the liquid and soften to an oatmeal like texture, only it is served cold. Perfect for summer breakfasts or for you lucky ones who have summer weather year round.
Why add chia seeds to overnight oats? Studies into the health benefis of chia seeds have shown they increased satiety which is how full you feel. Starting the day with a satisfying breakfast like chia seeds in oatmeal is essential for avoiding that mid-morning crash.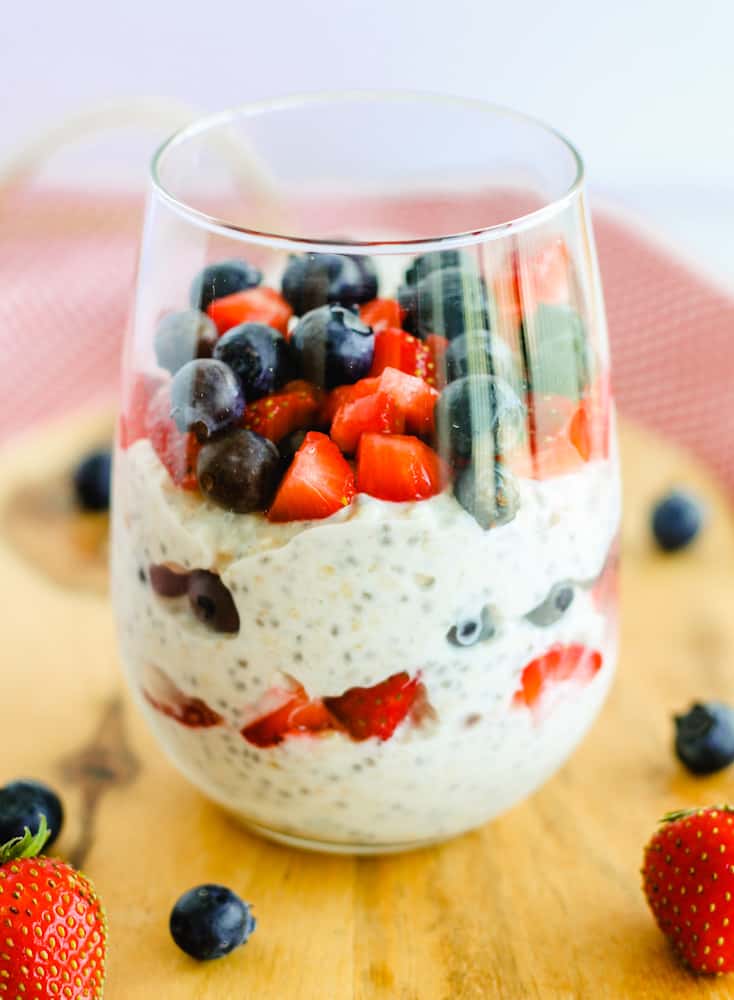 TIPS FOR CREAMY OVERNIGHT OATS
Use a 2 : 1 ratio of liquid to oats. You want to make sure you have enough liquid for the oats to soften, otherwise it's like eating paper. Not what you want first thing in the morning!
Don't use instant oats! Thet are processed to cook quickly and because overnight oats take … overnight … instant oats all but completely dissolve into nothing by the time breakfast rolls around. Old fashioned oats are the preferred variety for this method.
Wait until morning to add the fruit. Like the instant oats, fruit breaks down quickly and will leave you with a mushy mess. It's best to add fresh fruit at breakfast time
I like overnight oats with yogurt. I'm not vegan so I indulge in luscious, full fat grass fed yogurt. It's all about the creamy factor for me. Yogurt adds protein and gut healthy probiotics.
The yogurt is sweetened with a touch of maple syrup which basically turns your breakfast into delectable chia oatmeal pudding. Adding the fresh berries puts it over the edge.
Enjoy this sweet summer berry breakfast recipe!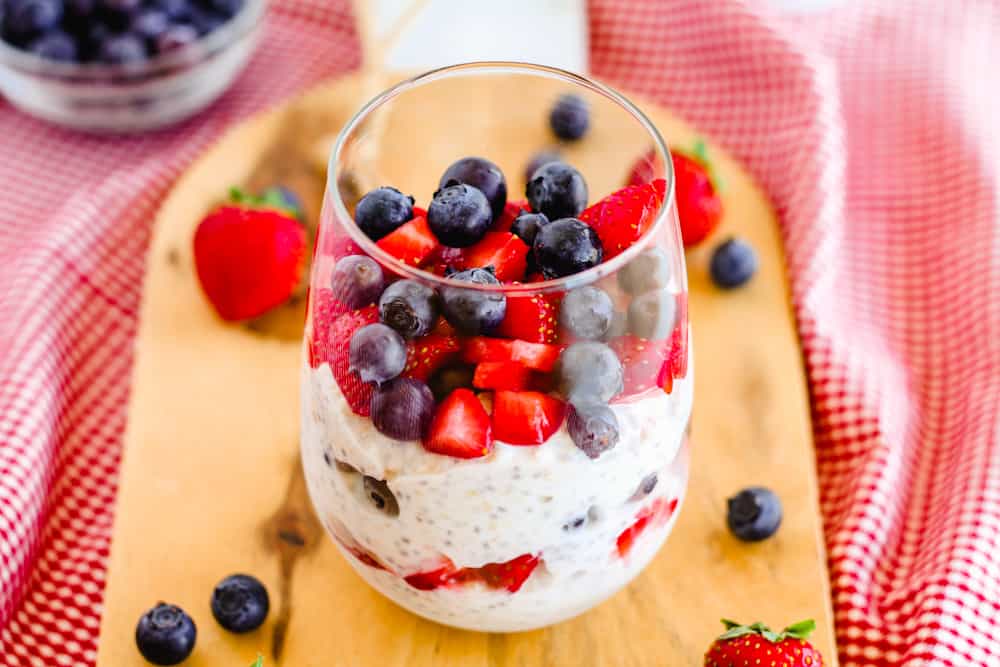 MORE HEALTHY BREAKFAST RECIPES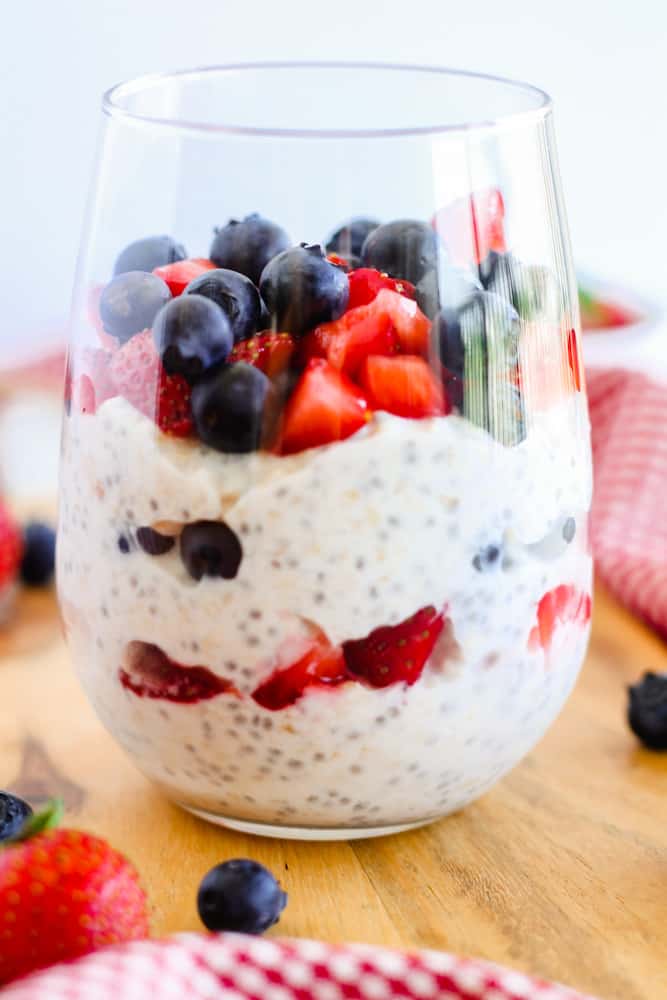 **This recipe was originally posted on June 30, 2020. Updated June 3, 2021, with recipe notes, writing, and updated photos.**
If you've tried my Chia Overnight Oats, please rate the recipe and let me know how it turned out by leaving me a comment below. I'm always interested in feedback!
Be sure to follow me on social media! I love pinning to Pinterest, sharing on Facebook and posting pics to Instagram. See you there. 🙂
As an Amazon Associate I earn from qualifying purchases.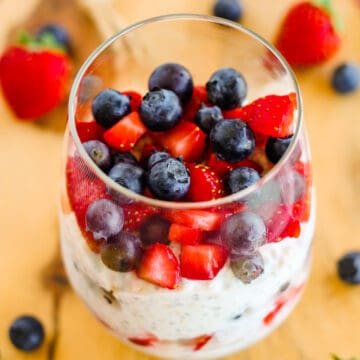 Chia Overnight Oats
Chia Overnight Oats is the BEST summer breakfast. Healthy blueberry strawberry overnight oats with chia seeds to brighten your morning!
Ingredients
1/2

cup

old fashioned oats

1

tbsp

chia seeds

1/2

cup

yogurt

plain, unsweetened

1/2

tsp

maple syrup

1/2

cup

milk

1

pinch

salt

1/4

cup

blueberries

1/4

cup

sliced strawberries
Instructions
Add all the ingredients except the fruit to a glass container that has a tight fitting lid. Stir well and screw on the lid. Refrigerate overnight.

Remove the lid and stir again. Layer the oats with the berries in a glass or bowl and enjoy.
Notes
Use a 2 : 1 ratio of liquid to oats. You want to make sure you have enough liquid for the oats to soften, otherwise it's like eating paper. Not what you want first thing in the morning!
Don't use instant oats! Thet are processed to cook quickly and because overnight oats take … overnight … instant oats all but completely dissolve into nothing by the time breakfast rolls around. Old fashioned oats are the preferred variety for this method.
Wait until morning to add the fruit. Like the instant oats, fruit breaks down quickly and will leave you with a mushy mess. It's best to add fresh fruit at breakfast time
Nutrition
Serving:
1
Calories:
370
kcal
Carbohydrates:
46
g
Protein:
15
g
Fat:
14
g
Saturated Fat:
6
g
Cholesterol:
28
mg
Sodium:
152
mg
Potassium:
546
mg
Fiber:
8
g
Sugar:
14
g
Vitamin A:
319
IU
Calcium:
383
mg
Iron:
3
mg