Even though the weather is getting colder, it doesn't mean salads are off the table entirely. Try out a warm salad using grains and load it up with sautéed veggies. I like to add in lots of citrus flavours to bring the sunshine even in mid-November.
Speaking of cold. We've had our first snowfall of the season. Nothing major. A light dusting but it was enough to pull out the boots and gloves. Basically, these few flakes made it official. Good-bye Fall, hello bloody Winter. Blech.
If there is any upside to the sub zero temps, it would be the comfort food. Soups, stews, warm salads, and hot cups of cocoa. Another plus? The clothes that go along with comfort food. Stretchy pants and bulky sweaters for the win. 😉
I had the pleasure earlier this week of meeting up with fellow healthy Burlington blogger Chelsea from Chelsea's Healthy Kitchen. Getting together with other people who not only understand what goes into the running of a website is fun, but one who also curiously checks out other people's grocery carts, is super fun. 😉 So nice to be understood.
We also chatted about how much we admire the blog Oh She Glows. This recipe is based on this classic from waaaay back in the day. It's an absolute favourite of mine and it has been in our rotation for literally years. I've made it for friends who also love it. There are a few steps involved. I like to have my rice and lentils cooked up prior to save me precious time when dinner rolls around. Try this method for perfectly cooked brown rice!
Other than that, it's choppity chopping up a bunch of veggies and whirling up some tangy, creamy dressing. It all comes together step by step. Sauté up those veggies.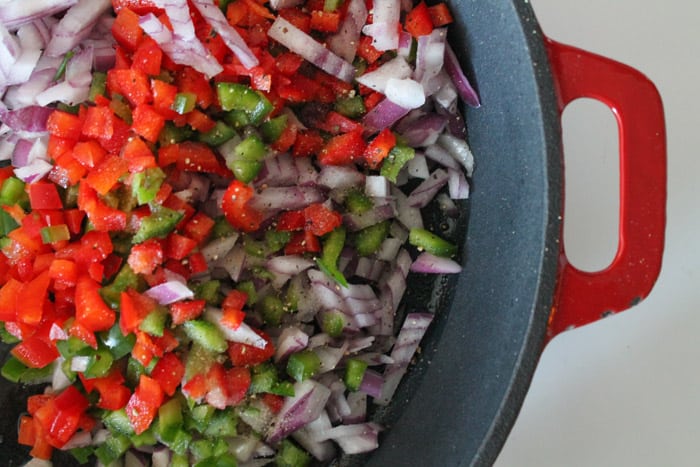 Add the grains and the dressing. A handful of freshly chopped parsley, stir and done!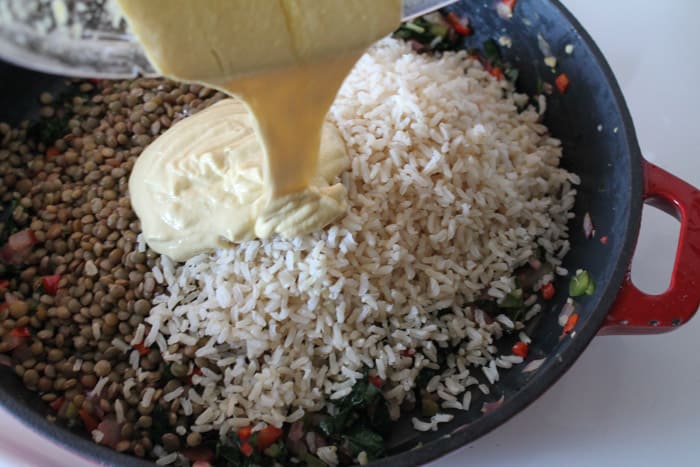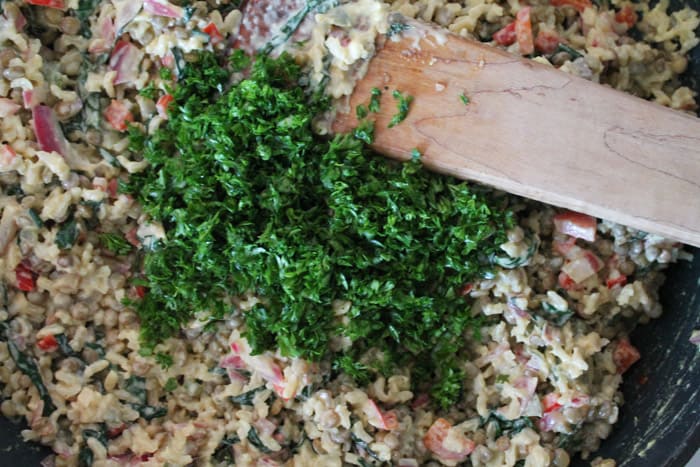 Welcome to Winter. May this comforting meal soften the blow.
As an Amazon Associate I earn from qualifying purchases.
Warm Brown Rice & Lentil Salad with Lemon & Kale – Vegan & Gluten Free
Course:
Main Course, Salad
Keyword:
warm rice lentil salad
Instructions
Cook the lentils and brown rice. Do this step first, while you chop up your veggies and make the dressing or cook them the night before. Once they are cooked, set them aside

Place all of the ingredients for the dressing in food processor and blend until smooth. Set aside

Heat your olive oil in a large pan over medium-low heat; add the peppers and onions and sauté for 6-8 minutes, until softened. Add the minced garlic and stir for another 2 minutes

Add the chopped kale, the juice of half a lemon and sauté for another 2-3 minutes

Now, add the cooked lentils and brown rice. Pour in the dressing and stir everything well and simmer on low for another few minutes

Remove from heat and stir in the minced parsley