The best thing about the Whole 30 is the nuts. 😉
Hands down.
I'm not a big fan of restrictions, like the no grains for instance, but I do like abundance, and the Whole 30 allows that in spades. As much healthy fat as you want. They do recommend a limit on almonds and dried fruits, but cashews, macadamias, avocados are all on the 'yes' list.
Boom.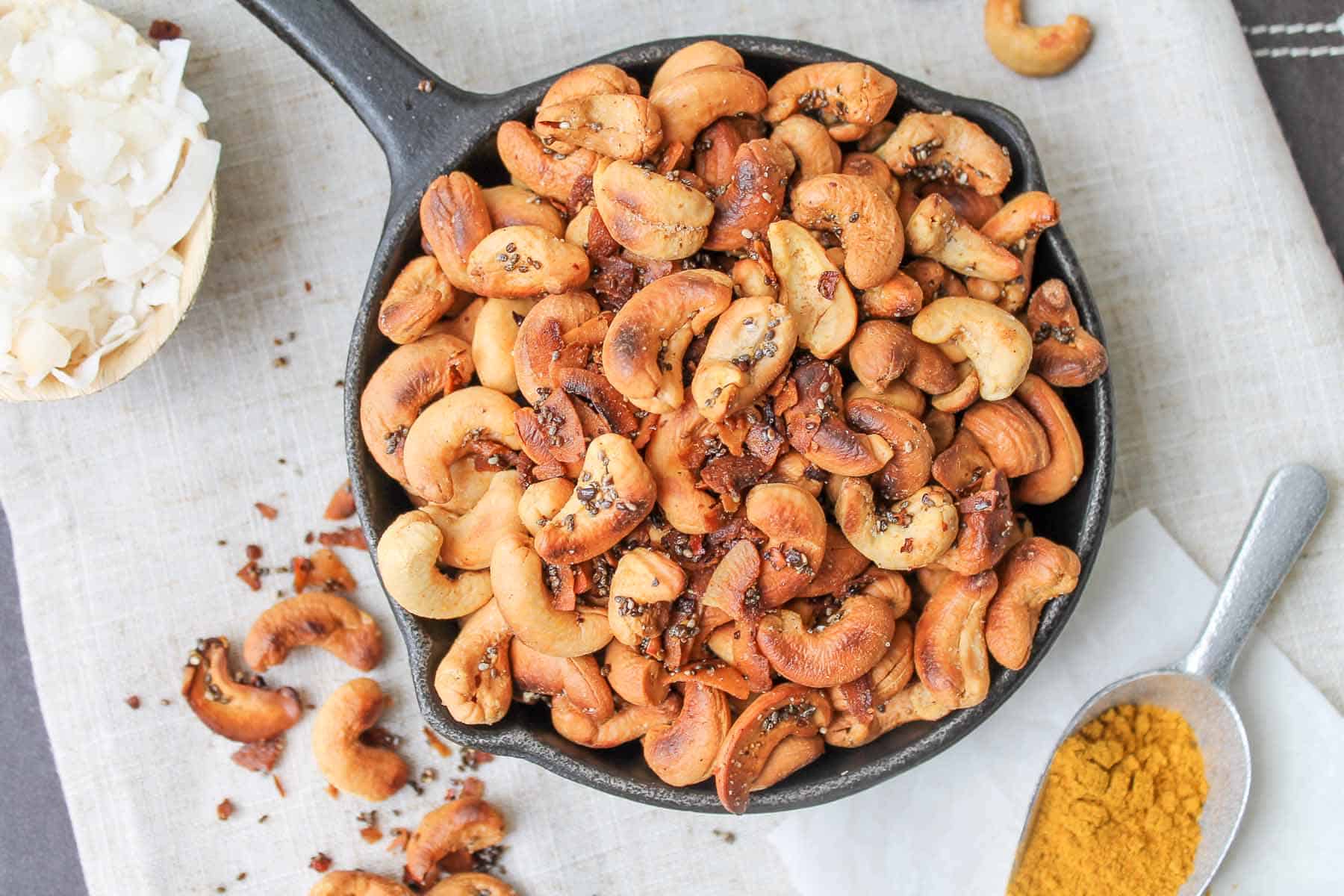 Usually, for me nuts go hand in hand with sweetness, so I wanted to switch things up and make a something savoury to snack on.
Enter these Coconut Curry Roasted Cashews. Cashews are so buttery they can stand up to the heat of spices like curry making them a match made in Whole 30 heaven. Adding in chia seeds gave little pops of crunch for even more texture.
It's funny. I remember back in the day I never would have eaten curry anything. My tastebuds were so damaged from years of smoking and I just didn't ever venture out of my comfort zone, which ironically was comfort foods. 😉 Lots of pastas in cream sauce, pizza, and even chips for dinner happened more times than it should have.
Today when we were out on a walk (thank you sunshine for finally showing up in Burlington!), Joe commented that I was like a changed person. In a good way, of course. 😉 Not one to throw compliments around, I felt quite misty-eyed at him acknowledging all of my efforts and accomplishments. But, he is right. I am a changed person.
Before, it was processed pasta dinners or delivery and out drinking/smoking.
Now?
Now, I cook meals from scratch, and drink green smoothies or Bulletproof coffee. I hit the gym, not because of a never-ending quest to be skinny, but to strengthen my body so I'll remain functional in my later years, of which I'm expecting many.
It was a decision I made after years of abusing my body without really knowing it. After quitting smoking and really looking at the labels of the food I was buying, I just finally made that connection. And it's been lasting. For me, almost ten years now and holding strong. I feel younger, stronger and more radiant than I did in my twenties. Seriously. Don't tell yourself that it's too late. It's a lifestyle change, yes, but such a good one. There are only benefits.
Aaaand … you get to eat Coconut Curry Roasted Cashews! As much as you damn well please. 😉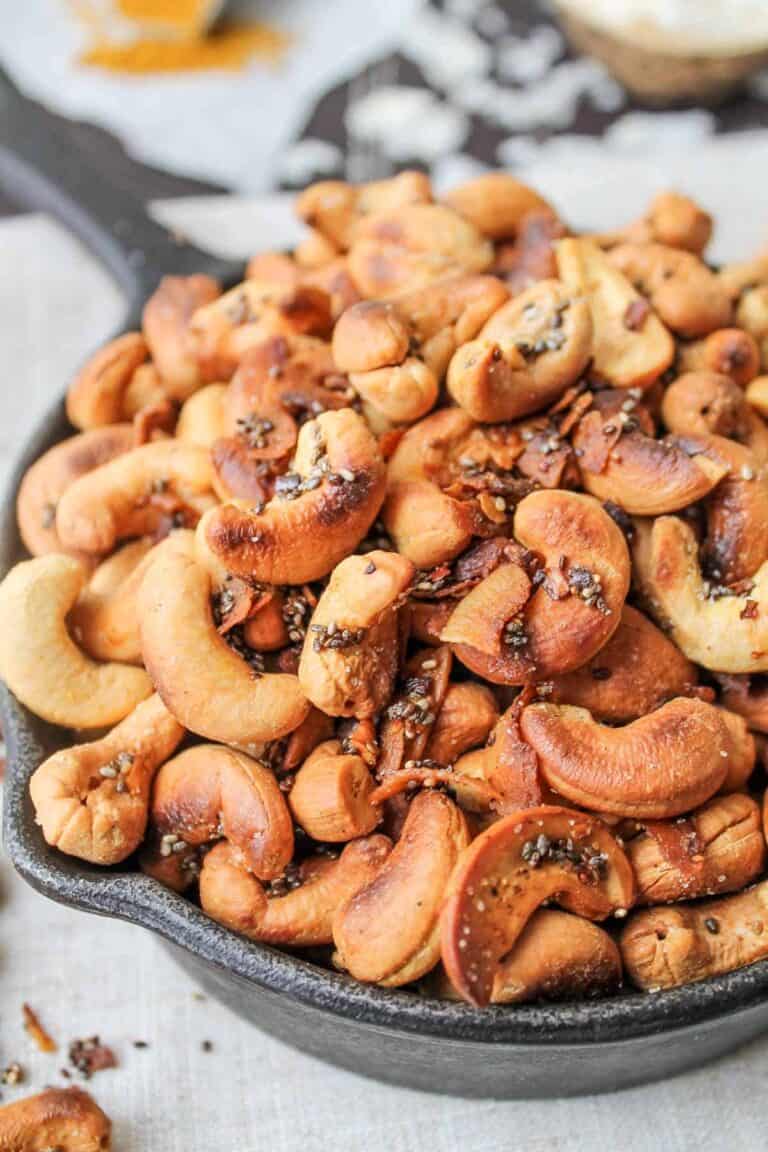 Sounds good, right?
Happy Wednesday, people! 🙂
As an Amazon Associate I earn from qualifying purchases.
Coconut Curry Roasted Cashews – Vegan, Gluten Free, Grain Free
Keyword:
coconut curry roasted cashews
Instructions
Preheat the oven to 350

Toss the cashews in a medium mixing bowl with the chia seeds and the coconut. Add the coconut oil and toss well to coat. Add the spices and stir well to coat the cashews

Spread evenly on a baking sheet and roast for 6-7 minutes, remove form the oven, give them a good stir and pop them back in for another 6-7 minutes. Watch for hot spots so they don't burn. They should look golden

Allow to cool for 10 minutes then store in a sealed container at room temperature
Nutrition Facts
Coconut Curry Roasted Cashews – Vegan, Gluten Free, Grain Free
Amount Per Serving
Calories 218
Calories from Fat 162
% Daily Value*
Fat 18g28%
Sodium 154mg7%
Potassium 238mg7%
Carbohydrates 11g4%
Protein 6g12%
Vitamin A 75IU2%
Vitamin C 0.2mg0%
Calcium 21mg2%
Iron 2.4mg13%
* Percent Daily Values are based on a 2000 calorie diet.