Cinnamon Raisin Flax Bread – Gluten Free, Paleo
No grains on the Whole 30. No bloody grains.
That means my standard breakfast options are ALL out the window. My typical breakfast options include oats, sprouted grain English muffins with almond butter, hemp seed energy balls, etc. You name it, it has grains in it. –>sad trombone<–
What this does do though, is forces me out of my comfortable routine and opens my world to new things I may have never tried. Like this Cinnamon Raisin Flax Bread.
I've made a similar flax bread recipe with rosemary that was more on the savoury side, like a focaccia bread. This one is perfect for those Whole 30 Sunday mornings. Toasted up nice and smothered with your homemade coconut butter. <— You have made that, right? Good. 😉
The lovely thing about this flax bread is how super easy it is to make.
Stir, spread, bake, done. Easy peasy.It stores well also. I wrapped the pieces in a large Ziploc and kept them in the fridge.
In the mornings I've been slicing a piece in half lengthwise and toasting 'er up. A few times, I lived on the edge and tossed some extra raisins on top for an added treat. Love.
Looks like bread, doesn't it? And I did mention the coconut butter, right? Good. 😉 Because it will make your weekend.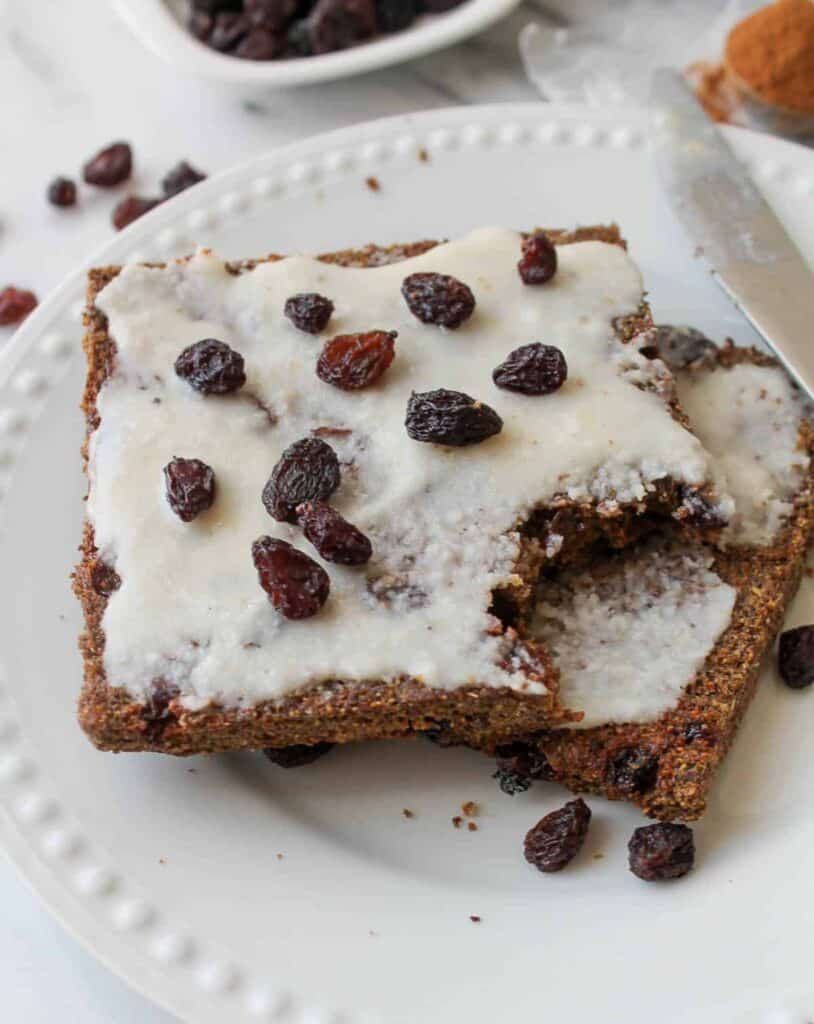 As an Amazon Associate I earn from qualifying purchases.
Cinnamon Raisin Flax Bread – Gluten Free, Paleo
Instructions
heat oven to 350 and line a 9x13 baking pan with parchment paper. Brush on some liquid coconut oil to the parchment and set aside

In a mixing bowl whisk together the dry ingredients ( the first four listed ) and in a separate mixing bowl, whisk together the liquids ( the next four ingredients )

Pour the liquid into the flax mixture and stir well. Fold in the raisins

Spread the mixture into the prepared baking pan and bake for 25 minutes

Allow to cool for 15 minutes

Slice into 6 squares that are sliced in half lengthwise when you are ready to toast

Store in the fridge in a large, sealed Ziploc
Nutrition
Calories:
505
kcal
Carbohydrates:
33
g
Protein:
14
g
Fat:
38
g
Saturated Fat:
13
g
Cholesterol:
136
mg
Sodium:
464
mg
Potassium:
893
mg
Fiber:
17
g
Sugar:
1
g
Vitamin A:
200
IU
Vitamin C:
1.3
mg
Calcium:
293
mg
Iron:
4.6
mg