Oat Bran Breakfast Bowl with Seeds & Almond Butter
This Oat Bran Breakfast Bowl is a fiber rich way to start your day. Have you ever made oat bran? Do you know is the difference between oat bran and oatmeal? I'll answer that and also share my tips on how to cook oat bran. Enjoy!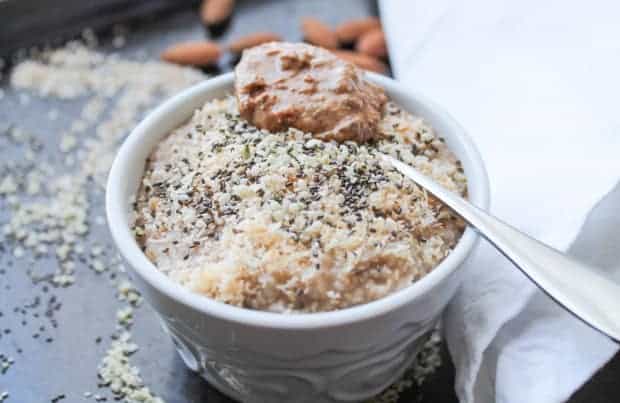 One of my favourite things in the morning is my breakfast routine. I always give myself enough time to prepare breakfast, take the time to eat it, digest it and enjoy a hot tea or maybe a coffee. I like to check out the news and surf the net for while.
It's a bit of 'me-time' to start the day.
OAT BRAN BREAKFAST BOWL
In the colder months, like January in Ontario (brrrrrr.….), nothing fires up the engines better than a warm, comforting bowl of oats. Using oat bran is new-ish to me.
What is the difference between oatmeal and oat bran?
Oat bran is the outer part of an oat groat while oatmeal is the inner part of an oat groat.  Oat bran is less processed than the oatmeal.
Nutritional stats show that oat bran has more fiber, more protein, and is higher in energizing B vitamins than traditional rolled oats.
Why not optimize your breakfast to the fullest and swap in the oat bran?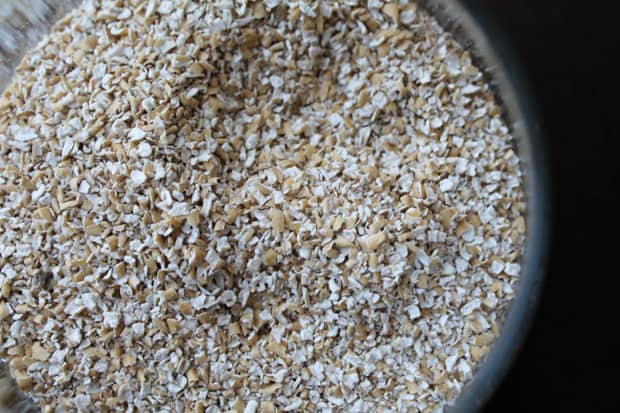 HOW TO COOK OAT BRAN BREAKFAST BOWL – MY FAVORITE TIP
A good tip I picked up for cooking oat bran without the dreaded lumpy consistency is to pour the bran into the water in a steady stream while stirring.
This is a great trick to keep your oat bran smooth and not gloopy.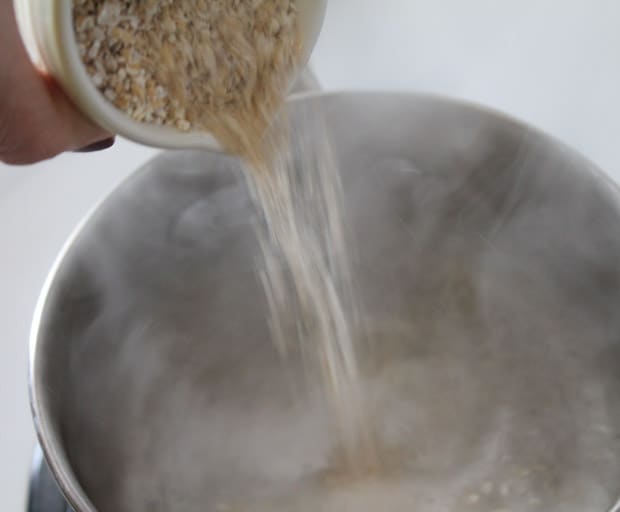 Once the mixture has boiled, the pot is covered and put to the side to absorb liquid.
This is a good time to gather up all the goodies you will be using to make this oat bran breakfast bowl the best thing you've ever had for breakfast.
I started with some cinnamon, toasted coconut, chia & hemp seeds, and a sprinkling of coconut sugar. Use what nuts, seeds or sweeteners you have in your pantry.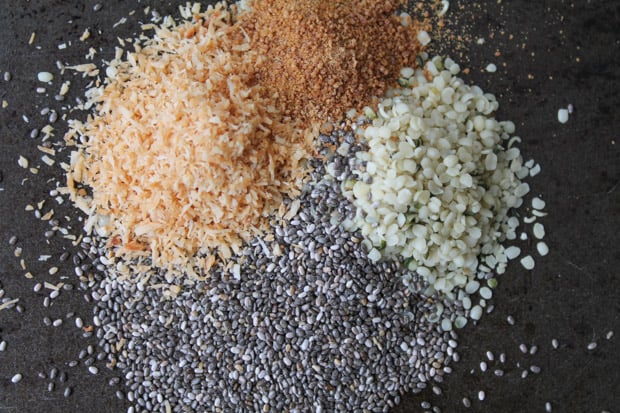 Pour your cooked oat bran into a bowl, top with the seeds and coconut.
A scoop of almond butter melted on top is the finishing touch. Almond butter makes everything better. 🙂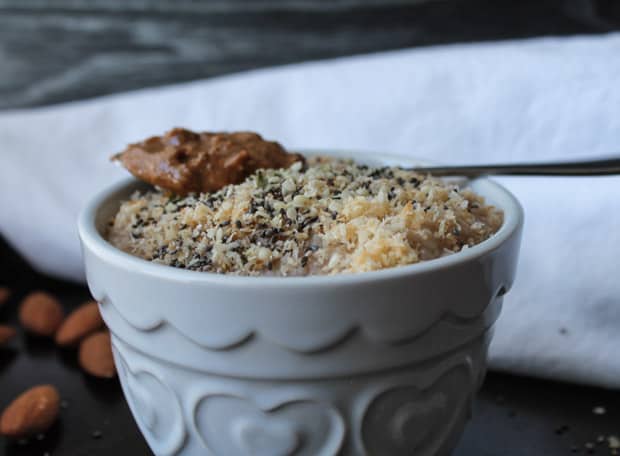 Having this energy providing start to the day is just the fuel you need. It's most ideal for those who will be a long time in between breakfast and lunch. It is 'stick-to-your-ribs' type fare that will keep you from thinking about food for many hours.
That's what I need when I know I will be on the go all morning without the opportunity to eat.
I savored the nutty texture of the oat bran and liked the pop of sweetness from the coconut sugar. Lots of fiber and lots of protein?
Boom!
We have a wintry winner. 🙂

MORE HEALTHY BREAKFAST RECIPES:
Banana Bread Breakfast Cookies
Creamy Blueberry Breakfast Smoothie
Originally posted in January 3, 2014. Updated August 28, 2019
Be sure to follow me on social media! I love pinning to Pinterest, sharing on Facebook and posting pics to Instagram. See you there.  🙂
As an Amazon Associate I earn from qualifying purchases.
I use non toxic ceramic cookware.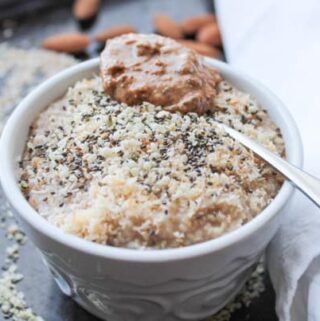 Warm Oat Bran with Seeds and Almond Butter
Instructions
In a small saucepan bring the salted water to a boil

Pour in the oat bran, slowly, stirring the whole time

Turn to medium and lightly boil for 2 minutes, stirring occasionally

Remove pot from heat, cover and set aside for 2 minutes

Return to medium heat add in cinnamon & coconut sugar and stir well until liquid is gone and you reach your desired consistency

Transfer oat bran to a bowl. Top with seeds, toasted coconut and almond butter
Nutrition
Calories:
297
kcal
Carbohydrates:
31
g
Protein:
14
g
Fat:
19
g
Saturated Fat:
1
g
Sodium:
23
mg
Potassium:
289
mg
Fiber:
9
g
Sugar:
3
g
Vitamin A:
80
IU
Calcium:
145
mg
Iron:
4.8
mg