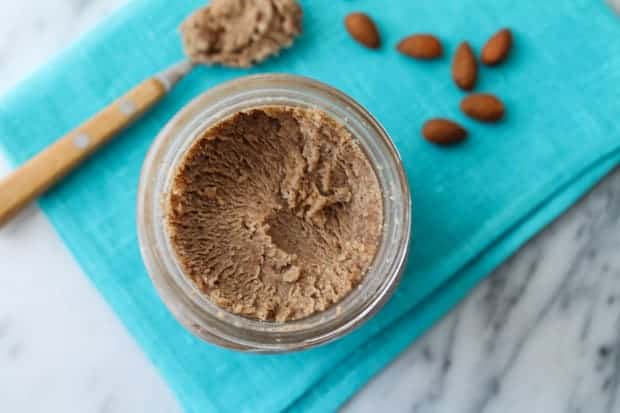 On our last trip to the grocery store I noticed that the almond butter I usually buy was $8.99 a jar. This surprised me little bit. I'm not sure if it has always been this price, as the last time I bought almond butter it was on sale so I stocked up on a few and before that I had a huuuge Costco jar, so I suppose it's been awhile since I've actually bought it. Like many of you, I've seen people making their own on blogs or Pinterest, so I finally decided the time had come for me to join the ranks of the 'make-your-own' almond butter gang 🙂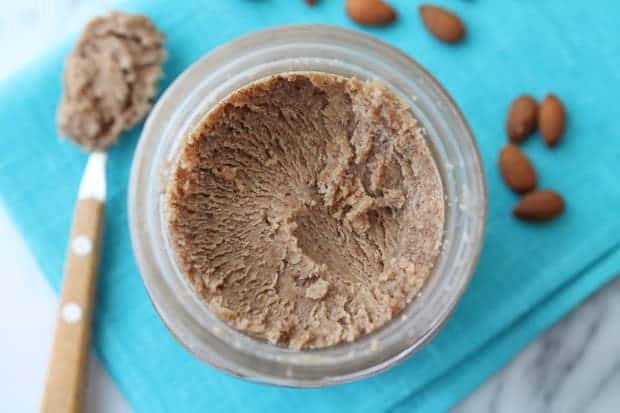 And since I have some ultra amazing maple syrup from Anise leftover from my cleanse, I knew this almond butter had to have a touch of maple.
It's a simple, yet tedious, procedure of processing the almonds and scraping down the sides. Stopping and starting the machine more times than I can count. At one point  I had to let my poor old food processor take a breather as it actually started smoking a bit! The motor was getting a tad overheated so I let it relax for about 1/2 hour before starting again. I use a Black & Decker food processor that I bought on sale at Canadian Tire a few years back and I really don't know what the life of these types of machines are. Does anyone out there know the answer to that? And, can you make almond butter and the like in a machine like a Vitamix?
I took about 20 minutes total, but for me with breaks for my food processor to cool down it took about and hour. First it turned into what would be described as a flour, which you could use as well for gluten free baking.
Then a big ball started forming, so I had to break that up a few times.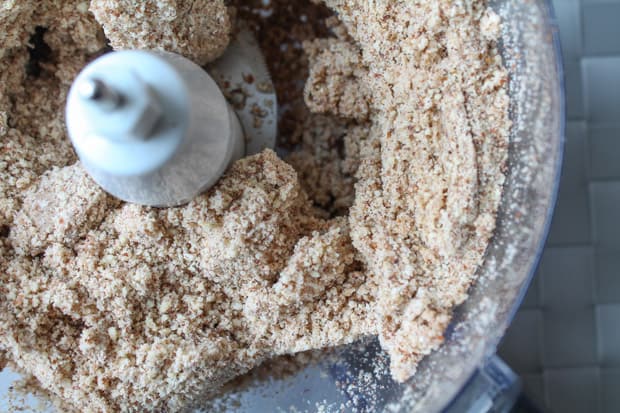 I never got a really drippy consistency. It was much more solid, almost like it had been refrigerated, which is fine for using in baking when you are melting it down with something, or for spreading on apples.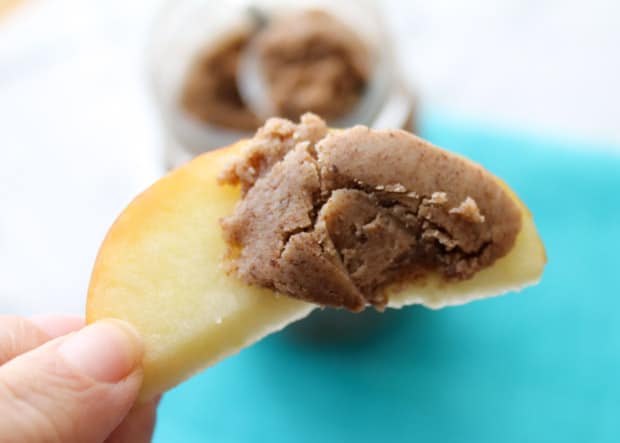 I actually had it spread on a piece of toast with a few dark chocolate chips tossed on top. So good!
All in all, it was a successful experiment and much more cost effective than the grocery store option. I think next time I will make a smaller batch to make it easier on my food processsor, but there definitely will be a next time 🙂

As an Amazon Associate I earn from qualifying purchases.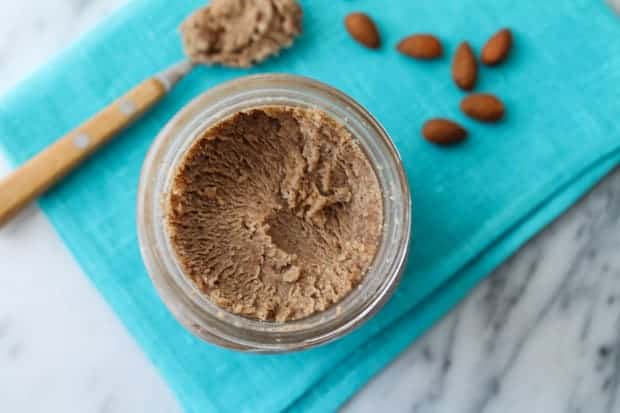 Homemade Maple Almond Butter
Keyword:
homemade almond butter
Instructions
Process almonds in a food processor until you reach your desired consistency. Add in the maple syrup & pinch of sea salt towards the end. Scrape down the sides of the bowl and break up any large balls that form along the way

Store in a sealed jar in the fridge
Nutrition Facts
Homemade Maple Almond Butter
Amount Per Serving
Calories 219
Calories from Fat 153
% Daily Value*
Total Fat 17g 26%
Potassium 263mg 8%
Total Carbohydrates 11g 4%
Protein 7g 14%
* Percent Daily Values are based on a 2000 calorie diet.