These Vegan Strawberry Crumble Bars are just the right amount of sweetness and texture. The berries mix with maple syrup to create the middle layer and you will love the crumble topping.
It's end of summer and if you are looking for recipes to use up strawberries, you have come to the right place! These bars are a vegan strawberry dessert you don't want to miss.
One of the many wonderful advantages of writing a food blog is the connections I've made with other bloggers. I love like-minded, health conscious people who totally don't think taking pictures of food is weird. 😉
I've been reading various recipe sites/blogs for quite a long time, but not until I actually started writing/photographing my own, did I truly relate to the time, effort and passion behind them.
This recipe was inspired by a fellow Canadian blogger, Melissa from Wholesomely Homemade* who, like the name suggests, has a love of homemade food. When she posted her recipe for strawberry bars, they immediately went to the top of my to-make list.
Because we all need more strawberry recipes in our lives!
*blog no longer running
VEGAN STRAWBERRY CRUMBLE BARS
Light, slightly sweet, easy to make. These fit the bill for a great, wholesome snack that your family will love. It's like a vegan strawberry crisp in bar form.
Use fresh picked strawberries or frozen! Either works fine.
HOW TO MAKE STRAWBERRY CRUMBLE BARS – Step by Step Images
Firstly, get those berries in a bath of a bit of filtered water, lightly sweetened with maple syrup, and reduce it down to a chunky syrup.
This takes about ten minutes.
Meanwhile, in large bowl stir together the dry ingredients that will serve as both the base and the 'crumble' top of these yummy bars.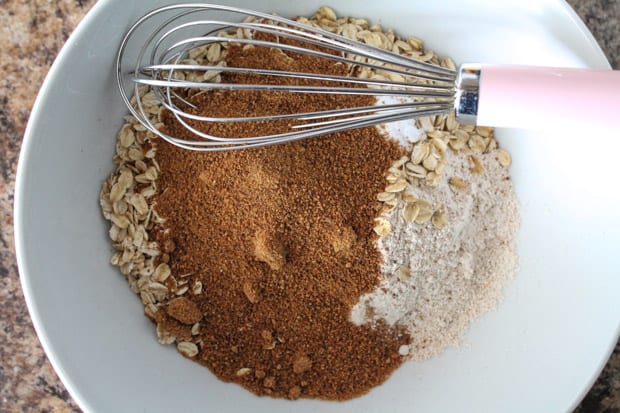 I kept things dairy free by using my favourite butter substitute, coconut oil. I also like to use spelt flour for baking. While it does contain gluten, spelt flour is digested much easier by the body than your basic all-purpose.
I find it works amazing in baked goods.
Layer the crumb mixture with the strawberry filling in the center and off it goes into the oven.
I let this cool on a little table by my kitchen window and felt all 'Leave it to Beaver'-ish. Yes, I'm super old. 😉
The verdict was in. These Vegan Strawberry Crumble Bars were SO good. I packed half the batch up and gifted it to my faithful trainer, Kathy, at my gym for her to share with her family.
If I didn't, there is no doubt Joe and I would've devoured the entire lot of them. Yes, that good. Thanks Melissa! 🙂
MORE VEGAN SNACK RECIPES:
Chocolate Chip Chickpea Cookie Bars
Peachy Vegan Frozen Yogurt Bites
Originally posted  March 19, 2014. Updated August 29, 2019
Be sure to follow me on social media! I love pinning to Pinterest, sharing on Facebook and posting pics to Instagram. See you there. 🙂
As an Amazon Associate I earn from qualifying purchases.
I use non toxic ceramic cookware.
Vegan Strawberry Crumble Bars
Keyword:
vegan crumble bars, vegan strawberry crumble bars
Instructions
Heat oven to 350 and line a 9x13 inch baking pan with parchment

In a small saucepan add the filling ingredients and bring to a boil over medium heat. Reduce heat and simmer for about 10 minutes, stirring and breaking up the berries with the back of the spoon. Once the filling has thickened, remove it from the heat and set aside

In a large mixing bowl, whisk together the dry ingredients. Once they are combined, stir in the liquefied coconut oil and stir well

In the parchment lined pan, press in just over half of the crust mixture to make a nice even base

Spread the strawberry filling over the base and spread evenly

Top the filling with the remaining crumble mixture

Bake for 30 minutes, or until the top is golden

Cool completely