Learning How to Wash and Store Kale is great way to have this super healthy leafy green on hand for smoothies or to toss into salads or soups. Having healthy options like kale, prepped and at your fingertips have you easily maintaining those clean eating goals.
During the summer months, you may notice an abundance of kale lining the shelves of your grocery store. Local farms are bursting at the seams with this healthy leafy green and dropping crates of en masse to markets all over.
I've been enjoying the best prices of the year at my local Whole Foods and it has been green smoothie city. I feel so much better when I have that daily boost of green power.
Kale is curly, giving the dirt and grit lots of places to hide. This method will ensure your kale is clean and no little pebbles will make their way into your smoothie or pot of soup.
HOW TO WASH AND STORE KALE
The first step is how to clean and prepare the kale. The method is fairly simple. All you need is your kale (obviously), a good salad spinner, and fresh water.
You may have read that you should wash kale with vinegar. 
Vinegar as an ingredient in many homemade, natural cleaners and there is a reason for it. It is a natural disinfectant. However, for washing greens it isn't necessary. Good old H2O will do the trick.
Let's get started!
Add your prepared kale to the colander and top it up with fresh water.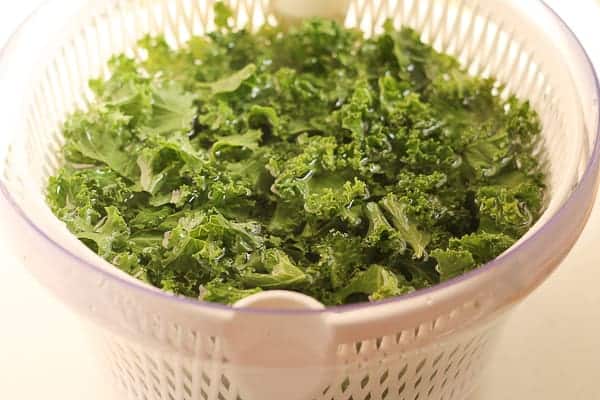 Give it a good massage with your fingers and really shake through the leaves.
Drain the water and re fill it again with just fresh water.
Repeat the massaging process and drain again. Refill the colander for a third time with fresh water. This process should eliminate any residual grit. Keep repeating the process with water until the water is clear.
Pop the lid on your salad spinner and start spinning the kale dry.
I empty the bowl a couple of times to see how much water remains. You want it dry as possible.
Why do we go through all of this for kale?
We all know kale is healthy but have you wondered how is kale good for you?
Besides adding vibrant colour to your food, kale is a nutritional powerhouse. Fiber, vitamin A, vitamin C, vitamin K, calcium, and the list goes on.
I consume most of my kale raw in a smoothie, which is said to be more beneficial than when it is cooked. This brings us to our last step.
HOW TO KEEP KALE CRISP
Those curly edges aren't so cute when they turn into wilty waves.
I line a large ziploc bag with a clean dish cloth, stuff the freshly spun dry kale inside then top it with another clean dish cloth. This helps to draw out any moisture and keeps the greens crisp for a good 3-5 days. The key is to get as most of the air out as possible, seal the bag and store it in your crisper.
Using the cloths are more environmentally friendly alternative to paper towels as you can wash and reuse them. Wash out the ziploc bag too!
I'm looking into getting some reusable produce bags to be even more waste conscious. Any recommendations out there?

So there you have it!
How to wash and store kale in a nutshell from a certified kale-o-holic. Good health to you, folks!