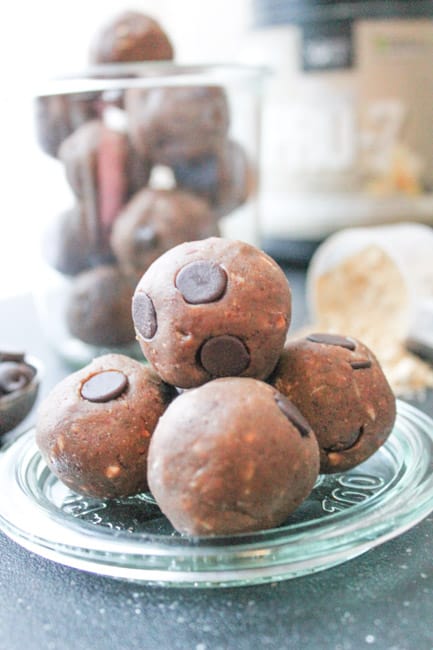 Protein Powder. Some love it and some, well, not so much. I'm in the middle of this spectrum. Not all protein powders are created equal and it all depends on what you are using it for. I like to use protein as an added ingredient in healthy snacks like smoothies, fudge and, if you hadn't guessed by now, Cookie Dough Balls. 😉
My newest protein powder came courtesy of North Coast Naturals, who sent out their newest, Vege Pro – 7, to try. Thanks Deryn! 🙂 It's totally organic, completely plant based (think chia, quinoa and pumpkin seed proteins), and worked perfectly in this recipe.
I've been on a but of a peanut butter rampage lately and wanted to switch it up, so for these little beauts I used almond butter. I always use chunky variety of either. I love the texture with the little nuts in my balls. Yes, I just went there. You did too. 😉
Easy recipes that are prepped up in five minutes flat are my style. I just used my hands to give this a good old fashioned mixing. They rolled up nice and easily and, after a stint in the freezer, they are ready to enjoy.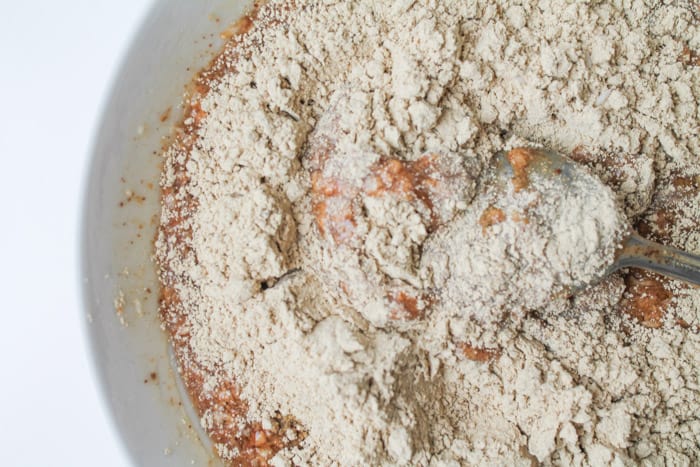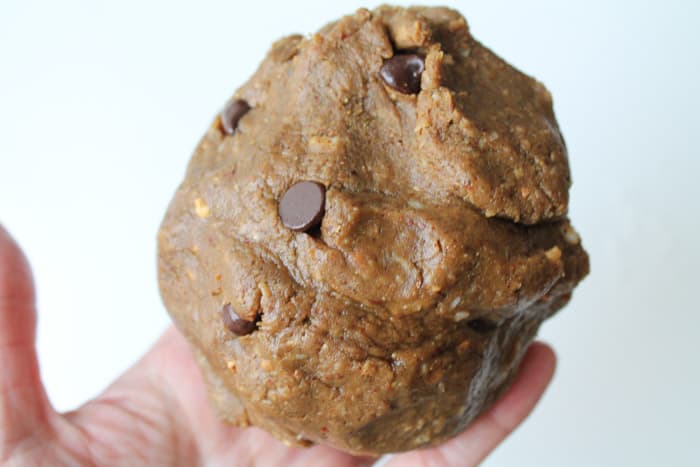 They totally have that chewy, cookie dough quality that we all know and love.
Chocolate Chip Cookie Dough that works as a pre-workout boost of energy or an afternoon pick me up? I'll have one, please!
Yum!
I guess I need to say, even though I provided with this product gratis, all opinions are genuine. But, you knew that, right? Have a great week, people!
As an Amazon Associate I earn from qualifying purchases.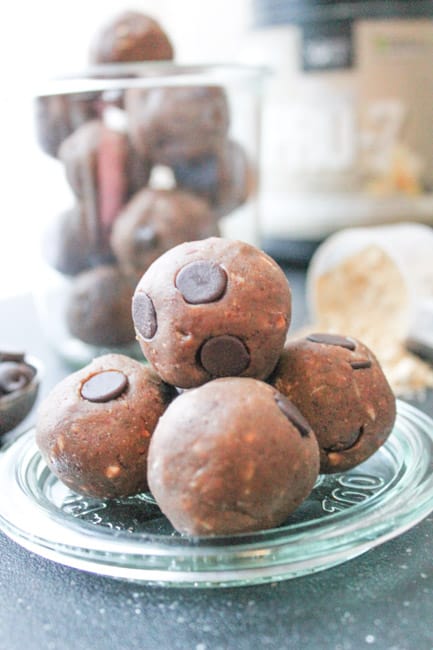 Chocolate Chip Cookie Dough Protein Balls – Vegan & Gluten Free
Keyword:
Chocolate Chip Cookie Dough Protein Balls
Instructions
Mix all ingredients together, adding in the protein powder 1/4 cup at a time

Roll into heaping tablespoon sized balls ad roll in your palms into smooth balls

Place on a parchment lined baking sheet and chill in the freezer for 15-20 minutes

Store in a sealed container in the fridge or freezer