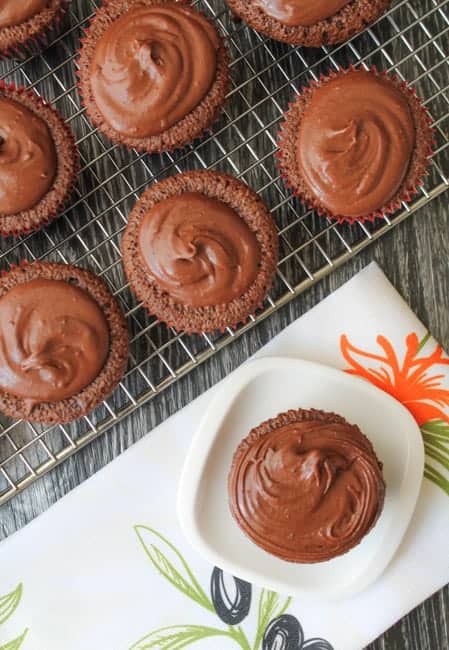 I saw the original recipe for Nigella Lawson's olive oil cake on Pinterest. I've been wanting to try an olive oil based cake for a while.  I usually sub coconut oil when baking but I have a friend at work that is allergic to coconuts and I wanted something she could try. I figured Nigella knows what she's doing, right?
I had all the ingredients I needed. I still had some ground almonds from when I made the ginger molasses cookies and I planned on subbing out the superfine sugar in the original recipe for cane sugar.
I did however need a springform pan. Deciding that I will get further use out of it I bought myself and shiny, new pan. #lovenewstuff 
Gather all your ingredients together.
Combine ground almonds, baking soda, and salt in a small bowl and set aside.
Sift cocoa powder into another small bowl and whisk in the boiling water and set that aside too.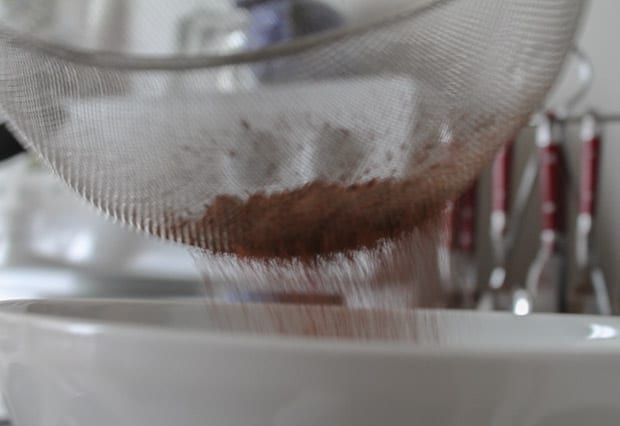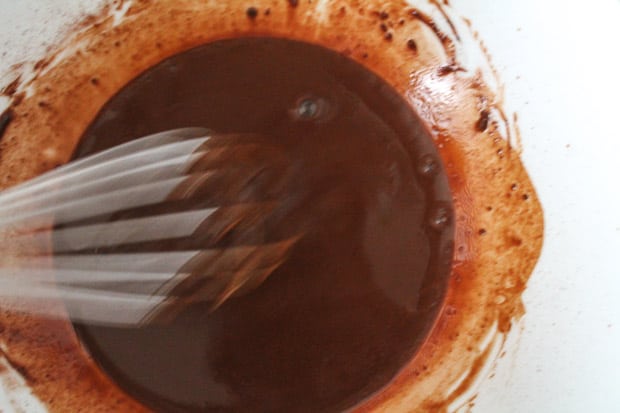 Into a final larger bowl, combine cane sugar, olive oil, and eggs and beat for 3 minutes. I used a hand blender as I stared into space and dreamt of a beautiful mixer in some cool colour. One day. Sigh. 😉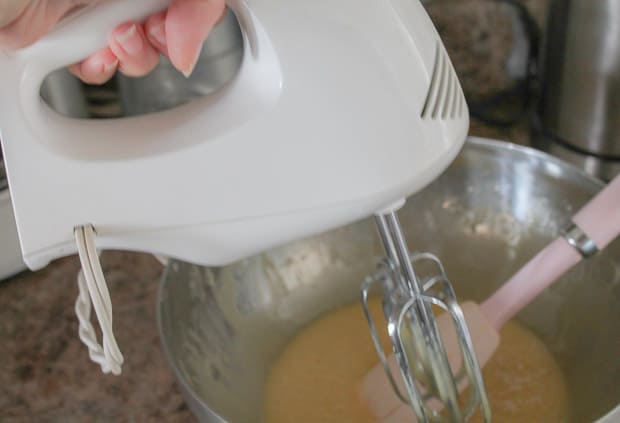 Slowly beat in the cocoa mixture and once that's well combined, bit by bit, slowly tip in the almond mixture.
Once all the ingredients have been well mixed in, pour the silky mixture into your springform pan.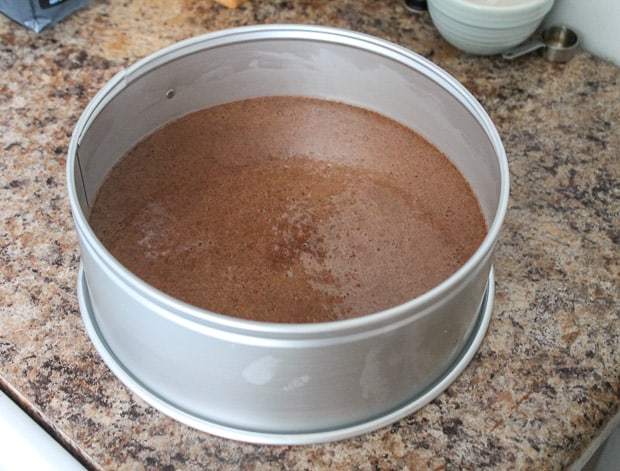 Pan? Wait a minute. I thought the title of this post said cupcakes? What's up with the pan, anyway? Well, I'll tell you.
Because this is where things kind of went south.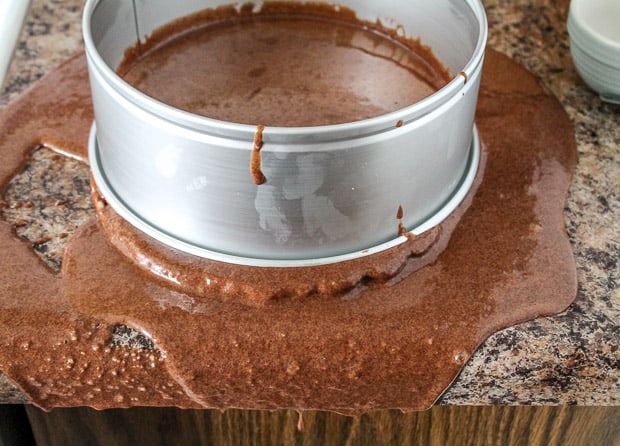 Yeah, that happened.
Obviously, there was a pan malfunction and I had a mini disaster on my hands.
I'm proud to say  I didn't fall to pieces, which totally could have happened. I quickly saved about half of the batter by sweeping what was on the counter back into the bowl. And after a brief cleaning interlude, I lined some muffin tins and decided that cupcakes it was!
I baked the cupcakes for 30 minutes and let them cool on the rack for 20 minutes.
So, did I save the day?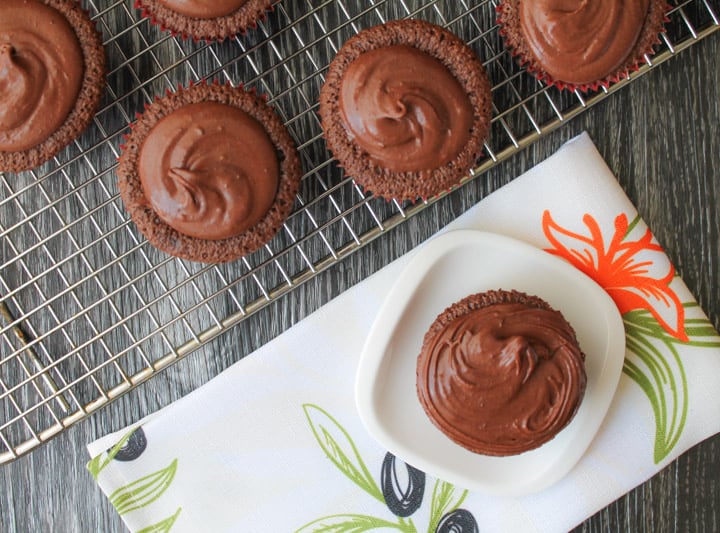 Indeed! These cupcakes were good! I liked the brownie like edges and the fudgy centres. I liked them best after they were stored in the fridge for about 30 minutes after cooling and topped with fudgy frosting. I enjoy my chocolatey items cold.
Give these a try. Olive oil! Who knew??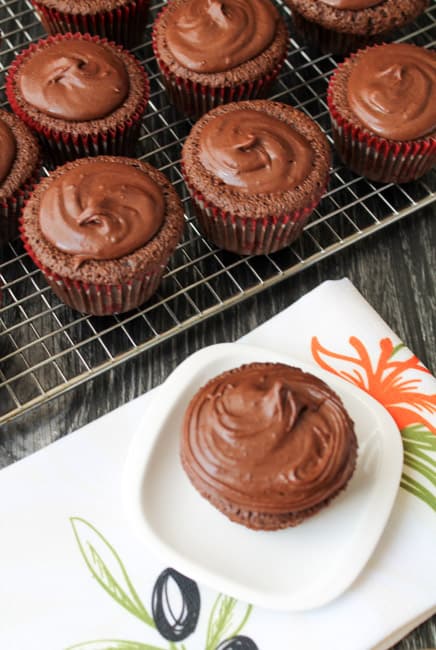 This recipe was adapted from Nigella Lawson.
Fudgy Olive Oil Cupcakes Gluten & Dairy Free
Ingredients
1 1/2 cups ground almonds
1/2 tsp baking soda
pinch of sea salt
6 tbsp cocoa powder, sifted
1/2 cup boiling water
2/3 cup olive oil
3 eggs
1 cup cane sugar
Instructions
Preheat oven to 325 and line 2 muffin tins.
Measure out ground almonds, sea salt, and baking soda and sift together. Set aside.
Sift cocoa into another bowl and whisk in boiling water. Set aside.
In a third bowl combine olive oil, cane sugar, and eggs and beat for 3 minutes.
Lower the mixer speed and slowly beat in cocoa mixture.
Slowly, bit by bit, tip in the almond mixture.
Once everything is well combined, fill muffin cups 2/3 full.
Bake for 30 minutes, testing with a toothpick. It should come out mostly clean. The sides should be set. Mine dipped in the centre.
Let cool on a baking rack for 20 minutes and then store in a sealed container in the fridge.
7.6.7
94
https://thehonoursystem.com/fudgy-olive-oil-cupcakes-gluten-dairy-free/