Low carb, healthy gluten free dinner recipe! These Roasted Zucchini Tuna Melts make for an easy, quick and delicious lunch/supper. Pair this recipe up with a salad and enjoy a complete clean eating meal.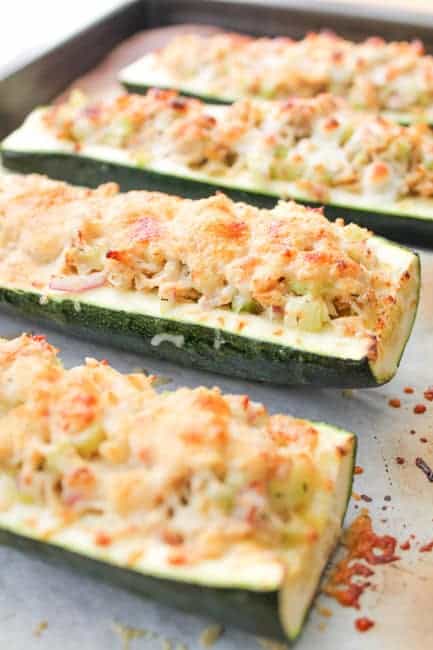 Are you ready for this?
A delicious gluten free and low carb tuna melt?
One that features amazingly yummy roasted zucchini?
The crispy cheese?
Maybe I should just stop talking and get on with it, yes?
Yes.
This is a really easy recipe to throw together, too which makes it even more ideal.
Roasted Zucchini Tuna Melts
Start with the zucchini. Obviously. 😉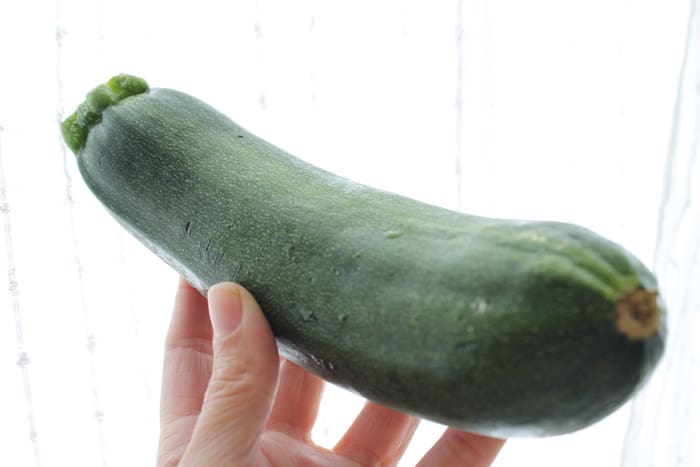 Slice it down the centre and, with a spoon, hollow it out like a canoe.  
We actually had a canoe growing up.
My family lived in a house that backed onto a calm inlet, that ran into a waterway, that ran into the ocean.
My best friend also lived on the inlet and also paddled a canoe around.
Together, we actually tipped her canoe resulting in a ride home from the coast guard in a zodiac, soaking wet. It was quite the event and the best part was how no one was one bit surprised we tipped.
I think I'm feeling nostalgic because I'll be heading out west soon to visit my family and friends in BC. Maybe this is why I was craving a tuna melt?
It's such a throw back meal that I would have all . the . time when I was younger.
Of course, I would have had it on nutritionally void white bread and the tuna would be full of garbage mayo, so now, the tuna melt gets the Honour System treatment!
Pop the zucchini in the oven and while it roasts, chop your veggies (I used the traditional onion and celery). With a fork, mix the veggies with the tuna and add in some oil and fresh lemon.
Then, just a touch of dill. I love dill.
Since we will be melting some delicious cheese on top of these babies there is no need for mayo. You won't miss it.
Trust.
Scoop the tuna mixture and the cheese into the roasted zucchini canoes, and pop under the broiler to crisp up the cheese and turn these babies into tuna melts!
I used some parmesan for half and since I had a little feta leftover from the Greek Salad I made this weekend, I used that for the other half.
Feta and tuna is a great combo.
Hot out of the oven.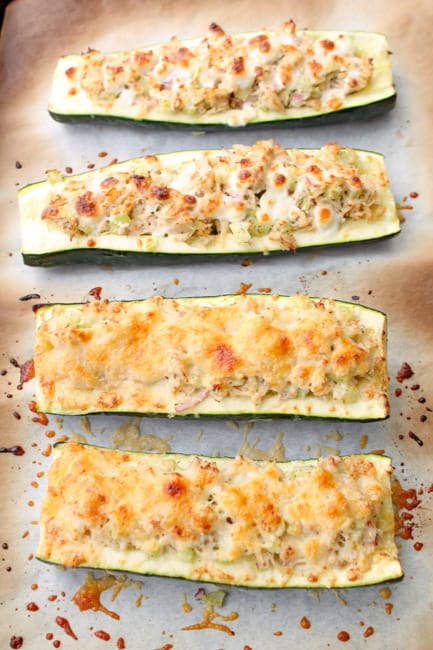 They came out perfectly and it was exactly what I needed to feel closer to home.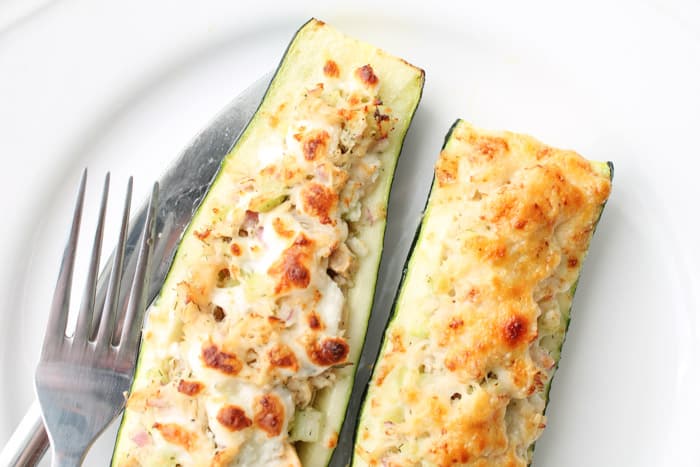 Can't wait to see you guys!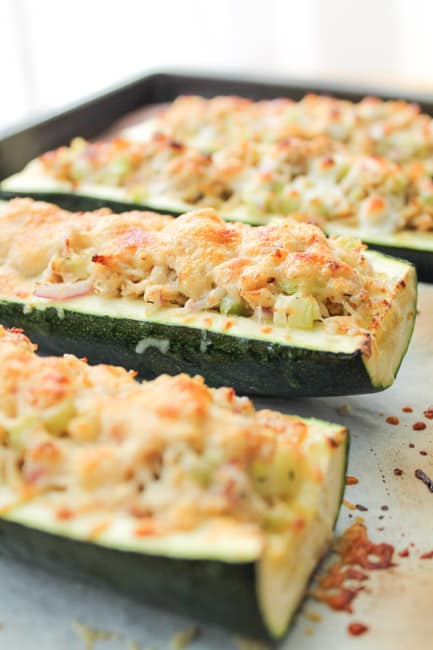 Sharon
Yields 2 servings
Roasted Zucchini Tuna Melts – Gluten Free
10 minPrep Time
25 minCook Time
35 minTotal Time
Ingredients
2 small zucchini
2 tbsp olive oil, divided
1 tin of tuna, drained
1 celery stalk, minced
¼ medium red onion, minced
2 tablespoons fresh lemon juice ( about half a lemon)
¼ tsp dried dill
½ cup cheese ( I used ¼ cup parmesan and ¼ cup feta )
Instructions
Preheat your oven to 400 and line a baking sheet with parchment
Slice the zucchini in half and using a teaspoon, scoop out the centre, about an inch. Brush the four zucchini halves with 1 tablespoon of olive oil and roast for 15-20 minutes. This will depend on the size of your zucchini. You want them to be tender, but not mushy. I used a fork to see how easily I could pierce the side and did a little touch test. Look for them to begin browning slightly on the sides
Meanwhile, mix together the tuna, celery, onion, and dill with the other tablespoon of olive oil and the lemon juice
Grate the parmesan cheese
Once the zucchini is done, take it out of the oven and turn on the broiler. Fill your canoes with the tuna mixture and top with the cheese
Broil for 2-3 minutes or until the cheese has browned and is crispy on top
7.8.1.2
379
https://thehonoursystem.com/roasted-zucchini-tuna-melts-gluten-free/