Coconut Sugar Pound Cake with Strawberries – Gluten Free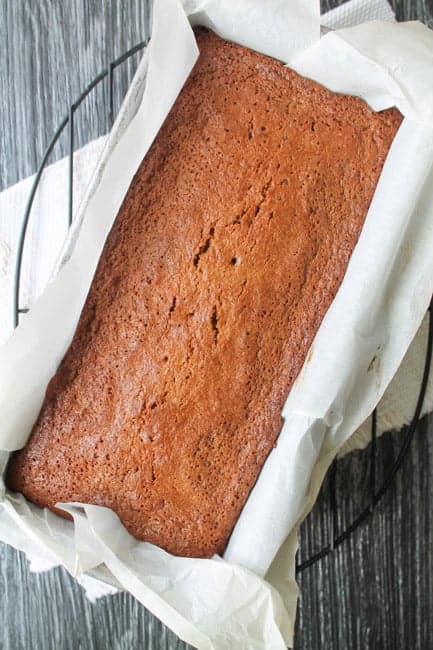 With strawberry season in full swing, I've been brainstorming different ways to eat them. 😉 Granted, just eating them in the raw is already so good, but sometimes I'm in the mood for an impressive dessert. Fancy, even. So, here we go with this delicious, gluten free pound cake as a vehicle for your summer berries.
I'm using butter in this recipe. I don't use it often as, truth be told, organic butter is pret-ty pricey so I tend to only buy it once a month or so. But, because this is a fancy dessert, I'm rolling with the million dollar buttah. So, the first thing you have to remember is to get that butter on the counter to soften up. Then, get the berries going. So easy. Chop up the strawberries, sprinkle with a bit o'sugar and stir. Pop the bowl into the fridge and in an hour or so, you will be rewarded with beautifully sweet berries and a light, fruity syrup. Now, for the pound cake batter. I used the softened butter, some organic cream cheese (which by the way is basically the same price as the non-organic brand. hmmm. I'd like butter to do that.) and coconut sugar, all creamed together as the base of the pound cake.
Then I added ground almonds, with a bit of baking powder whisked in. Try not to be like me a use the proper sized bowl for the job. If not, you will wind up with a mess. 😉
Beat in a few eggs and off it goes into the oven. Soon, we were rewarded with a sweet, cake-y aroma that filled the kitchen. I love baking aromatherapy! The tough part of this recipe is waiting for the cake to cool.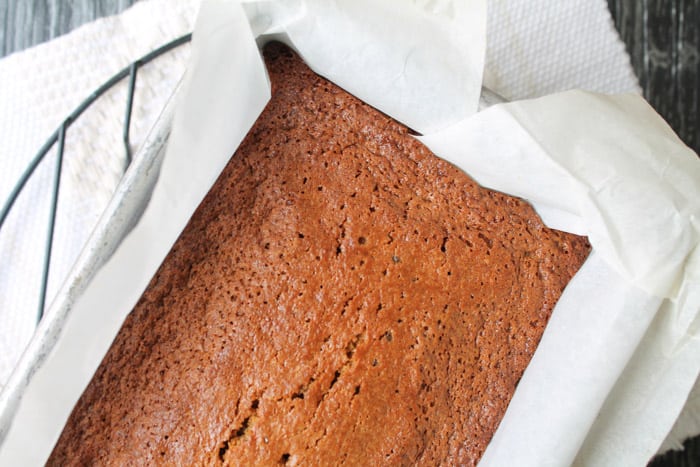 It turned out so well. The colour is a little off from a traditional white flour pound cake which is pretty light. The darker colour from using the coconut sugar which is quite brown, but other than that, it is exactly what I wanted as far as texture was concerned. It was dense, yet light in flavour. The edges had a little 'chew' to them which I loved.
By now your berries will be perfectly married to the sugar and there will be that deliciously light and sweet syrup.
Top with the berries and add some fresh mint. I highly recommend the mint. It made this dessert the fancy, schmancy plate I was looking for.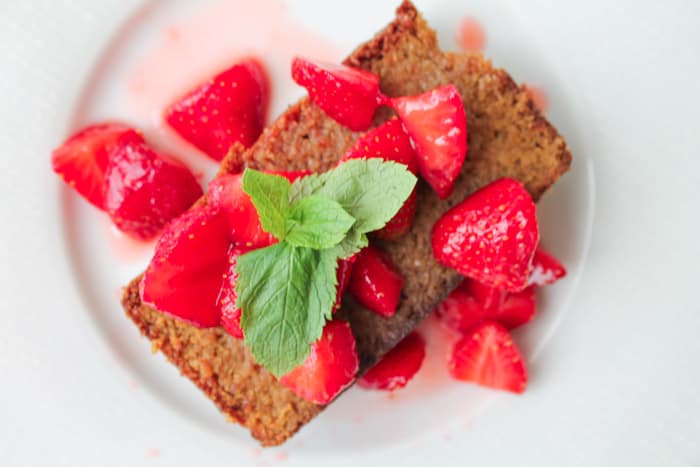 Next time, and there will be a next time, I'm envisioning this cake smothered in this vegan salted caramel sauce. Then I will die. 😉
As an Amazon Associate I earn from qualifying purchases.
Coconut Sugar Pound Cake with Strawberries – Gluten Free
Instructions
Stir the strawberries and can sugar together and refrigerate, covered, in a bowl for at least an hour. This will allow the juices to be released from the berries and give you some syrup

Heat oven to 350 and line a loaf pan with parchment paper

In a medium sized bowl, whisk together the ground almonds with the baking powder and set aside. In a separate bowl, using a hand mixer, mix together the butter, cream cheese and coconut sugar. Add eggs, one at a time, beating well after each. Add in the ground almonds, a little at a time. Stir in the vanilla

Pour the batter into your parchment lined loaf pan and bake for 55-60 minutes

Let cool in the pan for 20 minutes, then transfer the loaf to a wire rack and cool completely, about 20 minutes more

Slice cake and top with strawberries, fresh fruit syrup and mint
Nutrition
Calories:
360
kcal
Carbohydrates:
36
g
Protein:
7
g
Fat:
22
g
Saturated Fat:
7
g
Cholesterol:
98
mg
Sodium:
152
mg
Potassium:
327
mg
Fiber:
5
g
Sugar:
25
g
Vitamin A:
520
IU
Vitamin C:
93.1
mg
Calcium:
107
mg
Iron:
1.8
mg