Creamy Baked Pasta Shells in Chipotle Tomato Sauce – Gluten Free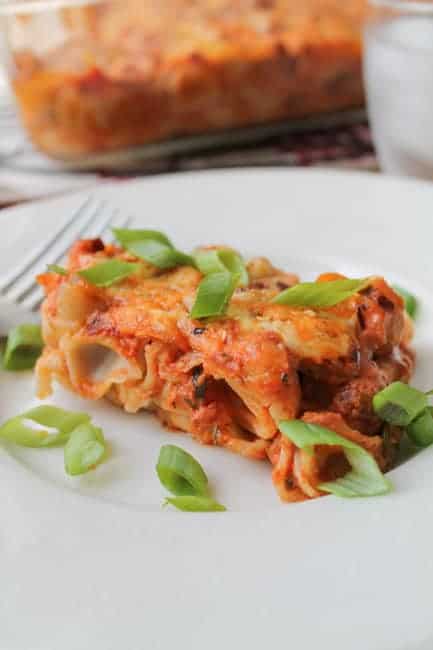 A couple of weeks ago I was tagged on Facebook to participate in a five day gratitude challenge. Everyday you would list five things you were grateful for and because you also tagged three of your friends, they would also list five things. I had such a great time every morning, logging into my account to see the lists of the day.
Truth be told, I'm already big into daily thankfulness. It's like my personal type of meditation I do first thing before starting my day. Sometimes, what I am acknowledging could seem trivial, like my comfy bed or fresh water to drink but when you think of how many people don't even have that it gives you pause. Remember how blessed we are. Even if it seems hard sometimes.
Having an abundance of healthy, organic food available to me is on my list always. And this baked pasta dish? So, so grateful. 🙂
Quick to throw together and plenty of leftovers to reheat for lunch tomorrow? So, so, SO grateful. 😉
Most restaurants will douse cream pastas in a ridiculous amount of whipping cream. It may taste good at the time but I guarantee your belly won't be agreeing with that decision. Couple that with the bleached, all-purpose white pasta and about two thousand calories later you may be full of regret instead of gratitude!
I was inspired to make this a creamier style pasta due to some sour cream in the fridge that was dangerously approaching it's due date. Sour cream is lighter than whipping cream and making this pasta at home means organic all the way, a must for dairy products. To up the healthier quotient, use brown rice pasta shells which makes this a gluten free meal.
Using jarred tomato sauce really sped things up. It was a small corner cut but I did use homemade veggie broth to cook my pasta.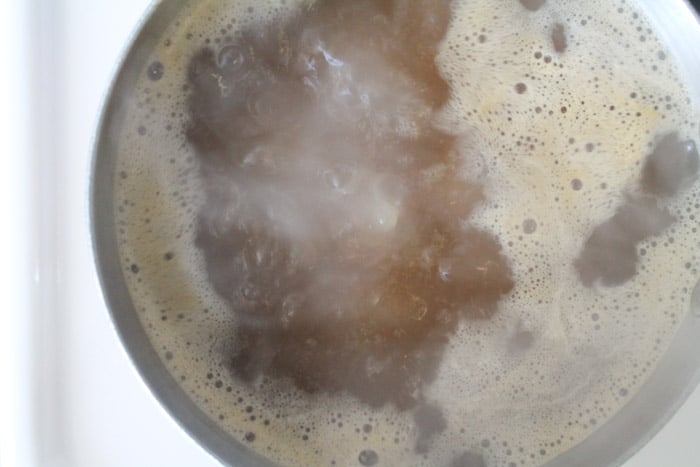 We all know I like to add spice. Flavours from things like peppers, onions, and spices means less sodium, fat, etc. For this dish, it was chipotle peppers. I chop them up with their seeds and all. Smoky, spicy, yummy.
This sauce doesn't even need a saucepan! Stir the tomato sauce with the sour cream and chopped chipotle peppers. Add in some sliced green onion for even more depth and some texture. I reserved some to sprinkle on top of the finished pasta.
Layer the sauce with the cooked pasta shells and some shredded cheddar and top it with plenty of freshly ground pepper and crushed chilies. –> Likey the spicy. 😉 Let it all bubble away in the oven.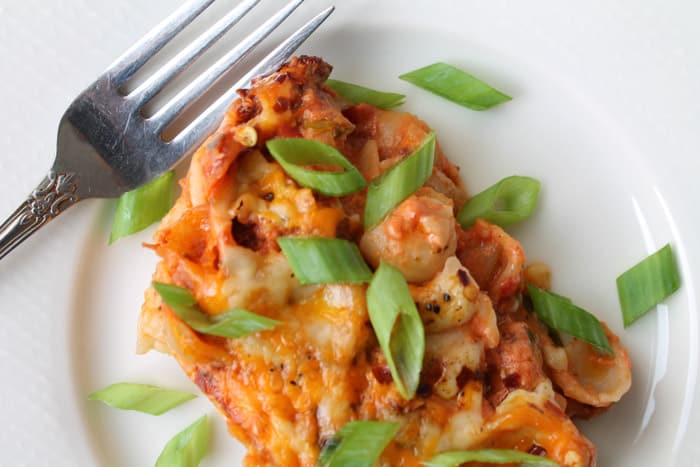 We enjoyed ours in our sun filled living room. Yet another thing to be grateful for.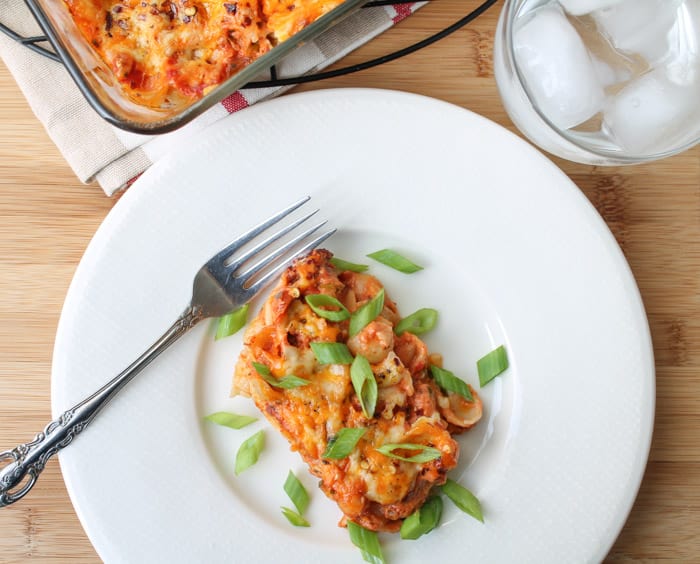 As an Amazon Associate I earn from qualifying purchases.
Creamy Baked Shells in Chipotle Tomato Sauce – Gluten Free
Instructions
Preheat oven to 350

Coat 9x8 baking dish with olive oil and set aside

Cook brown rice pasta shells according to package instructions and set aside

In a medium bowl, combine tomato sauce, sour cream, and chopped chipotle peppers. Add green onions and stir again.

Add half of the noodles to your prepared baking dish. Top with half of the sauce, then sprinkle 1 cup of the grated cheese. Repeat with noodles, sauce, and then a final layer of cheese. Top with lots of fresh pepper and a sprinkling of chili flakes

Bake for 25 minutes, finishing with 3-4 minutes under the broiler to get a bit of crust on the cheese

Top with fresh sliced green onions
Nutrition
Calories:
434
kcal
Carbohydrates:
45
g
Protein:
16
g
Fat:
21
g
Saturated Fat:
12
g
Cholesterol:
59
mg
Sodium:
940
mg
Potassium:
556
mg
Fiber:
5
g
Sugar:
7
g
Vitamin A:
1385
IU
Vitamin C:
13.5
mg
Calcium:
371
mg
Iron:
2
mg