Quinoa is such a delicious and hearty gluten free base for a dinner salad. This Lemon Chicken Quinoa Salad is a tasty and healthy meal. Great for meal prep and packing up for lunches!
Any time Joe eats quinoa I want to party like it's 1999. 😉
Not kidding!
Granted he was pretty hungry but, he ate every bite. I enjoyed this chicken quinoa bowl right away, but Joe is always my most feared/revered critic and quinoa usually is not his thing.
This particular quinoa recipe was.
Happy dance. 🙂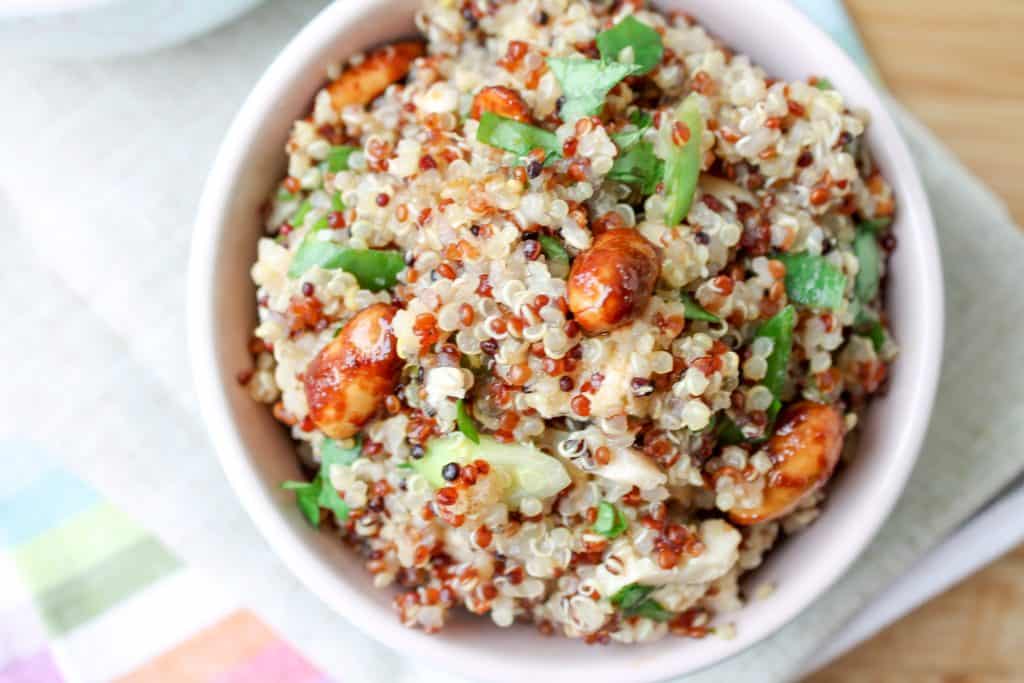 The chicken I used is a popular Honour System marinade, featuring honey and mustard.
It was perfect for this dish which had an even mix of sweet, sour and savoury. Oh, and don't forget crunch! These peanuts were the crowning glory. The forkfuls that had peanuts on it were hotly anticipated.
What I particularly like is that this salad has a distinctive flavour of Spring.
You see, we live in Canada in a quaint lakeside community that for nine or ten months out of the year is picture perfect, with hot Summer days and incredible Fall colours.
But Winter here is a cruel bitch. Excuse my French. 😉
We got absolutely buried in snow this past January and February. Snow day number one is peaceful and fresh.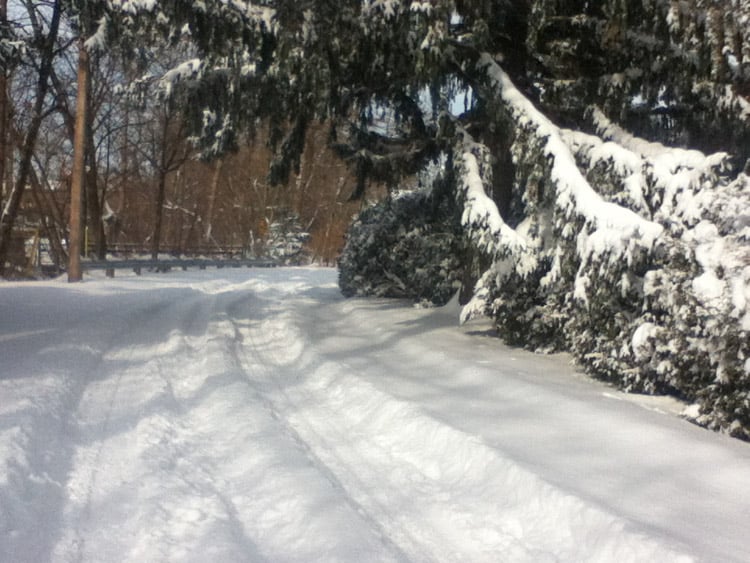 Snow day number twenty-five doesn't feature quite the same shine, if you know what I mean.
We couldn't see our mall from the street for weeks due to the ten foot high, dirty drifts from the snow plows. The exact opposite of 'pure as the driven snow'.
So to help shake off the cloak of this cold season, I'm busting out the lemons and the local honey.
The day got brighter instantly.
LEMON CHICKEN QUINOA SALAD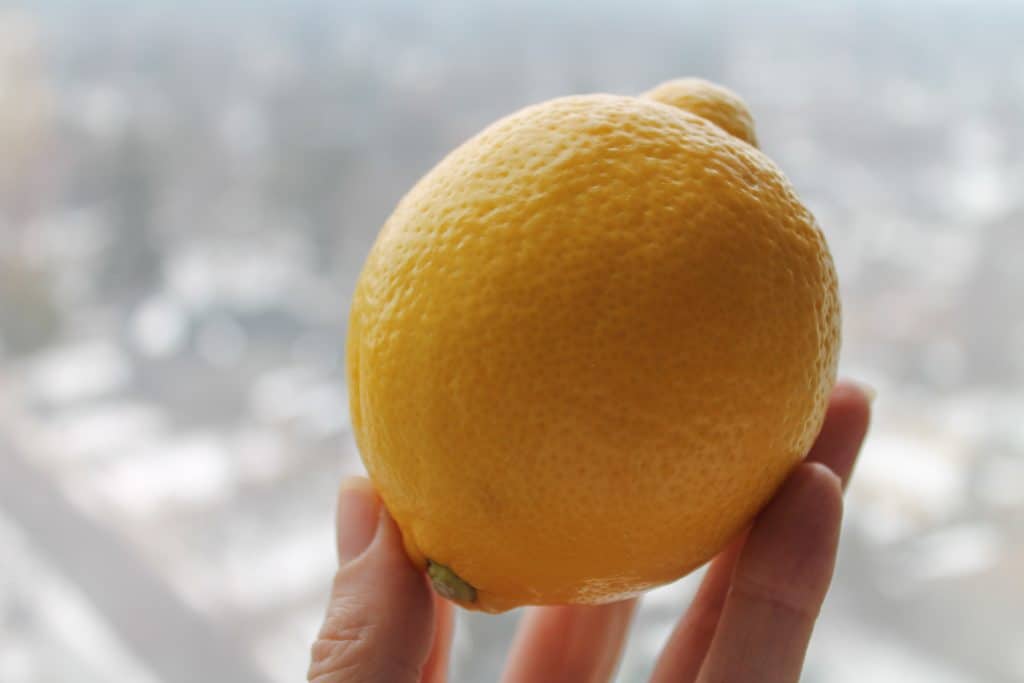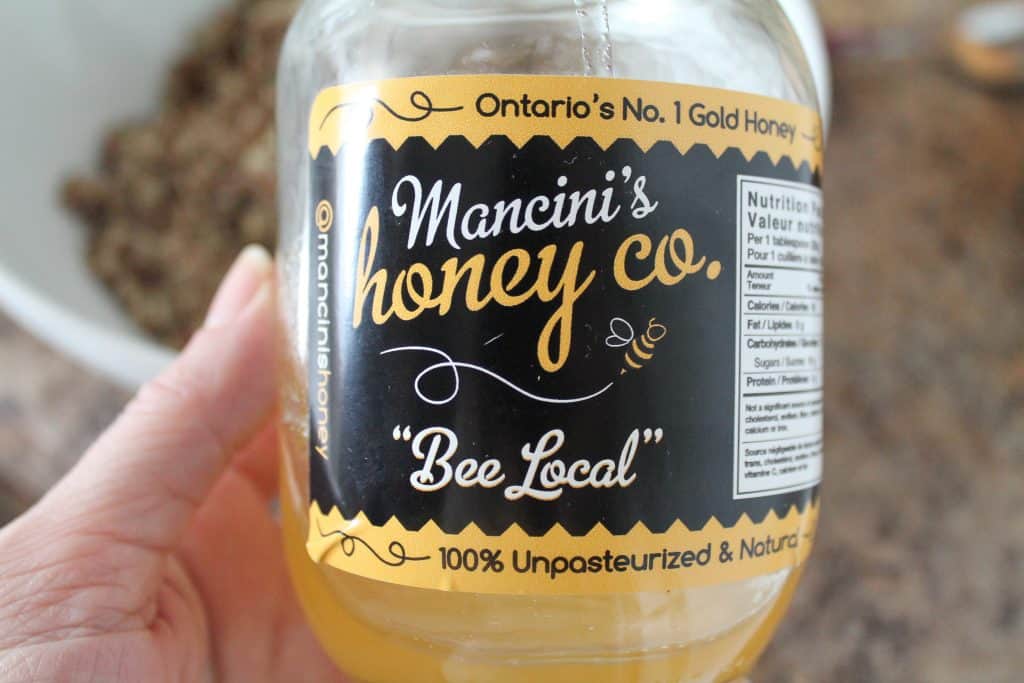 And what about the colours of the quinoa?
I like using a tri-colour quinoa.
It gives you different textures that definitely add interest.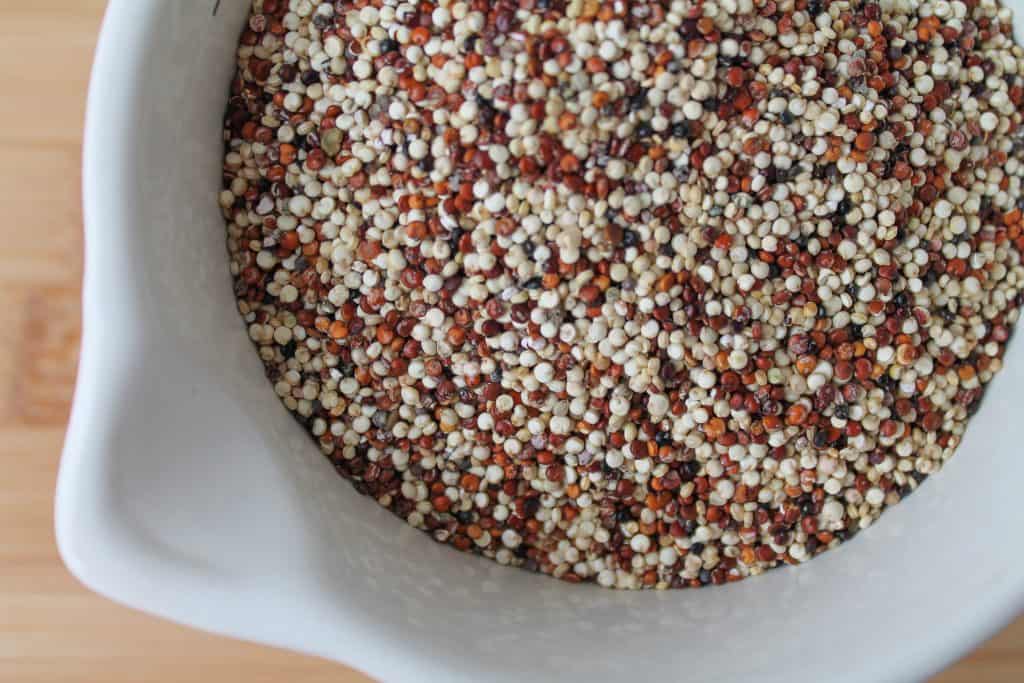 Have you heard of this trick for cooking quinoa?
After it boils and you set it aside, covered, pop a sheet of paper towel between the lid and the pot to catch the condensation that builds up on the lid.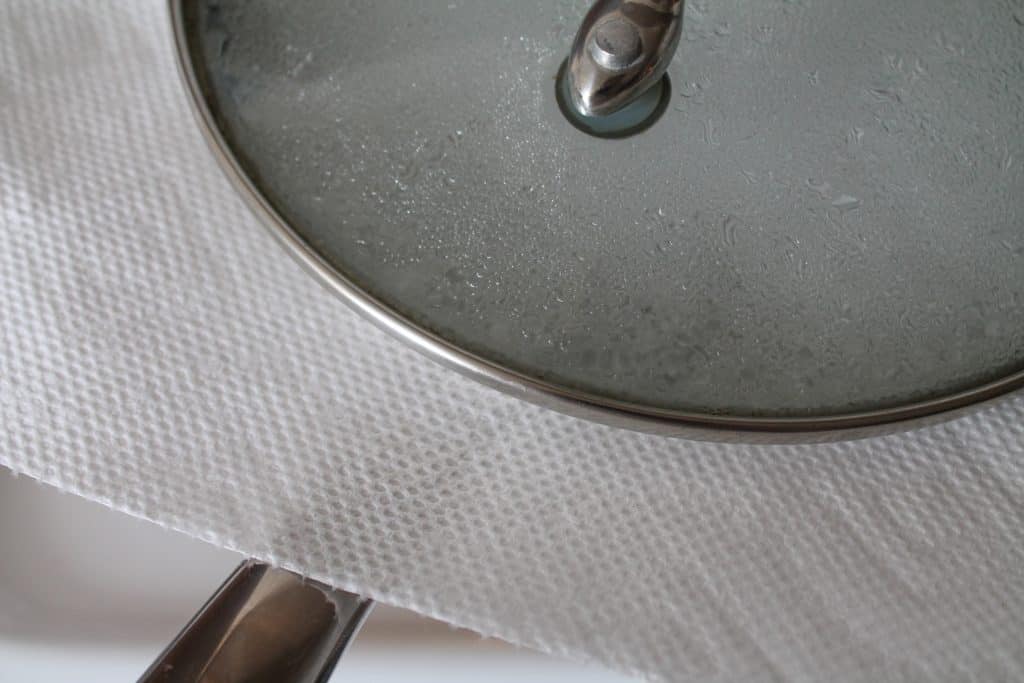 Thanks for that one, Gwyneth Paltrow!
If you are looking for healthy chicken and quinoa recipes, this is definitely one to start with.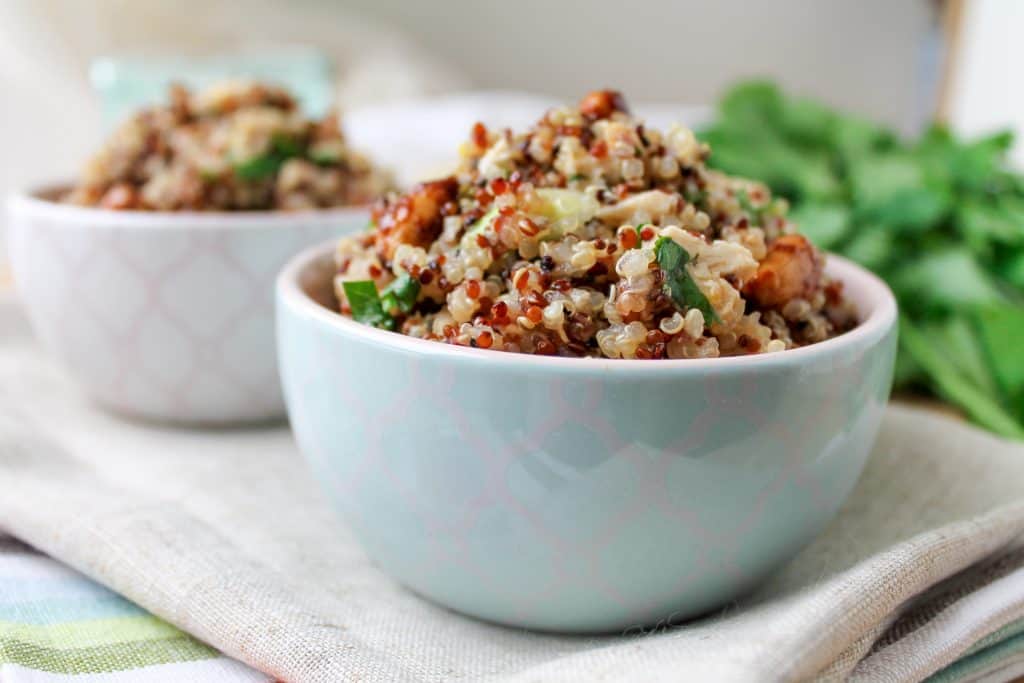 So if you're looking to kick start your Spring meal repertoire, give this tasty dish a try.
Man approved!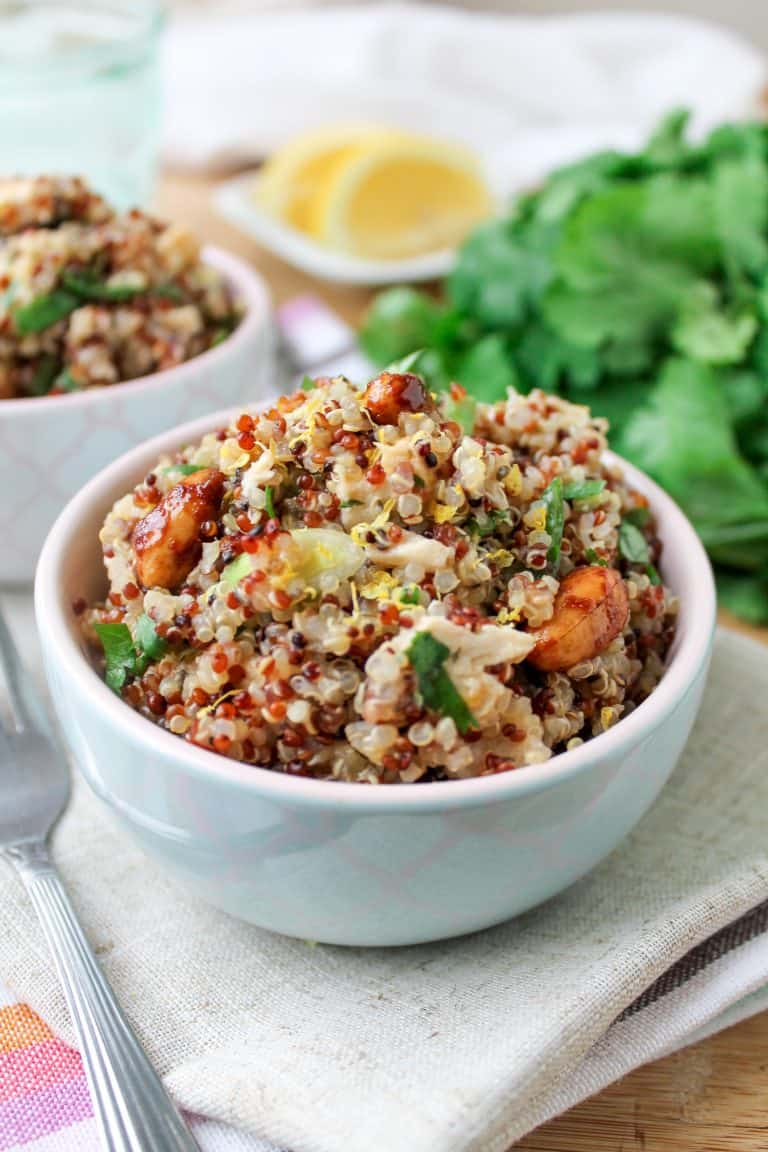 MORE HEALTHY QUINOA RECIPES:
Quinoa Stuffed Maple Sweet Potato
Spicy Roasted Butternut Squash with Quinoa and Cranberries
Lemon Berry Quinoa Flour Muffins
*Originally posted March 23, 2015. Updated September 25, 2019* 
Be sure to follow me on social media! I love pinning to Pinterest, sharing on Facebook and posting pics to Instagram. See you there. 🙂
As an Amazon Associate I earn from qualifying purchases.
I use non toxic ceramic cookware.
Lemon Chicken Quinoa Salad
Quinoa is such a delicious and hearty gluten free base for a dinner salad. This Lemon Chicken Quinoa Salad is a tasty and healthy meal. Great for meal prep and packing up for lunches!
Course:
Main Course, Salad
Keyword:
quinoa chicken salad
Instructions
Cook quinoa according to package instructions. Transfer the cooked quinoa to a large mixing bowl

Add the honey and mustard to the hot quinoa and gently stir it in. Cover the bowl and set aside for 10 minutes

Meanwhile, in a mixing bowl stir together the shredded chicken with the lemon juice, chopped cilantro & sliced green onions

Add the chicken mixture to the warm quinoa and fold together. Stir in the lemon zest and roasted peanuts.
Nutrition Facts
Lemon Chicken Quinoa Salad
Amount Per Serving
Calories 645
Calories from Fat 189
% Daily Value*
Fat 21g32%
Cholesterol 96mg32%
Sodium 329mg14%
Potassium 1255mg36%
Carbohydrates 63g21%
Protein 51g102%
Vitamin A 345IU7%
Vitamin C 10.2mg12%
Calcium 80mg8%
Iron 5.2mg29%
* Percent Daily Values are based on a 2000 calorie diet.