Are you looking for healthy quinoa flour recipes? These nut free Lemon Berry Quinoa Flour Muffins are a tasty, flour less option for a nutritious and easy breakfast on the go or a gluten free snack for school or work.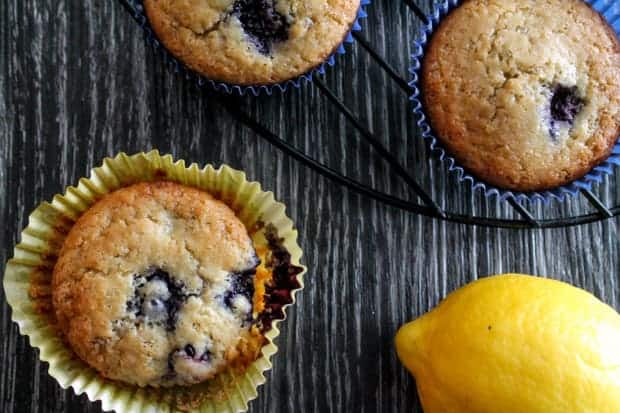 My first taste of these Lemon Berry Quinoa Flour Muffins was pure bliss.
Earthy, creamy, sweet and satisfying are all great descriptors.
When I was in the middle of my Master Cleanse, I was blogging about Cream Cheese Stuffed Carrot Cake Muffins . It was self inflicted cruel and unusual punishment and I became obsessed.
I could not wait for the cleanse to be over so I could make muffins.
I plotted, planned, researched … what kind of muffins?
Chocolate?
Fruity?
What kind of flour?
Spelt?
Something gluten free?
I painstakingly prepared for these muffins like the crazy OCD lady I truly am. These beautiful babies are the result.
They are so lovely and lemony fresh. Who's in?!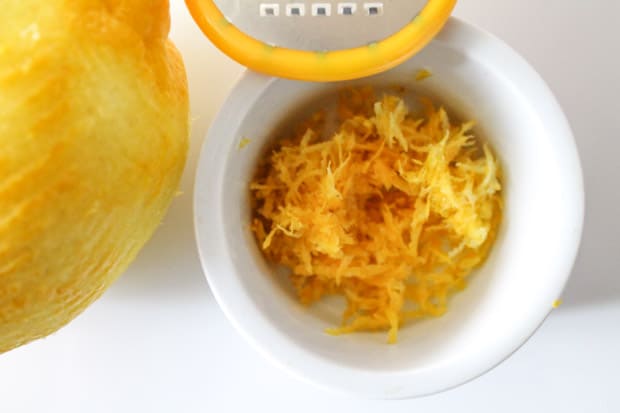 I have heard about using quinoa flour in baking for a new gluten free option and I was excited to try it.
And I mean I was really exited to try it. You know you're a food blogger when trying out a new flour results in a giddy kitchen dance and you actually take a photo said flour bag.
Yippee!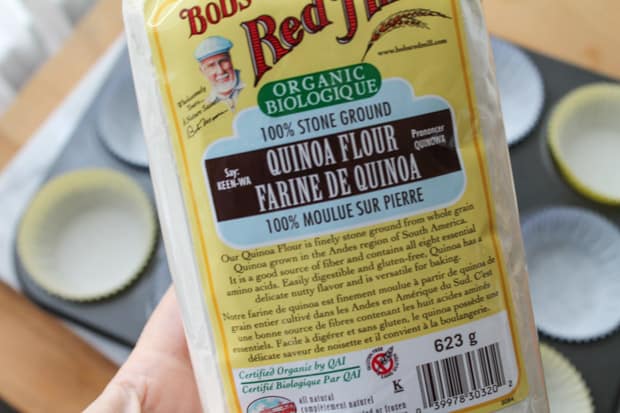 LEMON BERRY QUINOA FLOUR MUFFINS
When I whisked the dry goods together I really caught the aroma of quinoa.
It was a bit bizarre.
The quinoa flour seemed pretty flat and fine.
Before adding in the organic cane sugar, I rubbed in lemon zest to add a citrusy flavour.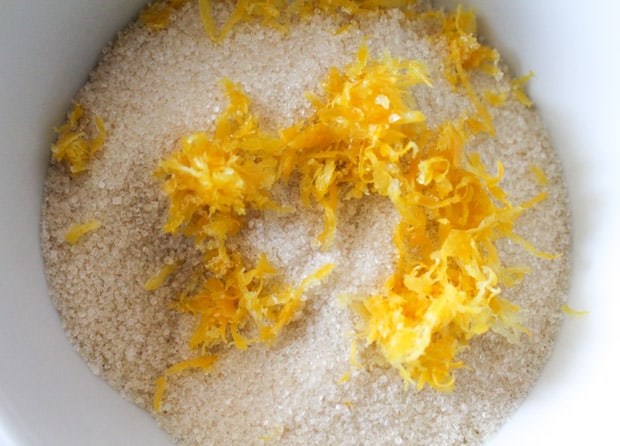 This brand of organic berries was on sale at Fortino's so I stocked up on a couple of bags and am looking forward to using them up.
It has cherries, blackberries, and blueberries.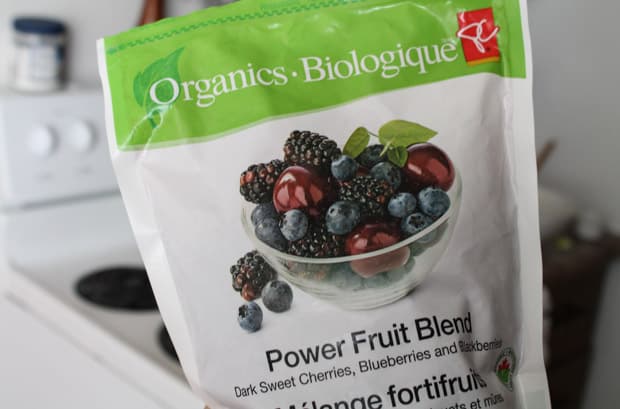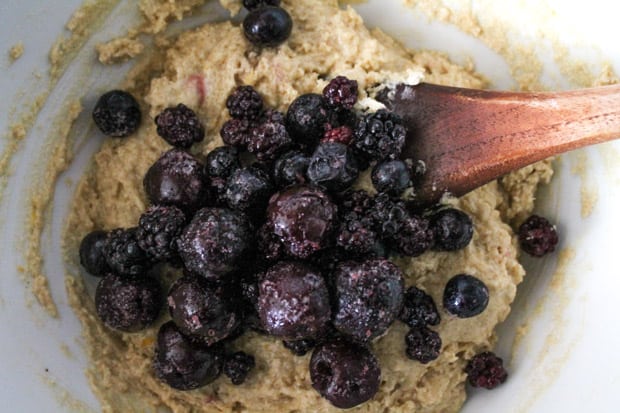 I added in a touch of sweetened cream cheese to the center of each muffin.
I used less cream cheese than with the carrot cake muffins. With the carrot cake ones I wanted to emulate the thickness of the typical cream cheese frosting and with these I just wanted to add a touch of creaminess.
I sweetened the cream cheese with a bit of sugar and lemon zest.
Yum.
I filled the muffin cups ½ way, added about a teaspoon of the cream cheese mixture, then topped them off with the rest of the muffin batter.
I found the quinoa flour yielded a little less than my usual spelt flour and making a dozen resulted in smallish muffins.
Because of this I recommend only making 10 muffins so they are a little larger than the ones I made.
The verdict is an enthusiastic thumbs up!
I quite enjoyed the sweet, citrusy flavour. It was a nice switch up from the usual chocolate or peanut butter.
I also liked the quinoa flour for baking.
The muffins had a nice crust on the top and there was a faint taste of quinoa which gave them a slight earthy sweetness. It's nice for those with coconut allergies to have another gluten free option besides coconut flour.
Good stuff. 🙂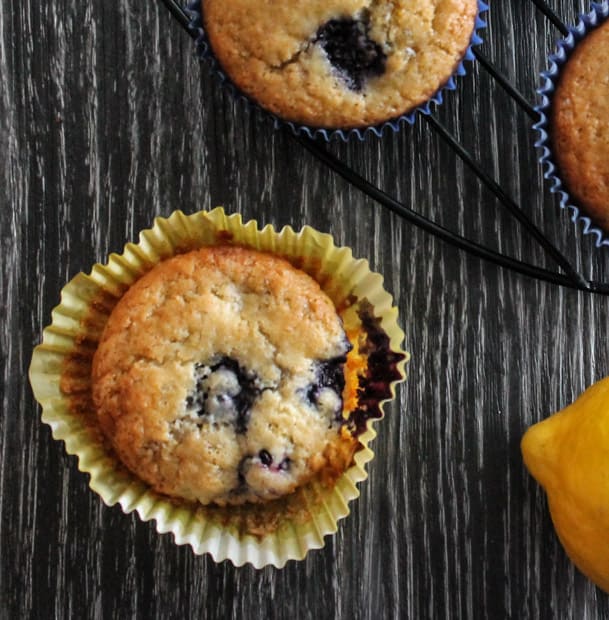 MORE HEALTHY MUFFIN RECIPES:
Carrot Cake Spelt Flour Muffins
Peanut Butter and Dark Chocolate Breakfast Muffins
Cream Cheese Stuffed Carrot Cake Muffins
Be sure to follow me on social media! I love pinning to Pinterest, sharing on Facebook and posting pics to Instagram. See you there. 🙂
Originally posted in October 25, 2013. Updated May 24, 2020
As an Amazon Associate I earn from qualifying purchases.
I use stainless steel muffin tins for this recipe.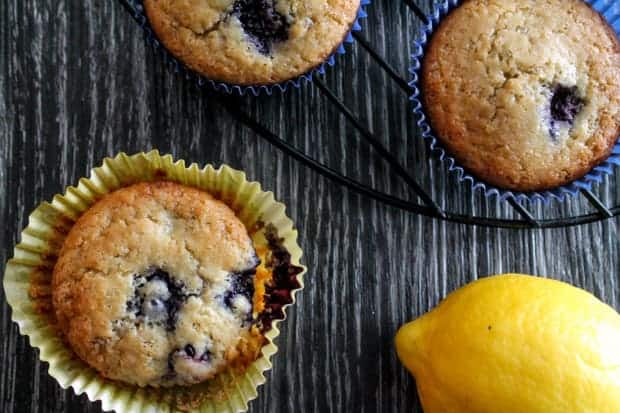 Quinoa Flour Muffins - Lemon Berry
Are you looking for healthy quinoa flour recipes? These nut free Lemon Berry Quinoa Flour Muffins are a tasty, flour less option for a nutritious and easy breakfast on the go or a gluten free snack for school or work.
Keyword:
lemon berry quinoa muffins, quinoa flour muffins
Instructions
Preheat oven to 400 and line a muffin tin with paper liners

Whisk together the quinoa flour, salt, baking powder, and cinnamon in a large mixing bowl

In a separate bowl, add the sugar and lemon zest and rub them together. I just used my fingers! Add to the flour mixture and stir.

In another bowl, mix olive oil, egg, milk, and vanilla.

Combine the wet ingredients into the quinoa flour mixture, adding it bit by bit until just combined. Then fold in the frozen berries.

Stir together the cream cheese, lemon zest, and sugar. Fill each muffin cup half way with batter and then add a teaspoon of cream cheese filling to each. Finish with the remaining batter so you can't see the cream cheese filling.

Bake muffins for 20 minutes, or until muffins are golden brown and a toothpick comes out clean.

Store covered for up to 2 days.
Nutrition Facts
Quinoa Flour Muffins - Lemon Berry
Amount Per Serving
Calories 192
Calories from Fat 72
% Daily Value*
Fat 8g12%
Cholesterol 21mg7%
Sodium 29mg1%
Potassium 132mg4%
Carbohydrates 24g8%
Protein 3g6%
Vitamin A 100IU2%
Vitamin C 0.7mg1%
Calcium 67mg7%
Iron 1mg6%
* Percent Daily Values are based on a 2000 calorie diet.