Cream Cheese Stuffed Carrot Cake Muffins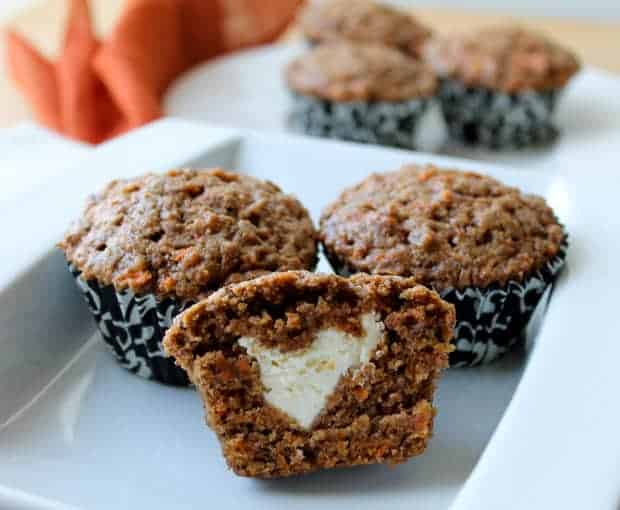 How brilliant is this? Putting a little ball of cream cheese inside a delicious carrot cake muffin. Brilliant! I owe this amazing idea to my blogger friend, Heidi. Heidi writes and photographs for her blog, Food Doodles, which is an incredible resource for health minded foodies, all while being a mother to three little ones. Look out, Wonderwoman 😉
When I saw this particular recipe on Heidi's blog, I knew I had to make it. Carrot cake is a favourite of mine but I rarely make it as it's not the most healthy, regardless of having 'carrots' in the title. Side note: did anyone else hear Gilbert Blythe's voice just then? "Carrotsssss"" Just me? OK …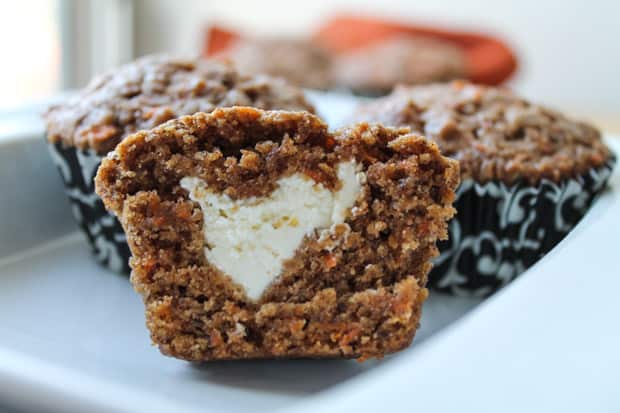 Back to why these muffins are much more 'honourable' than the original carrot cake with cream cheese frosting. I used about a tablespoon of cream cheese per muffin, unsweetened. That right there eliminates a lot of sugar and fat from traditional carrot cakes that use a sweetened cream cheese frosting and usually quite a lot of it. I also used spelt flour which is far superior to regular all purpose flour, which is stripped of it's nutrients. Spelt is a great substitute for baking and I use it all the time.
So, I measured out my dry ingredients, the flour, some cinnamon, nutmeg and ginger for flavour, whisked them together and set the bowl aside.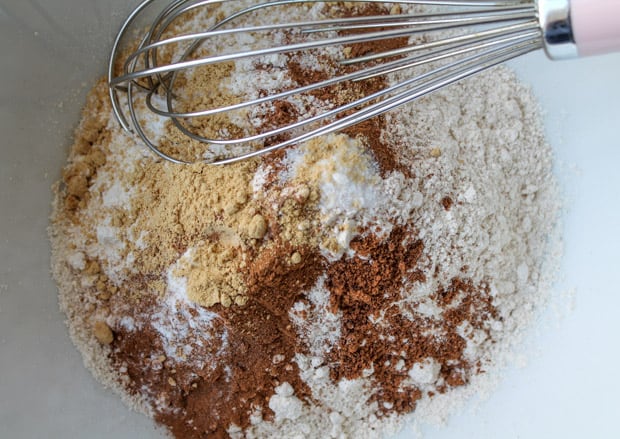 Instead of almost grating my fingers off, I decided to dust off the grater attachment for my food processer and shred the carrots the easy way. I was glad I did! I had 2 1/2 cups of grated carrots in seconds. Boom!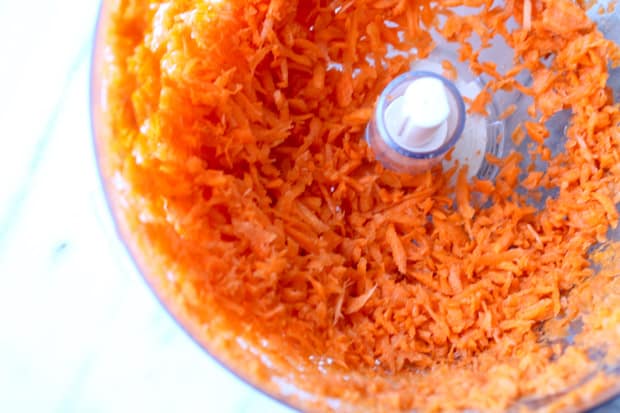 Then for the eggs … This is where I ran into trouble. Heidi's recipe called for 4 eggs and when I opened my carton I only had 1 lonely egg 🙁 Not sure how that happened, so I'm just blaming Joe and moving on.
Now was time to improvise. I had read about flax eggs on a few vegan sites that I read and figured this was as good a time as any to test them out. Luckily, I always have ground flax in the fridge.
The ratio I used was 1 tablespoon of flax to 3 tablespooons of water, mix well and let sit for 5 minutes. What you should end up with is a gel like substance similar to that of an egg. I used 3 tablespoons of flax to 6 tablespoons of water for my recipe.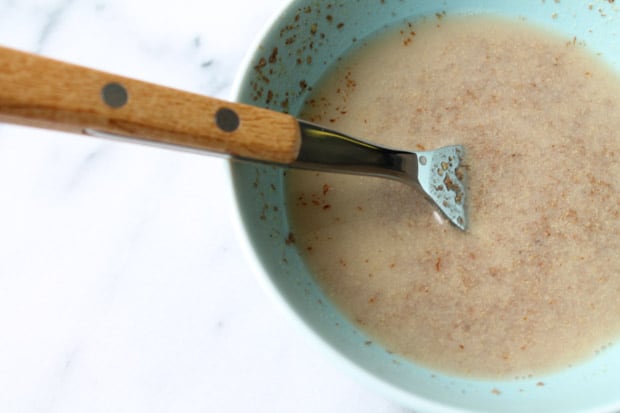 I held my breath and mixed it in with my batter. Then I filled the lined muffin cups about 3/4 of the way full and pushed about a tablespoon of cream cheese into the centre of each.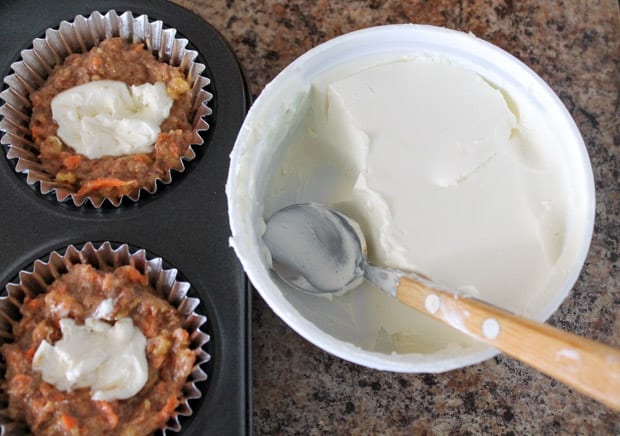 Then top off the muffins with the remaining batter. Make sure the cream cheese is covered.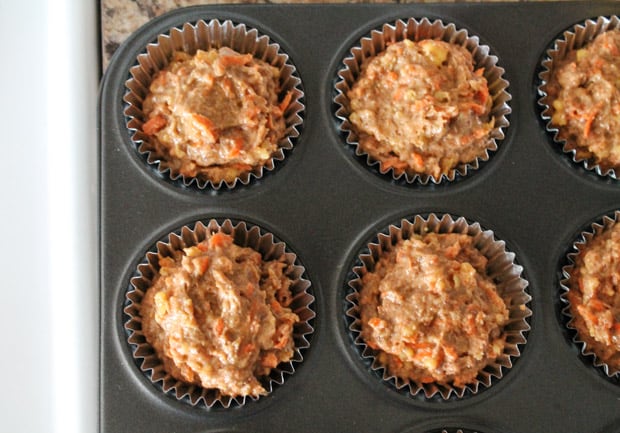 Into the oven they went. Soon the kitchen was filled with the comforting aromas of fresh baking and I was feeling pretty confident it was all going to turn out OK.
After the muffins had cooled, I sliced one in half. It almost looked like a little heart of cream cheese in the centre <3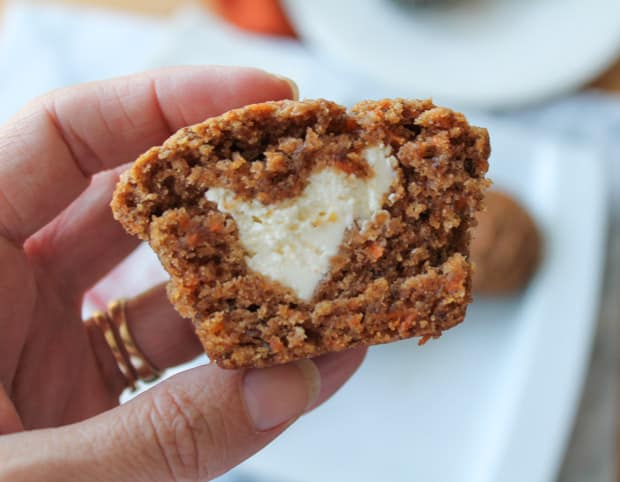 They were amazing. I promptly packed some up to take to work so Joe and I didn't devour the whole batch 😉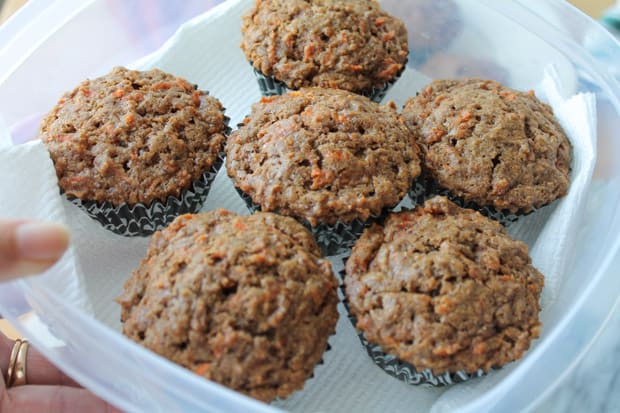 Just a quick note about the filling. Heidi didn't sweeten her cream cheese and neither did I as we both were looking for lighter version, but if you did want to make something a little more decandent you could add a touch of maple syrup to the cream cheese to sweeten it up a bit.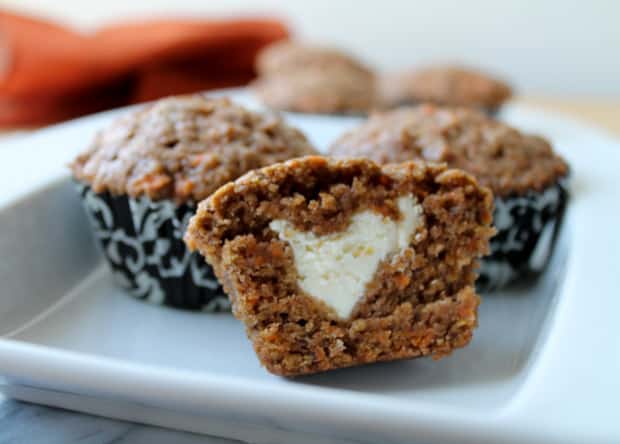 Recipe adapted from Food Doodles.
As an Amazon Associate I earn from qualifying purchases.
Cream Cheese Stuffed Carrot Cake Muffins
Instructions
Preheat oven to 350 and line a muffin tin

In a small bowl whisk together the flour, baking powder, baking soda, sea salt, cinnamon, ginger and nutmeg.

In another larger bowl stir together the melted coconut oil, maple syrup, flax eggs, vanilla, shredded carrots and turbinado sugar until completely combined. Add the dry ingredients to the wet ingredients and stir together just until combined

Fill each muffin cup about 2/3 full then place one tablespoon of cream cheese per muffin, pushing the piece into the batter. Then top off the muffins with the remaining batter, ensuring the cream cheese is covered

Bake for 25 minutes or until a toothpick comes out clean (or just with cream cheese on it, no batter)

Remove from the oven and cool in the muffin tin for 5-10 minutes until the muffins have cooled a bit then transfer to wire racks to cool completely
Nutrition
Calories:
306
kcal
Carbohydrates:
36
g
Protein:
4
g
Fat:
15
g
Saturated Fat:
10
g
Cholesterol:
15
mg
Sodium:
367
mg
Potassium:
197
mg
Fiber:
4
g
Sugar:
18
g
Vitamin A:
4650
IU
Vitamin C:
1.6
mg
Calcium:
70
mg
Iron:
1.4
mg