Instant Pot Salsa Chicken & Brown Rice – This recipe is a healthy, wholesome one pot crowd pleaser. Full of flavours and the ease of the Instant Pot makes this a great weeknight dinner to throw together in a pinch.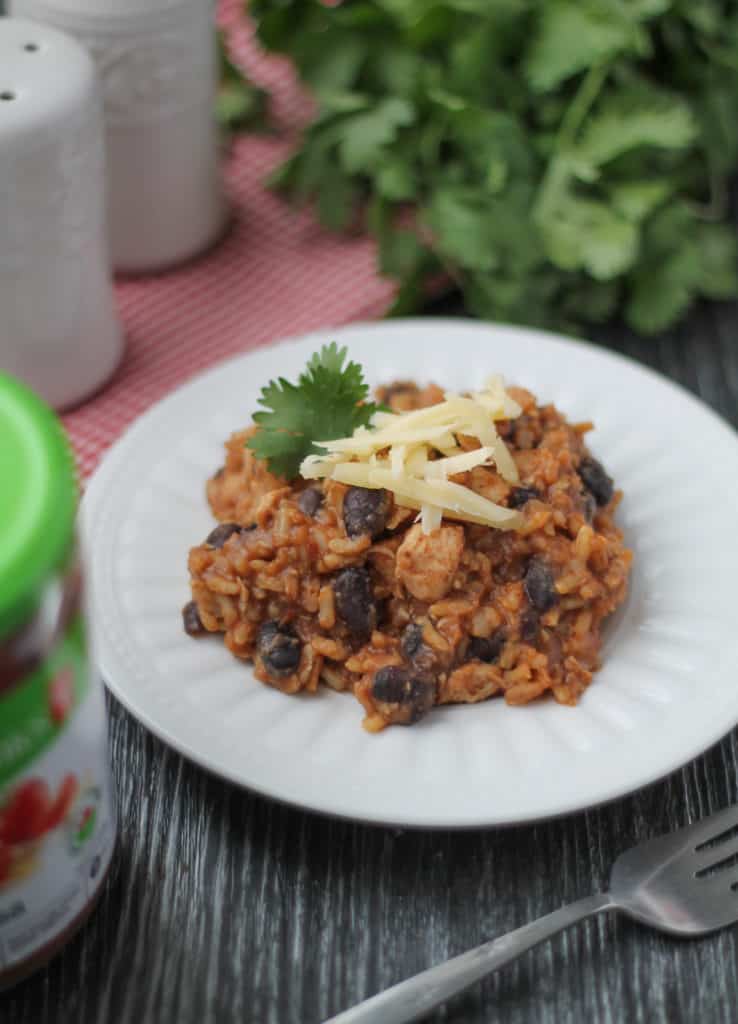 This Instant Pot Salsa Chicken & Brown Rice, is one of those one pot wonders. It's why I invested in this handy kitchen tool!
What separates the Instant Pot from a slow cooker is the very useful saute function.
Instead of browning meat or sauteing veggies in another pan, you can do it right in the Instant Pot. Love that!
Anything to lessen the never-ending pile of washing. Joe calls me 'the dirty dish maker'.
That's life with a food blogger.
Don't worry. I have a few names for him too. 😉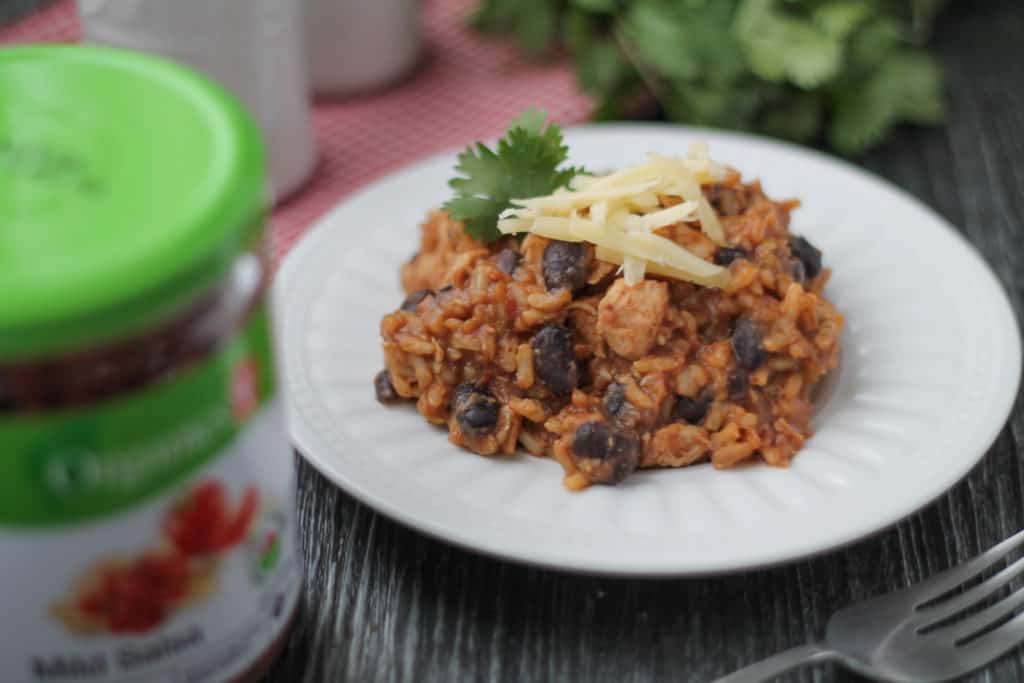 First, I sauteed up some onions in a little bit of coconut oil then hit the pot with freshly minced garlic. I did use homemade bone broth in this recipe instead of water as the liquid. Using broth adds so much flavour.
This is something I cannot recommend enough.
Another homemade addition was the black beans that I made from dried. Did I make them in the Instant Pot?
Of course I did!
Remember friends, you were warned.
It's been Instant Pot city up in here. You could even call me a pot head. 😉 I promise to share all of these recipes with my fellow junkies.
I used frozen chicken breasts for this recipe. Using frozen chicken makes it easier to cut into chunks beforehand and because the Instant Pot is like my little magician, it cooks in the same time as the brown rice.
A perfect little marriage. 🙂
I've also been cooking up frozen chicken breasts to shred for soups, salads or wraps.
The final touch on this easy, breezy dish was fresh cilantro.
I know that cilantro is a love it or hate it ingredient.
Count me in the love it list.
I adore the fresh, clean taste of cilantro and topped my plate liberally. Couple that with a bit of freshly grated cheese and BOOM! Dinner is ready and it's delicious to boot.
I'm a huge fan of healthier Mexican inspired dishes and am so glad this one out of my Instant Pot was a hit.
Instant Pot Salsa Chicken & Brown Rice – Gluten Free
Ingredients
1 tbsp coconut oil
1 small onion, diced
3 cloves garlic, minced
2 frozen chicken breasts, cut into bite sized chunks
1 398 ml. can black beans, drained & rinsed (I used 1.5 cups)
1 cup brown rice
1 tsp chili powder
1/2 tsp cumin
1/2 tsp sea salt & 1/4 tsp freshly ground pepper
1 cup salsa
1 cup broth

toppings:cilantro, cheese, avocado, sour cream
Instructions
Set Instant Pot to saute and adjust it to low heat. Add oil and let it warm up until liquid. Add onions and saute, stirring periodically,until softened, about 2 minutes. Stir in garlic and cook for another minute. Keep stirring as not to burn the garlic
Add in the chicken pieces, brown rice, beans and seasonings, and stir well. Add the salsa and broth and stir well again
Turn off the saute function
Lock the lid in place and press the manual button. Set the time for 18 minutes
Allow pressure to release naturally. Stir, then check the rice for doneness. Add another 2 minutes if necessary
7.7.0.1
502
https://thehonoursystem.com/instant-pot-salsa-chicken-brown-rice-gluten-free/