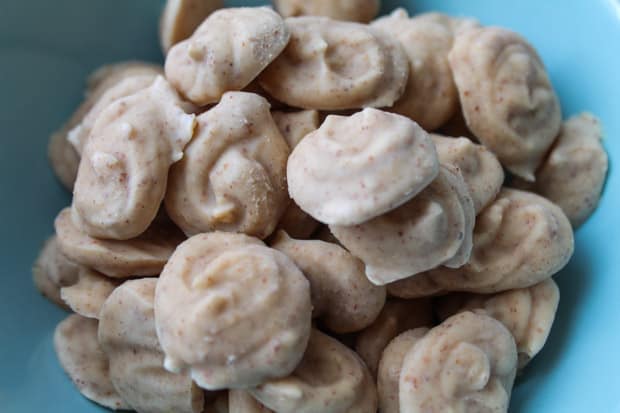 I've been on a real greek yogurt kick these days! It all started with the chipotle chicken salad then the  greek yogurt lemon cupcakes and it has just spiraled from there. I was inspired by the Yogen Fruz I used to love as a kid meandering through the mall with my friends. They used to have a variety of frozen fruits and other sweet things to swirl in with the frozen yogurt. Are those still around?
Anyways, I  thought I'd make an almond-y version of frozen yogurt but make it into bite sized little pieces for easy snacking. If there's one thing I love, it's snacking.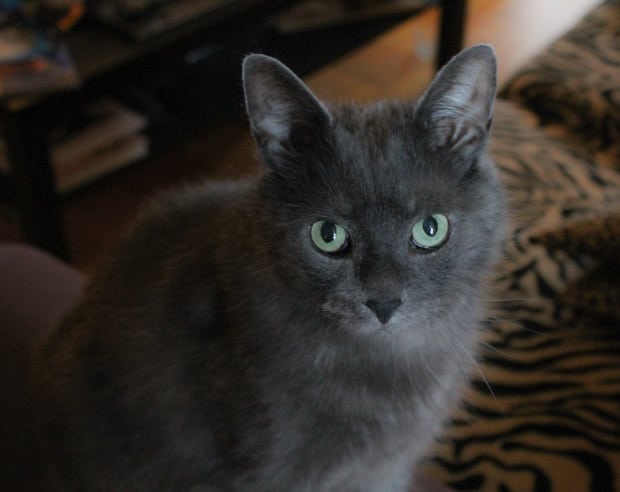 Oops! Sorry, Lou! I love you just as much as snacking. 😉
Prepping for these tasty little treats is pretty darn simple. Basically, toss all the ingredients into a food processor, or if you have a high powered blender that would work just as good. And I'm jealous of you. Just saying.
Give everything a good whirl around until everything is well combined. Prepare a baking sheet by lining it with parchment paper. My good intentions were to pipe beautiful little rosettes onto the parchment with my piping bag, but…there's always a but…a darned little piece of almond blocked the tip of the piping bag and my mixture wouldn't come out. Well, it did start coming out but from the wrong end!! I tried to unblock the tip with a toothpick but to no avail. My next course of action was to remove said tip and put on a different one (wait for it…I sense another but) but, when I removed the blocked tip the yogurt mixture started to ooze out all over the counter. That's when I started swearing. In the end I emptied the piping bag back into the food processor and abandoned all hope of picture perfect rosettes and simply spooned little bite sized pieces onto the parchment instead.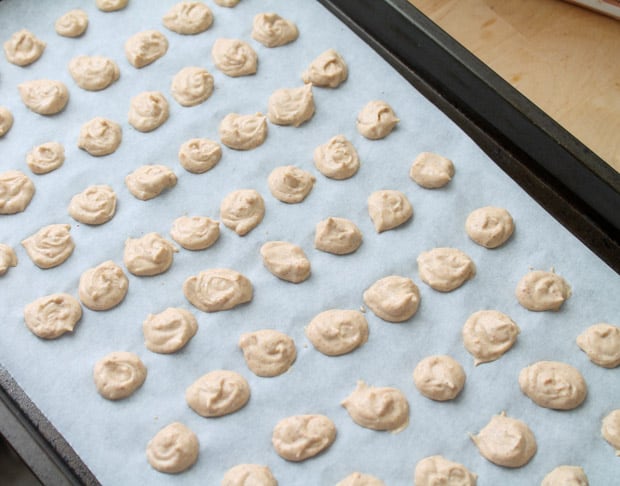 Off they go into the freezer for a good 30 minutes or so. You want to make sure they are frozen solid.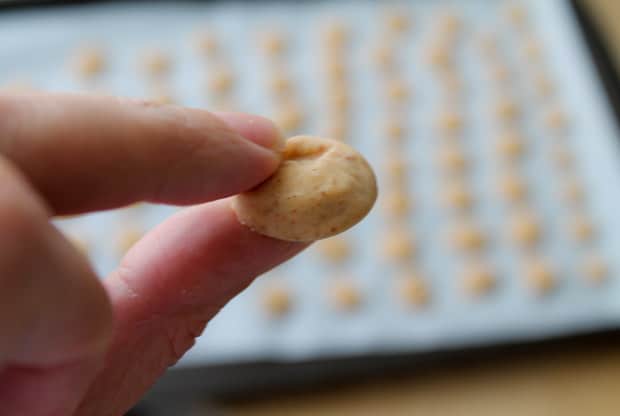 Peel them off the parchment and transfer them to a ziploc bag. Pop them back into the freezer and whenever you feel the snack monster hit, pop one in your mouth! These are very good and I can see endless variations using berries, chocolate, bananas, etc., etc. Have fun experimenting!
I'd also like to wish a Happy 4th of July to all of you Americans out there! I hope there will be BBQ'ing and fireworks a-plenty for your holiday:)
As an Amazon Associate I earn from qualifying purchases.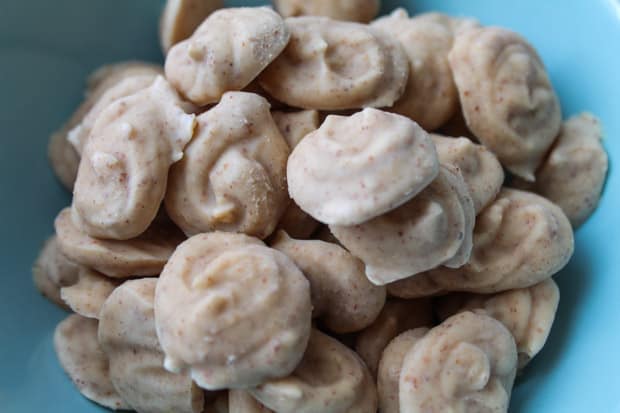 Frozen Yogurt & Almond Butter Bites
Keyword:
frozen yogurt almond butter bites
Instructions
Blend all ingredients together in a food processor or high powered blender

Spoon bite sized pieces onto a parchment lined baking sheet. You can try a piping bag at your own risk!

Freeze for 30 minutes then transfer the pieces to a Ziploc bag and store in the freezer
Nutrition Facts
Frozen Yogurt & Almond Butter Bites
Amount Per Serving
Calories 7
% Daily Value*
Sodium 17mg 1%
Potassium 9mg 0%
* Percent Daily Values are based on a 2000 calorie diet.