This Dill Red Onion Salad Dressing is a real keeper. Finely chopped onion and herbs give your greens a little love. If it's flavour you're after, pour this on.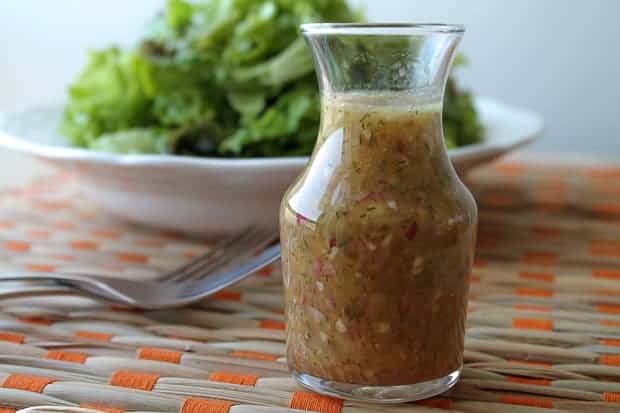 Can I say spring has sprung here in Southern Ontario?
Do I dare?
Canadians love to discuss the weather. I guess in countries where the weather yesterday will be the same as the weather tomorrow there is nothing to discuss. Here in the Great White North that is most definitely not the case.
We can go from one extreme to another in the course of an afternoon!
The whole point of this is that is looking like a gorgeous week in my neck of the woods and I'm pumped for the sunshine. 🙂 At the same time I'm wary of getting too excited as it could all change…
Of course the sunny weather makes me crave salads so I thought I'd share a great, fresh tasting salad dressing recipe. It contains dill which is one of my favourite flavours.
I used dried dill for this recipe but if you have fresh on hand, by all means substitute that in.
Another dill recipe I love is this vegan "tuna" salad made from dill infused almonds. Too good!
Dill Red Onion Salad Dressing
I started with some very finely chopped red onion and garlic.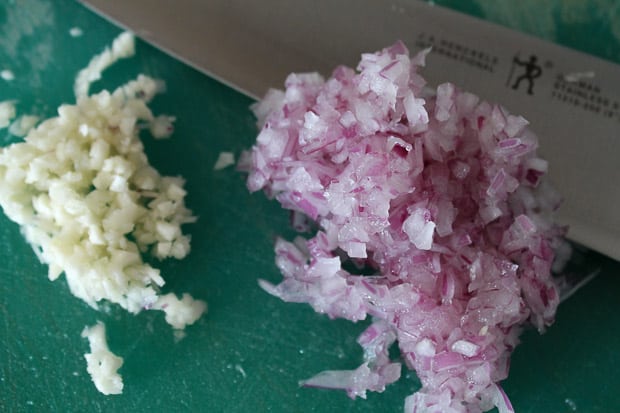 Then added the usual suspects like olive oil, vinegar, sea salt and pepper. I learned a great tip the other day which is to always buy your olive oil in a dark glass bottle to protect it from the light.
Who knew?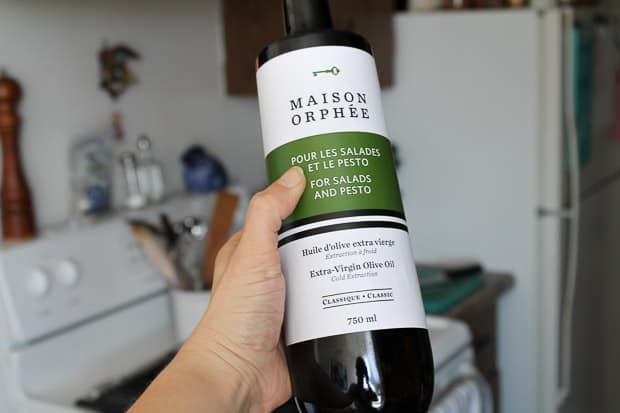 The dark bottle also gives a great reflection of me in the bottom of the bottle. 🙂 Hello!
Since I have some in the cupboard I also added a touch of coconut sugar to balance it all out.
Then I let the jar do the hard work and shook it all together. How brilliant is making your dressing in a mason jar?
Not only do you save on dishes by not using a bowl, whisk, etc. but you also have a storage vessel for what remains.
I love mason jars.
I loved that this dressing had both a freshness to it and a bite as well.
Kind of like our Canadian weather!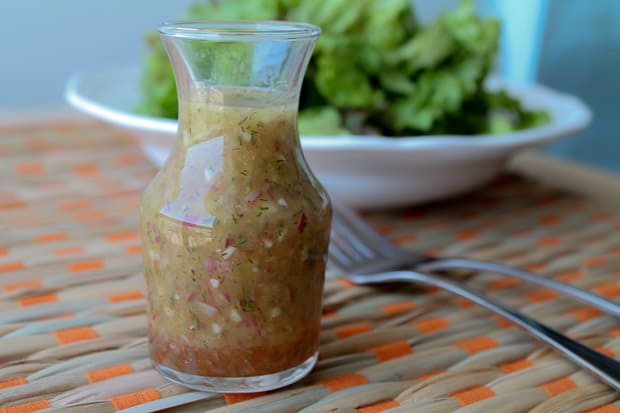 MORE HEALTHY SALAD DRESSING RECIPES:
Whole 30 Lemon Garlic Dressing
Be sure to follow me on social media! I love pinning to Pinterest, sharing on Facebook and posting pics to Instagram. See you there. 🙂
Amazon Disclosure: As an Amazon Associate I earn from qualifying purchases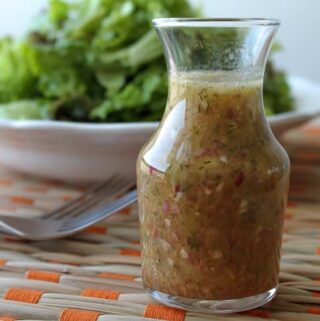 Dill & Red Onion Salad Dressing
Instructions
Shake all ingredients together in a small mason jar.
Nutrition
Calories:
264
kcal
Carbohydrates:
3
g
Fat:
28
g
Saturated Fat:
3
g
Sodium:
5
mg
Potassium:
20
mg
Sugar:
1
g
Vitamin C:
1.5
mg
Iron:
0.2
mg