Dill Infused Almond 'Tuna' Salad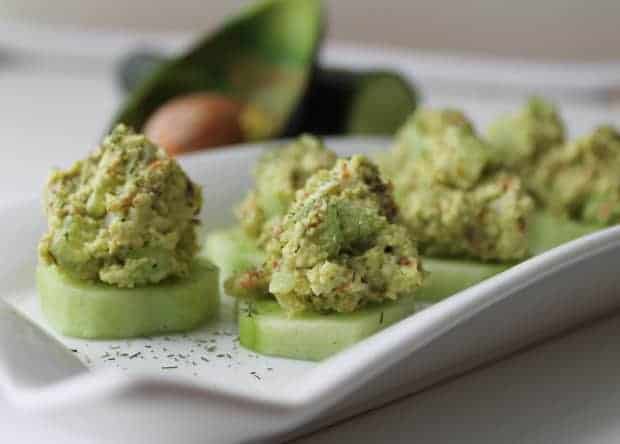 Sounds intriguing, no? I've really been looking forward to sharing this recipe. When I brought this into work for my taste testers it was such a hit. Take in consideration how easy it was to prepare and we have a winner folks!
The almonds in this recipe have been soaked overnight and then processed to mimic the texture of flaked tuna. My trick was to soak them in juice from my pickle jar to add some unmistakeable dill flavour to my salad. Easy peasy! The hard part was to control myself from snacking on all of the soaked almonds before the processing step. They were tasty little devils and I'm such a sucker for anything dill flavoured.
Another healthy swap I'm fond of is ditching the mayo for avocado. Avocado lends luxurious creaminess like mayonnaise but with the added benefit of a nice dose of healthy fats. I use it in both regular tuna salad as well as chicken salad and they are both incredibly popular recipe on this site. I heart avocado and it looks like you do, too!
The rest of this recipe is your basic diced onions and celery and a touch of mustard for some oomph.
You will love the versatility of this salad. It can be rolled up in a wrap, scooped on top of fresh greens, or, spooned onto fresh rounds of sliced cucumber to keep it light.
If you are wondering if your children/husband (same thing sometimes!) will enjoy it, let me share a story. There is a young guy at work who I don't usually offer my goods too as he's super skeptical of anything 'healthy'. Well, I took a chance and invited him to try a taste. Wouldn't you know, he LOVED it! I always take such pride when someone 'anti-healthy' is impressed with something so nutritious.
It's not the prettiest of dishes but what it lacks in style points it makes up for in taste. If they were handing out medals it's the Gold for this salad, hands down!
Adapted from Oh She Glows
As an Amazon Associate I earn from qualifying purchases.
Dill Infused Almond 'Tuna' Salad
Instructions
Mash the avocado in a medium mixing bowl

Add the celery, onion, garlic, dill, and lemon and stir well to combine. Sprinkle sea salt and pepper to taste

Add almonds into a food processor and process until finely chopped and stir into the bowl with the avocado mixture
Nutrition
Calories:
588
kcal
Carbohydrates:
27
g
Protein:
17
g
Fat:
50
g
Saturated Fat:
4
g
Sodium:
38
mg
Potassium:
1031
mg
Fiber:
15
g
Sugar:
4
g
Vitamin A:
145
IU
Vitamin C:
15.4
mg
Calcium:
207
mg
Iron:
3.2
mg