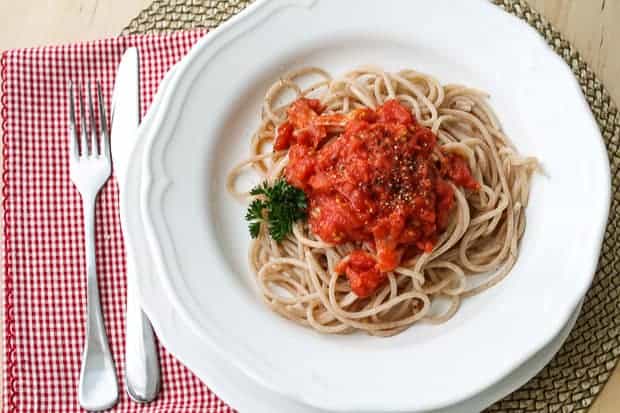 If you've been reading my blog for a little bit, I'm sure you've seen my quinoa bolognese recipe. It was one of my first posts and for good reason. I make it all.the.time. It's so good but I was feeling like a wee change from the usual. Something meatless and creamy.
This particular recipe looked so simple and is very highly touted. I was excited at the possibilities…
I assembled my 3 ingredients…
Yes, that is some butta! It seemed odd to me too, but really, chefs have been adding full on whipping cream to your restaurant pastas, so what's a few pats of butter spread in to 4 servings. What I do insist on when using dairy is that it is organic. I don't want anything from an abused, medicated cow.
I will now get off my soapbox…
Into the pan goes this effortless trio.
Bring them to a bubbling simmer.
Turn the heat down to a low simmer and let cook for about 45 minutes, stirring every so often, breaking up the pieces of tomato, leaving the halved onion in tact.
After the 45 minutes is up discard the onion and keep warm while you start on your spaghetti of choice.
For me it was spelt pasta. It's the first time for me using this ancient grain as I usually have quinoa or brown rice. It was easy to cook. 10 mintues in a pot of boiling water, with a small swirl of olive oil to prevent the noodles from sticking to one another, stirring them around pretty frequently.
Drain the pasta and top with sauce. I got four servings out of this recipe.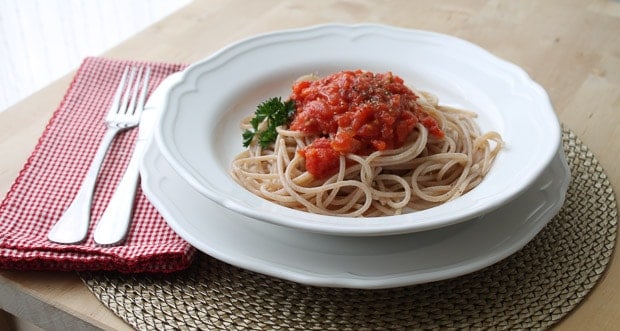 The verdict? I liked this sauce. a lot. I totally got a creamy flavour that was reminiscent of a pasta my BFF used to make when we were roomies. She trained as a chef so naturally it contained the ever popular whipping cream. With just that amount of butter, a real silkiness was acheived. I can see why it is so admired by many food bloggers.
The spelt spaghetti was super good. I somehow managed to cook the noodles perfectly and they were the right amount of 'al dente'. It's a great sub for the white, refined stuff.
Something else I loved? Dinner was made in under and hour…nice…
This ones in the vault.
I found this recipe on SmittenKitchen who adapted it from Marcela Hazan.
As an Amazon Associate I earn from qualifying purchases.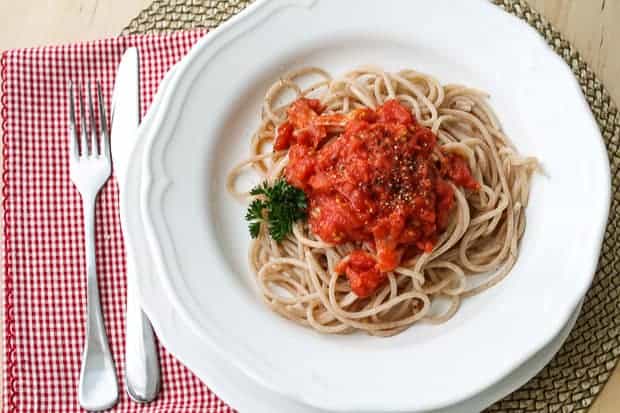 Rich Tomato Sauce – 3 Ingredients
Keyword:
rich tomato sauce, three ingredient tomato sauce
Ingredients
28

oz.

can whole

peeled tomatoes

5

tbsp

unsalted butter

1

medium onion

peeled and halved
Instructions
Place all ingredients into a saucepot and bring to a bubbling simmer.

Turn the heat down and let simmer over low heat for 45 minutes, stirring occasionally, breaking up tomatoes with the back of the spoon.

Discard the onion and serve the sauce over your pasta of choice. I liked spelt spaghetti with this recipe.
Nutrition Facts
Rich Tomato Sauce – 3 Ingredients
Amount Per Serving (4 g)
Calories 172
Calories from Fat 126
% Daily Value*
Total Fat 14g 22%
Cholesterol 38mg 13%
Sodium 286mg 12%
Potassium 413mg 12%
Total Carbohydrates 10g 3%
Protein 2g 4%
* Percent Daily Values are based on a 2000 calorie diet.