Vegan Chili – Gluten Free & Grain Free
Serving meatless recipes once or twice a week is great for your health and the environment! This Vegan Chili is super hearty and full of flavour so you won't even miss the meat. It's also gluten free making it friendly for everyone.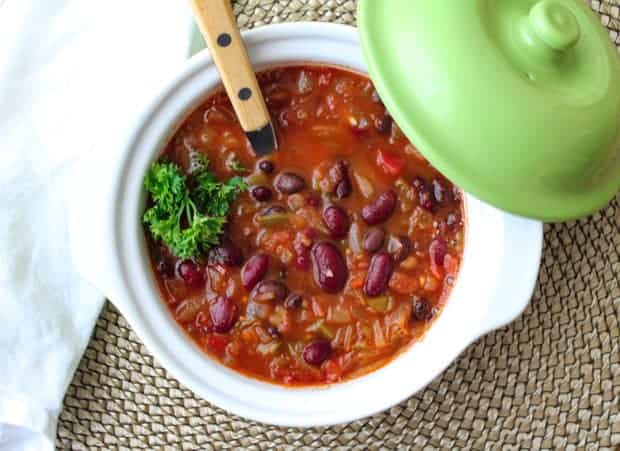 There are two very strong stances on the subject of meatless chili.
Some believe chili is just not chili without the beef. I don't agree.
VEGAN CHILI
Others, like myself, think a good chili is in the seasonings. That balance of spices is the key. I love food with heat so I use more chili powder than most people and love the addition of cumin and smokey paprika.
HOW TO MAKE VEGAN CHILI – Step by Step Images
First, chop up yourself a nice rainbow of veggies. Use whatever suits your tastes. I like green and red peppers, onions and of course, garlic.
My two secret ingredients are … shhhh … store bought!
Don't tell anyone 🙂
As much as I can I like to make most of my meals from scratch but there are products that I love that can make life easier and can also really speed things up when time can be of the essence.
Kinda like days where I have only one or two brief hours of good natural sunlight to photograph this recipe, do a load of laundry before there is some kind of clean sock emergency (tell me I'm not alone), give Louis his ear drops for the never ending ear issues he has (that's always super fun), iron a shirt and head out to work.
Whew!
So instead of chopping all of my own tomatoes up for this chili, a jar of salsa saves me time, dishes and adds flavour and heat.
Win and win!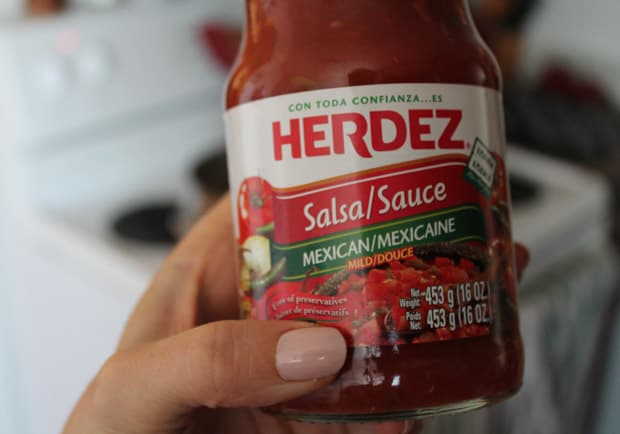 I'm also really into this tomato paste tube I picked up when I made roasted tomato soup a couple of weeks back.
I love that in both cases I'm skipping a product that is stored in cans.
With toxic BPA being present in a lot of cans on the shelves buying products stored in glass is much more ideal to minimize any harmful effects.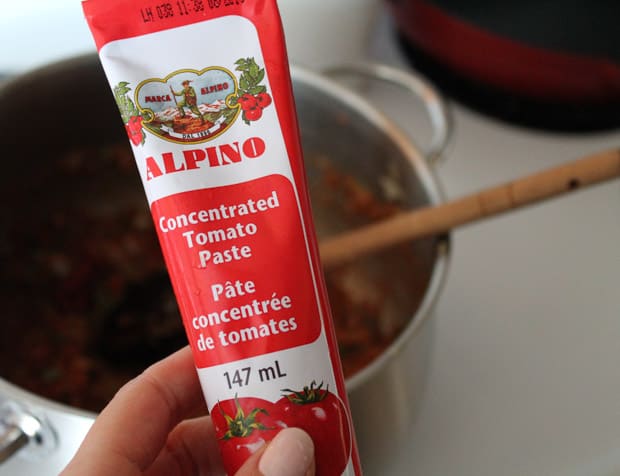 Saute up your veggies in a bit of olive oil.
Then season them with the chili spices.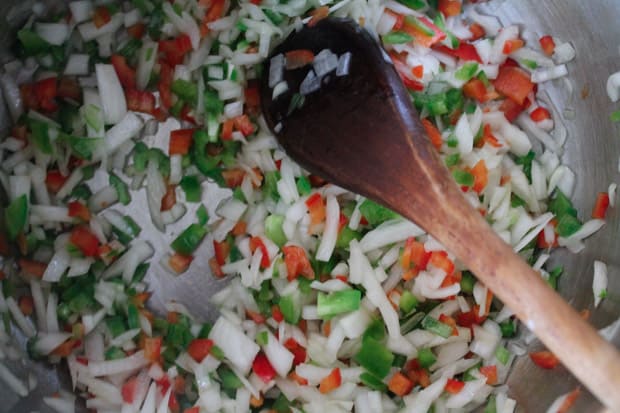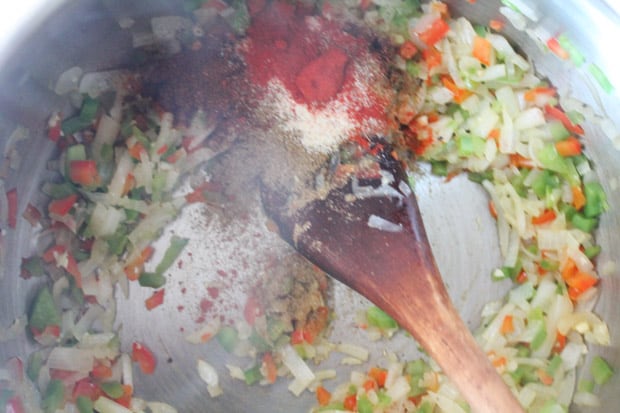 Next comes the heart of any chili, the beans!
I used both kidney and black beans.
Meat, who?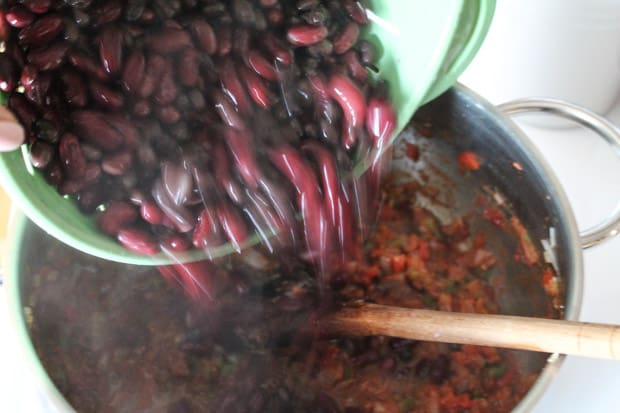 Let everything simmer away while you iron your shirt, tend to the cat, wash socks, etc …
Then take a moment to enjoy your chili.
TIPS FOR SERVING VEGAN CHILI:
This chili is a great base and can be made into something extra filling with the addition of some cooked grains.
I had mine with some leftover cooked brown rice and it was delicious. Quinoa would also work well.
Adding cooked veggies is also a great serving idea for vegetarian bean chili.
Try sweet potatoes with this chili! Either roasted or mashed would be an awesome accompaniment. Imagine the sweetness and the spiciness all melting together in your mouth. 🙂
Top it with this Vegan Sour Cream! Nothing beats chili with a dollop of creamy goodness on it. Or use fresh avocado. That works too. 😉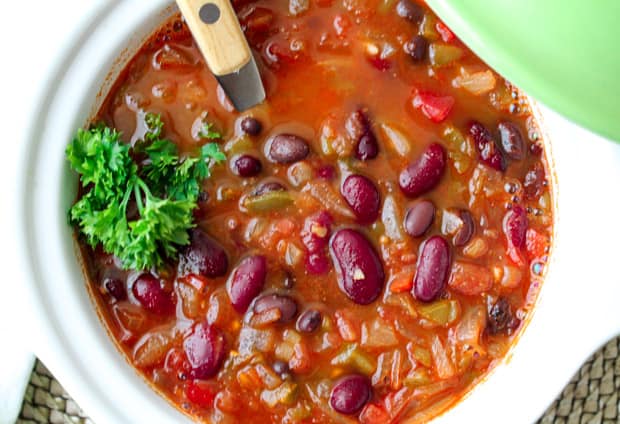 MORE HEALTHY VEGAN MEAL RECIPES:
Curried Lentil and Potato Stew
Originally posted November 27, 2013. Updated September 3, 2019
Be sure to follow me on social media! I love pinning to Pinterest, sharing on Facebook and posting pics to Instagram. See you there. 🙂
As an Amazon Associate I earn from qualifying purchases.
I use non toxic ceramic cookware.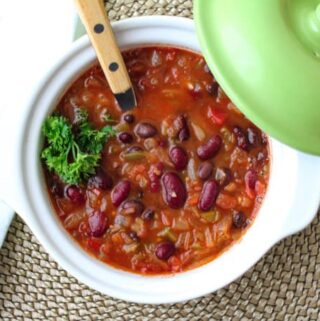 Vegan Chili – Gluten Free & Grain Free
Instructions
Heat olive oil over medium heat and saute peppers, and onions, seasoned with sea salt & pepper, until crisp tender, about 5 minutes, then add minced garlic and stir

Add salsa, tomato paste, and spices and stir well

Add beans and broth, salt & pepper to taste.

Bring to boil, reduce heat to simmer and cook for 20-30 minutes, stirring occasionally

Serve over cooked grains or potatoes (optional)
Nutrition
Serving:
4
Calories:
68
kcal
Carbohydrates:
14
g
Protein:
2
g
Fat:
1
g
Sodium:
1109
mg
Potassium:
378
mg
Fiber:
4
g
Sugar:
6
g
Vitamin A:
2640
IU
Vitamin C:
52.3
mg
Calcium:
53
mg
Iron:
2.5
mg