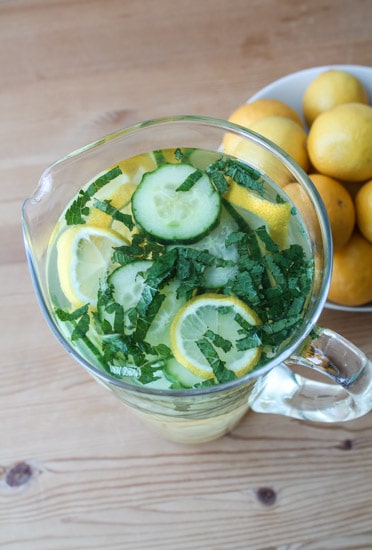 Happy St. Paddy's Day! If you plan on celebrating with green beer or other green coloured spirits, maybe mix up this blend of cucumber, mint and lemon, and have it in the fridge for tomorrow when you  may not be feeling so cheerful. 😉
Detox. It's such a buzz word in the health and wellness world. What does it mean exactly and  who should be detoxing? Detoxification is the process of removing toxins from the body. As for who should do it, the answer is: everyone! Even the healthiest of eaters are exposed to toxins whether they realize it or not. Things like  fragrances, pesticides, cosmetics, canned goods and even the air we breath all contain harmful toxins that can wreak havoc on your body systems. 
Trying to avoid them by purchasing organic food, cans without BPA in the lining, and using chemical free cosmetics is a good start, but the body can really benefit from a good old fashioned cleansing. I like to do some kind of detox every season and this spring is no different. I had an amazing experience following the Master Cleanse last fall and am intending to do it all again come March 20th. Symbolic for the first day of Spring and a time for renewal.
Leading up to the cleanse I want to really clean up my diet by trying to minimize my sugar intake and get super hydrated to help flush away the toxins. This water is a really easy and refreshing way to up that water intake.
Start with slicing some juicy lemons and adding them to fresh, filtered or spring water.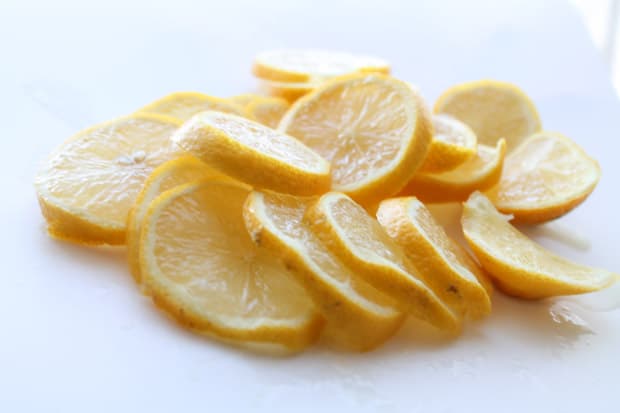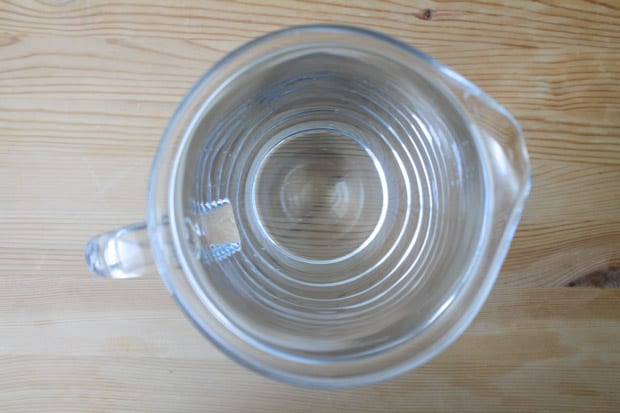 Stir in mint leaves and cucumber slices and you're done. Easy peasy. 🙂
I stored my detox water in a couple of large lidded mason jars and popped them into the fridge overnight.
The next day I drank them both, along with my usual herbal tea, and peed like crazy! Mission accomplished.
*Tip* Re-use the fruit, mint and cucumber that's left in the jars by topping them with more fresh water and leave again overnight in your fridge. I got two solid uses out of them!
I will be sharing  my latest Master Cleanse journey on the Honour System so stay tuned! 🙂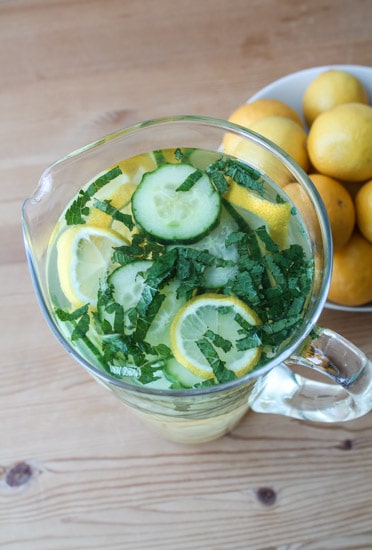 Minted Lemon & Cucumber Detox Water
Keyword:
lemon cucumber detox water
Ingredients
2

lemons

thinly sliced

½

cucumber

thinly sliced

12

mint leaves

2

liters

fresh filtered water
Instructions
Split the lemons, mint, and cucumber between 2 large mason jars (I used one litre jars)

Top with fresh, filtered water and store overnight in the fridge

When you've drank the liquid, refill the jars with water and repeat
Nutrition Facts
Minted Lemon & Cucumber Detox Water
Amount Per Serving
Calories 14
% Daily Value*
Sodium 1mg 0%
Potassium 95mg 3%
Total Carbohydrates 4g 1%
* Percent Daily Values are based on a 2000 calorie diet.