Curried Lentil & Potato Stew. Yes, stew. With readers checking in from around the globe, it must be kind of funny for those basking in sunshine to see a recipe for soup. Not to keep complaining about it (even if I admittedly don't shy away from a bit o' complaining), but spring in the Toronto area has definitely not sprung.
It's still stew weather and I need comforting.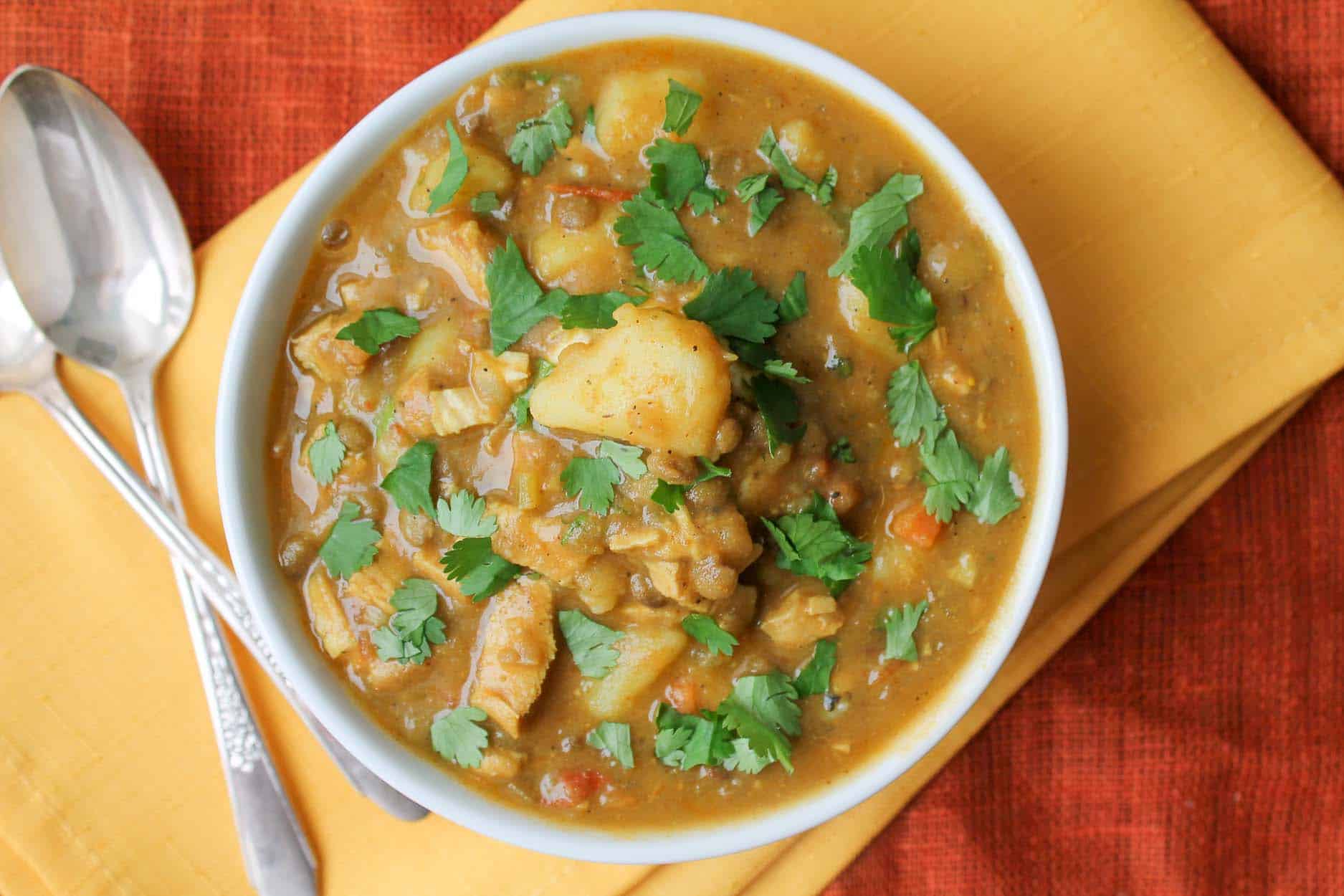 We've been looking to up our game when it comes to more vegetarian dinners and I like how hearty this Curried Lentil & Potato Stew is as a meal. You could add chicken to it if you wanted too, but it definitely isn't a stew that needs it.
I know a lot of people poo-poo white potatoes, but they are a whole food and can totally been enjoyed as part of a healthy diet. Sweet potatoes are superior when it comes to nutritional stats, but white potatoes add a creaminess to this stew that you just wouldn't get from the sweet variety. I choose organic when it comes to white potatoes. No GMO's for us, thanks. Can we label that sh$t, by the way? Geez.
These spices: curry, cumin, coriander, turmeric, etc. I always have on hand. Building up my spice repertoire was something I learned early on when it came to healthier cooking. Nutritious food does not mean boring or bland. Spices are something that bring your meals to life.
My taste buds were shot from the processed food I ate and absolutely from the smoking. Now, I can't get enough spice and generally add more heat to recipes that most cooks I know.
Luckily, the mister also likes it fiery so we make a good pair when it comes to that. 🙂 I never worry about adding too much.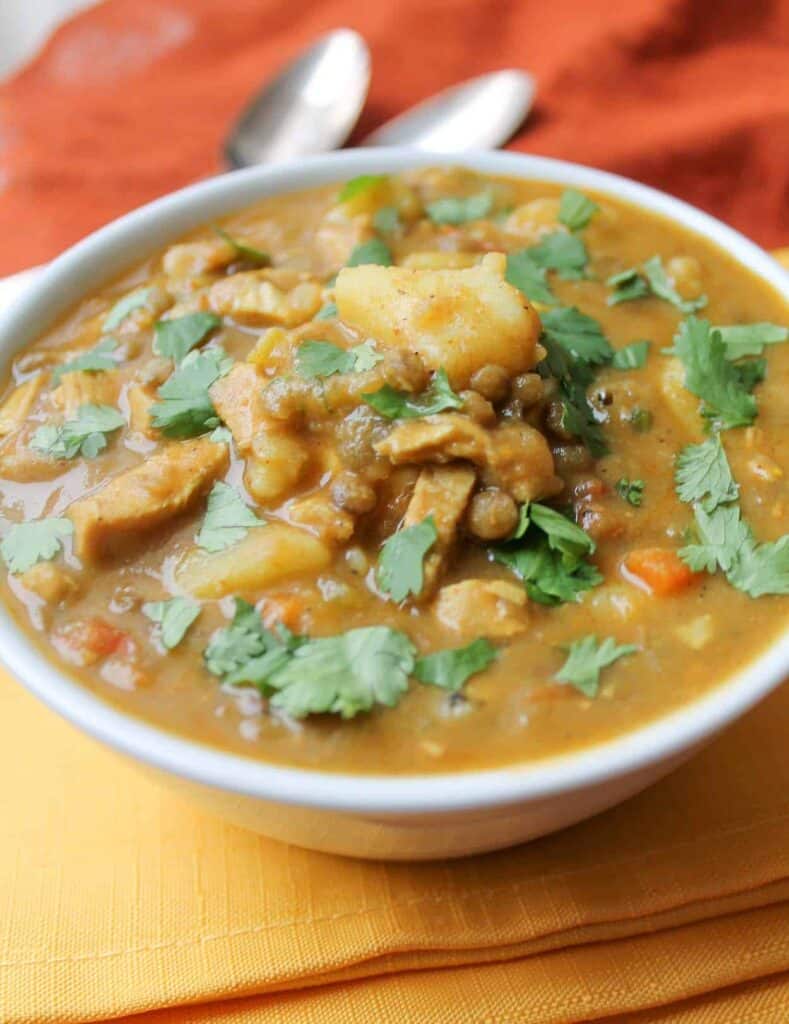 I hope it's lovely and warm were you are. If not, try this Curried Lentil & Potato Stew on for size. It's like a warm, little throw to keep you toasty until summer. If it ever arrives. 😉
As an Amazon Associate I earn from qualifying purchases.
Curried Lentil & Potato Soup
Course:
Main Course, Soup
Keyword:
curry lentil potato soup, vegan curry lentil soup
Instructions
Rinse and drain lentils and set aside

Warm the olive oil in a large saucepan over medium heat, then add the onion, celery and carrots. Season liberally with sea salt & pepper

Stir occasionally and sauté until softened, about 5 minutes

Add the minced garlic and cook, stirring for 1 minute

Add in the spices and stir for another minute

Add the lentils, tomatoes, potatoes and stir again. Cover everything with the broth and bring to boil

Reduce heat to low and simmer for 30 minutes

Garnish with fresh chopped cilantro and serve warm
Nutrition Facts
Curried Lentil & Potato Soup
Amount Per Serving
Calories 181
Calories from Fat 36
% Daily Value*
Fat 4g6%
Sodium 1420mg62%
Potassium 552mg16%
Carbohydrates 29g10%
Protein 6g12%
Vitamin A 1160IU23%
Vitamin C 18.2mg22%
Calcium 50mg5%
Iron 3.3mg18%
* Percent Daily Values are based on a 2000 calorie diet.