Discover how to make this easy, homemade recipe for Honey Mustard Dressing. This healthy diy is the BEST with salad OR as a marinade for chicken. What's different about this honey mustard dressing recipe – no mayo. It's a lighter vinaigrette style and definitely one of my top 10 salad dressings.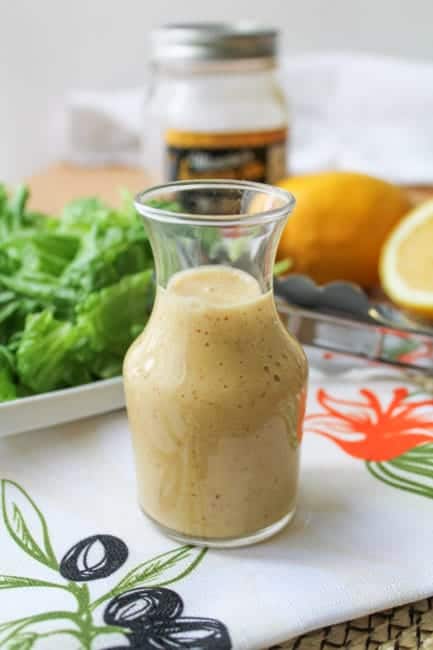 Making your own salad dressing is an easy way to kick start your healthy, homemade life or at least kick up a notch.
HONEY MUSTARD DRESSING
Do yourself a favor and never buy bottled dressing again. 😉
All that was required to make this replica of the popular honey mustard dressing was a spin in the blender. I don't even have a fancy Vitamix!
Just a regular old blender or nutribullet will do.
WHAT IS HONEY MUSTARD DRESSING MADE OF?
cider vinegar

garlic puree (or fresh garlic – see below)

honey

olive oil

garlic

lemon

mustard
I make the tastiest rosemary-infused roasted garlic puree and it is what I use in this mustard dressing for salad. It's super easy to make and does add a lovely flavour. Use it wherever the recipe calls for minced garlic.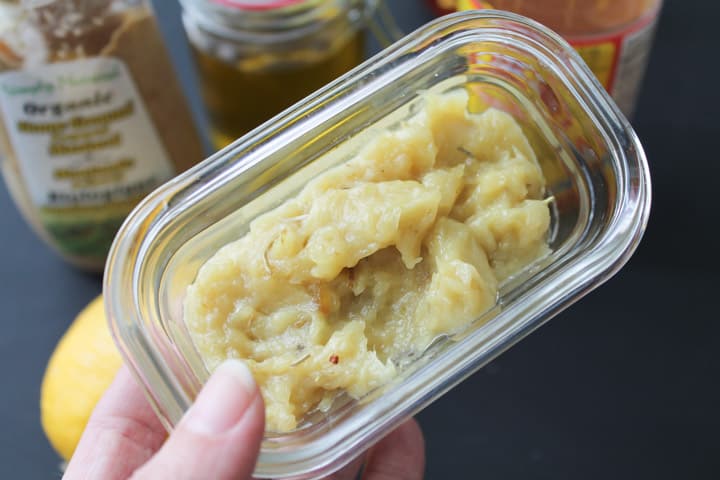 Try it.
Bonus rosemary-infused olive oil is produced at the same time!
For the mustard, I use a wholegrain stone-ground variety. This balances with the sweetness and gives a bit of bite to your honey mustard vinaigrette dressing.
HOW DO YOU MAKE HEALTHY HOMEMADE DRESSING
This recipe could not be easier. 🙂 Combine everything in a blender and give it a good blitz.
Done!
You can easily store this recipe in your fridge. I like to use mason jars for storage. They are glass which makes them non-toxic and you can use them again and again. Plus they all match and look cute.
Use mason jars storing all kinds of things like dry grains or soups.
TIP! Give the jar a really good shake before you use it! This oil and vinegar will naturally separate so you want to emulsify them again before enjoying.
IS THERE SUCH A THING AS VEGAN HONEY MUSTARD?
I'm going to go with a hard no on this one.
Honey mustard is not vegan. Vegans consider bees to be animals therefore rendering honey as non-vegan friendly.
I learned this a few years ago when I posted a honey-based granola bar as vegan and was promptly educated by the vegan community that honey isn't a vegan food.
Ironically, when googled, answers say yes, honey mustard is considered vegan. Weird!
IS THERE A DIFFERENCE BETWEEN HONEY MUSTARD AND HONEY MUSTARD DRESSING?
There is!
Plain honey mustard is usually mayo-based and more like a condiment meant for dipping or basting chicken. Honey mustard dressing is lighter and often oil-based like this one.
IS HONEY MUSTARD DRESSING BAD FOR YOU?
The big question. This all depends on your ingredients!
Our salad dressing contains nothing artificial or unhealthy. In fact, not only is not bad for you, it is GOOD for you!
Celebrate real food!!!
MORE HEALTHY SALAD DRESSING RECIPES:
Easy Lemon Garlic Dressing – SUGAR FREE!
Originally posted May 19, 2014. Updated August 18, 2020.
Be sure to follow me on social media! I love pinning to Pinterest, sharing on Facebook, and posting pics to Instagram. See you there. 🙂
As an Amazon Associate, I earn from qualifying purchases.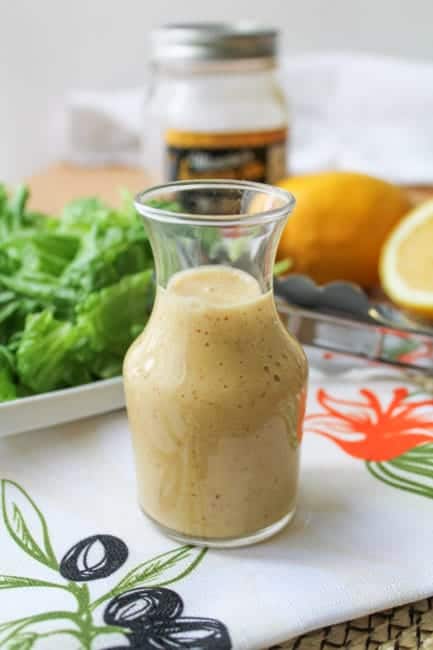 Healthy Honey Mustard Dressing
If you are looking for a homemade Healthy Honey Mustard Dressing (that has no mayo!)  you have come to the right place. I use it as both a salad dressing and as tasty marinade for your chicken. Gluten free and totally delicious.
Keyword:
healthy salad dressing, salad dressing recipe
Instructions
Combine ingredients in blender and pulse until emulsified.

Store refrigerated in a glass jar for up to 3 weeks.
Nutrition Facts
Healthy Honey Mustard Dressing
Amount Per Serving
Calories 82
Calories from Fat 9
% Daily Value*
Fat 1g2%
Sodium 178mg8%
Potassium 61mg2%
Carbohydrates 20g7%
Protein 1g2%
Vitamin C 8mg10%
Calcium 17mg2%
Iron 1mg6%
* Percent Daily Values are based on a 2000 calorie diet.