Basic Vinaigrette Dressing. Homemade dressings are a staple in a healthy kitchen. This Basic Vinaigrette Dressing,  featuring maple and mustard, will make you love your greens! Easily shake it together in a glass mason jar and store it in your fridge for up to a week.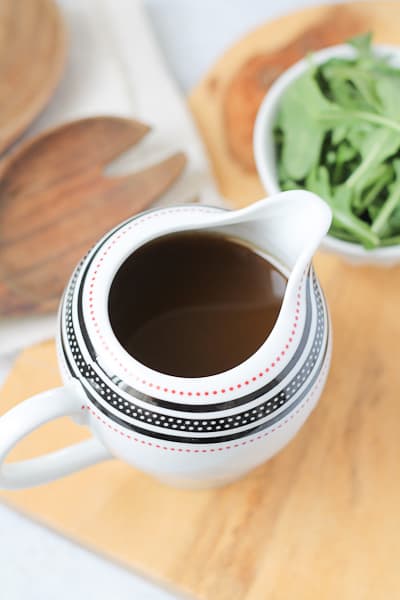 I'm a fan of simplicity and this Basic Vinaigrette Dressing embodies simple. I also like healthy and making your own dressings is a big boost for leafy green eaters.
There are a couple of secret ingredients in your store bought salad dressing. Sugar and trans fats! Secrets are never a good thing. Especially if I know them because I can never keep a secret. 😉
Always, always, always read those labels…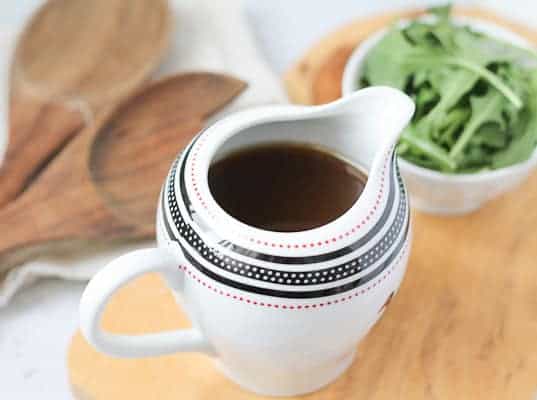 Most manufactured salad dressings probably add processed sugars to lengthen their shelf life. I understand a little sweetness for balance and flavour so in this dressing I've also added maple syrup.
One of the many perks of being Canadian is the access to maple syrup. We call it "tree juice".
Haha. 🙂
Now where do the trans fats come in? Well, even if the name of the dressing says 'olive oil' you can bet your booty it's not the only oil in there. Typically, big brand names also mix their olive oil with a variety of other oils like canola and soybean that turn into mutant fats, like trans fats, during the refining process.
If you didn't already know, trans fats are a deadly business. Please avoid!
There is nothing easier than shaking up your own dressing with just a few ingredients and basically/most of all, no dishes to do.
And if there's one thing I love, it's not doing dishes:)
Basic Vinaigrette Dressing
This a base for a classic vinaigrette that you can customize and add whatever tickles your taste buds.
I pair it with a simple salad of romaine lettuce and a squeeze of lemon.
That's it! Since I usually have a green smoothie everyday, I don't require much more than a salad with dinner to get in all my veggies for the day.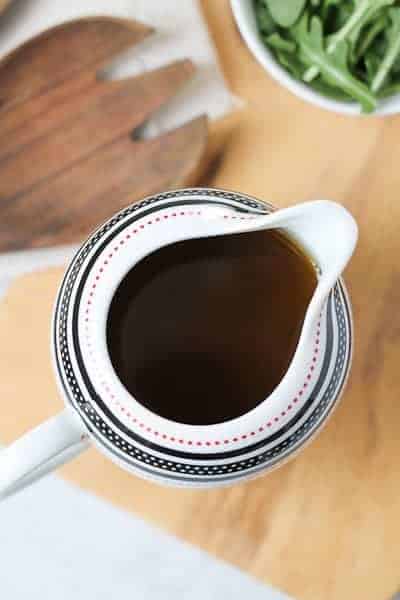 MORE HOMEMADE SALAD DRESSING RECIPES:
Whole 30 Lemon Garlic Dressing
*Originally posted April 4, 2013. Updated May 28, 2019*
Be sure to follow me on social media! I love pinning to Pinterest, sharing on Facebook and posting pics to Instagram. See you there. 🙂
As an Amazon Associate I earn from qualifying purchases.
Basic Vinaigrette Dressing
Keyword:
easy salad dressing, gluten free recipe, healthy salad dressing, salad dressing recipe
Instructions
Put all ingredients into a small jar and shake well.

Store in the fridge for 1 week.