Coconut & Almond Butter Energy Balls – No Added Sugar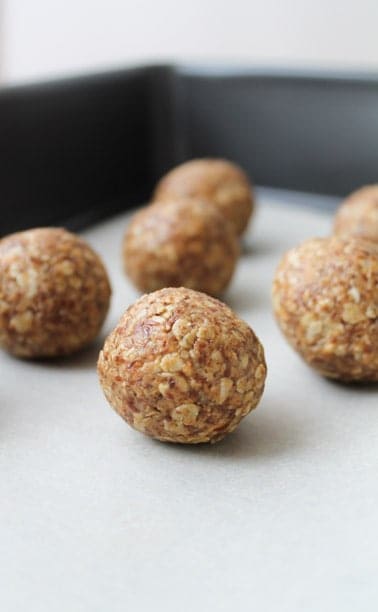 I've been on a quest to master the art of eating before exercising. I kinda just used to do the old cuppa coffee route but, after some serious light headed-ness during a workout, I decided to start investigating alternatives. I like to workout in the AM and get it out of the way, which is why coffee was my usual choice. It's quick and effective and I don't need a lot of time to prepare it. I don't want to sacrifice precious sleep time to spend an hour in the kitchen making something complicated.
On Monday, I saw fellow Burlington blogger, Chelsea post an energy ball featuring a fig butter. It sounded amazing, only I don't have any fig butter. Curses! I rooted around to see what would work and, voila, these Energy Balls were born. Using the protein power of almond butter, the slow releasing energy from the oats (use certified gluten free oats if you are celiac), fibre boost courtesy of some ground flax, and the creamy loveliness of the coconut butter. No added sugar make these ideal for kids as well. No sugar spike or crash.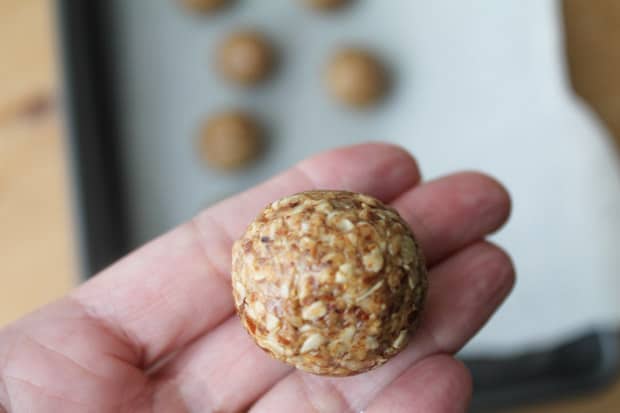 Melt together the coconut butter, almond butter and vanilla until silky.
Meanwhile stir together the dry ingredients.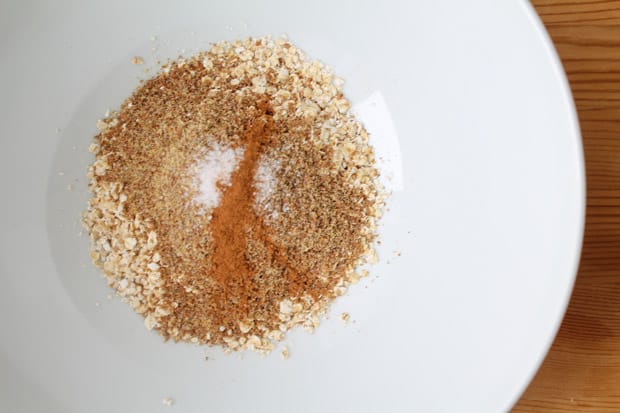 Combine the the mixtures, stir well and roll into golf ball sized balls. Obviously this is hard to photograph without either a hand model or photography assistant and since I currently have neither ( hand model applications accepted 😉 ) there is no shot of the balls being rolled. To achieve a nice, round texture, I pressed each ball in my hand, very firmly, then rolled it into a round ball by rotating it around in the palm of my hand.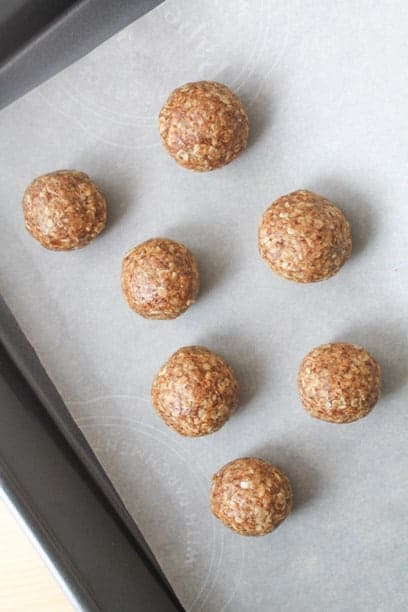 Then I popped them into a glass container and stored them in the fridge. I will also stop saying balls.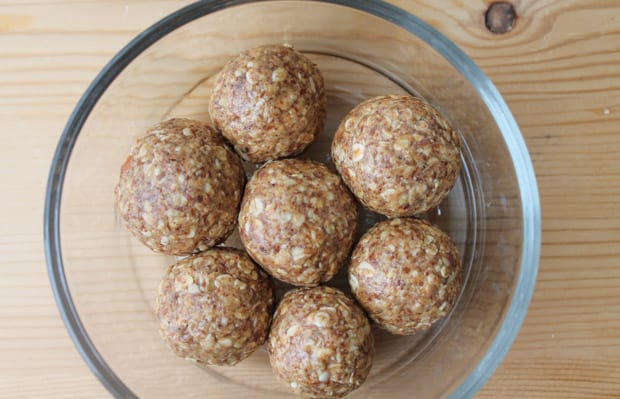 These take 10 minutes to roll together and are stored in the fridge. Pop one in your mouth an hour before you hit the gym and you will be fueled for your session. I'm going to be honest, I ate two of them. #bigappetite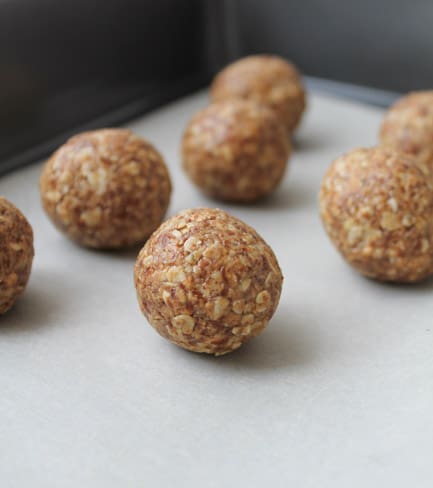 As an Amazon Associate I earn from qualifying purchases.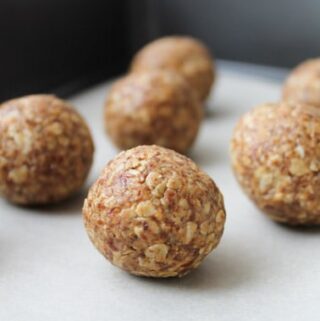 Coconut & Almond Butter Energy Balls
Instructions
In a medium mixing bowl, stir together the oats, flax seed, cinnamon and sea salt. Set aside

In a small saucepan, over low heat, melt together coconut butter, almond butter and vanilla

Pour the almond butter mixture over the oat mixture and stir well

Roll in the palm of your hand to form a golf ball sized energy ball

Store in the fridge for at least an hour to set

Keep refrigerated in a sealed glass container
Nutrition
Calories:
141
kcal
Carbohydrates:
8
g
Protein:
3
g
Fat:
10
g
Saturated Fat:
1
g
Sodium:
4
mg
Potassium:
123
mg
Fiber:
3
g
Vitamin C:
0.2
mg
Calcium:
47
mg
Iron:
1
mg