This recipe for Warm Maple Vanilla Almond Milk is like a warm hug on a cold night. Soothing, sweet and good for your soul.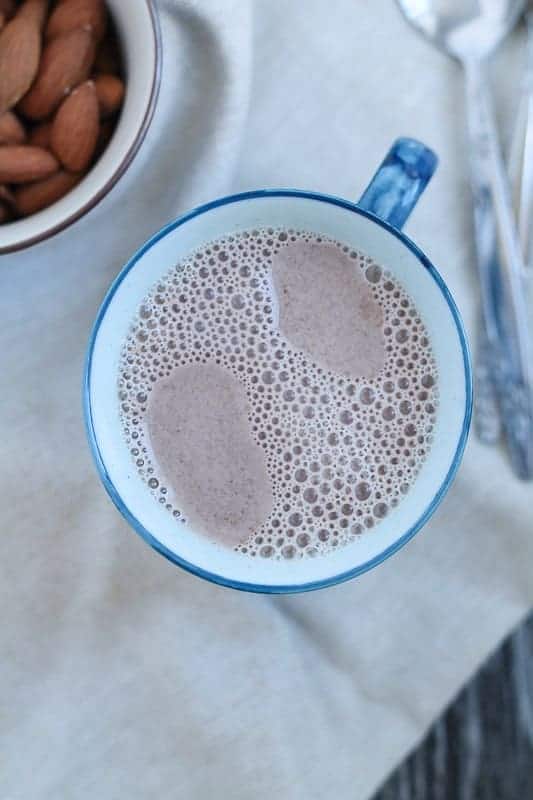 If you are anything like me, late night snacking can sometimes be an issue. Boredom snacking, TV watching snacking, internet surfing snacking, etc. You get the picture.
I've found that drinking warm, comforting herbal tea brews can hit the spot, but sometimes you want something a little more indulgent tasting, if you know what I mean.
If you crave vanilla ice cream as a snack, a peppermint tea just isn't going to cut it.
Enter this Warm Maple Vanilla Almond Milk. It's a mouthful, I know, but it's a creamy, dreamy mouthful. 😉
WARM MAPLE VANILLA ALMOND MILK
This is a simple, yet decadent treat reminiscent of a flavored cappuccino.
The nice thing is there are no refined sugar syrup or creepy trans fats like in those coffee house varieties. No caffeine either so don't worry about not being able to get to sleep later.
We ditched our microwave over a year ago, mostly because of space. Food photography props now dominate the area it used to live. Lol! I barely remember even using the microwave, but I vividly recall cleaning that bugger. Joe mostly used it to heat up leftovers which would splatter all over because he's a guy and doesn't get the whole 'cover your food in the microwave' thing. He would just chuck the dish in and start 'er up.
Sigh.
What a mess. But, I digress.
As a result of no microwave, I make this warm almond milk on the stove top in a little saucepan. It's easy, but it does take a little while longer. You want to be careful not to scorch your milk.
The slower, lower heating method allows for the vanilla and maple flavours to really absorb.
If you are looking for another warm drink option try this popular Golden Milk Latte!
It's cashew milk based, so creamy yet vegan.
This warm treat is the perfect, healthy treat for those colder evenings when you are craving something rich before bed.
Sweet dreams! 🙂
*Originally posted January 14, 2015. Updated October 26, 2018* 
Be sure to follow me on social media! I love pinning to Pinterest, sharing on Facebook and posting pics to Instagram. See you there. 🙂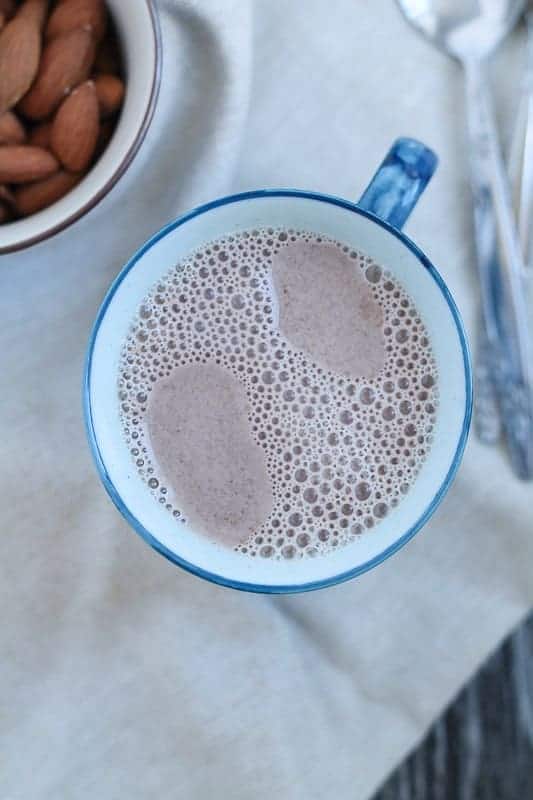 Warm Maple Vanilla Almond Milk
Ingredients
2

cups

unsweetened almond milk

2

tsp

vanilla

2

tbsp

maple syrup

pinch

of cinnamon
Instructions
Stir all ingredients together in a small saucepan and warm over medium low until completely heated through and warm to drink