Learn How to Make Hemp Milk. This non dairy milk is so easy to make yourself with no straining required! Vegan and gluten free, this homemade milk is very allergy friendly.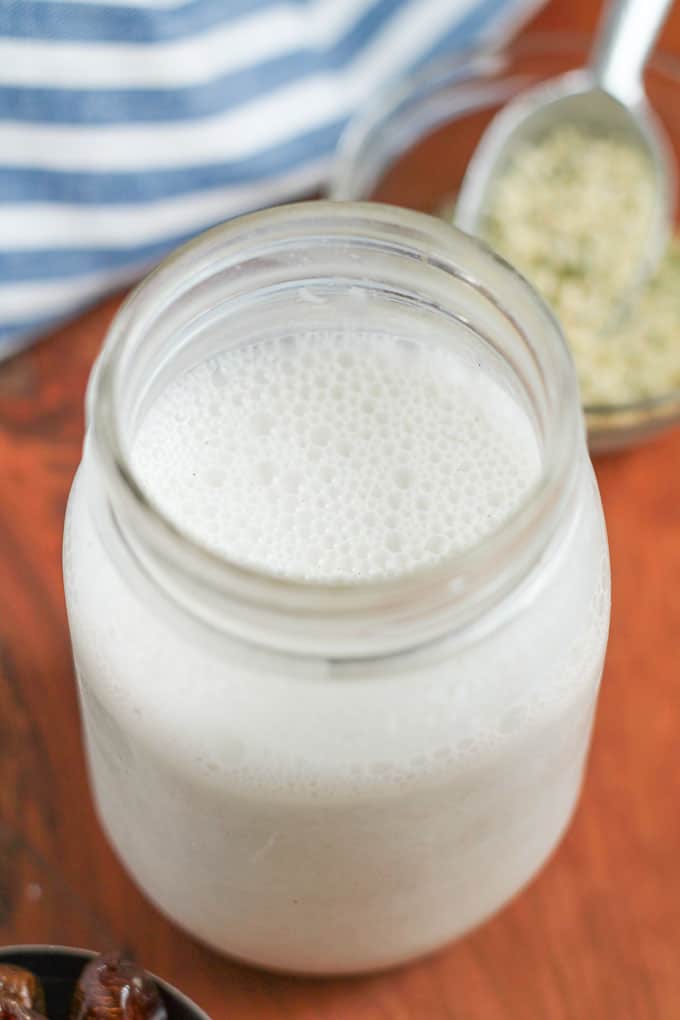 With so many allergies, non dairy milks have become very popular.
This hemp seed based milk is a new one to me but I love how easy it is to make and how creamy it tastes.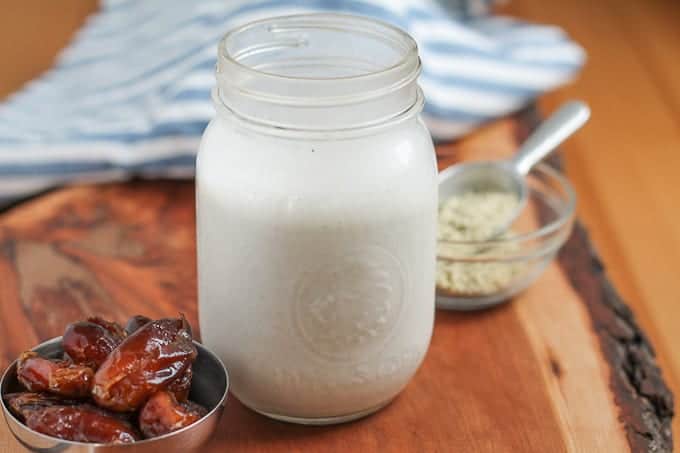 HOW IS HEMP MILK MADE?
Hemp is one of the easiest to make of the non dairy milks. No soaking or straining, just blending and enjoying!
Simply measure out:
hemp seeds
water, dates
a pinch of salt
vanilla
Blend the above until it is frothy and the seeds are pulverized.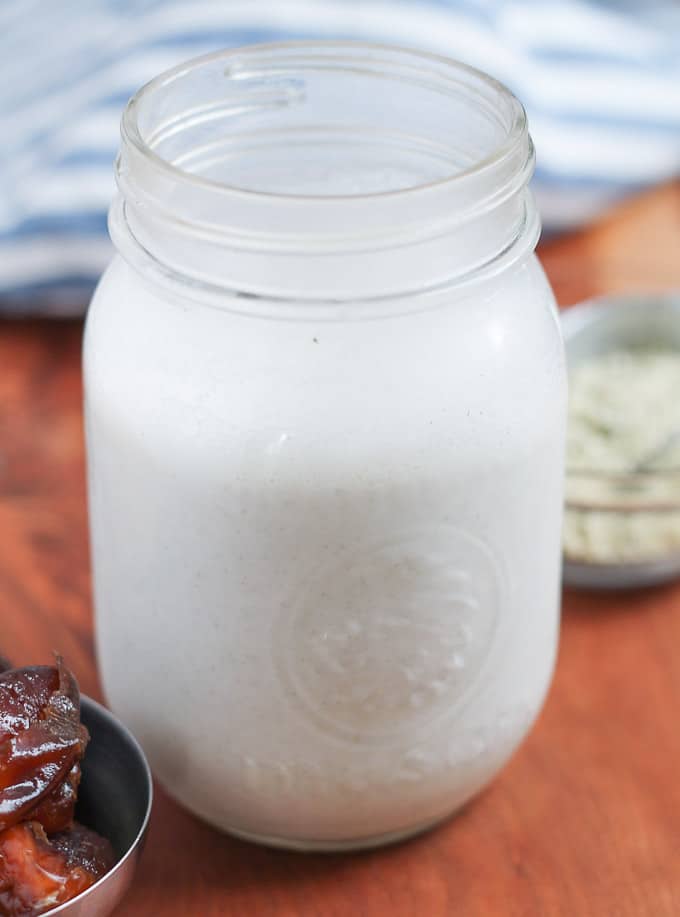 IS HEMP MILK GOOD FOR YOU?
naturally contains calcium (more calcium than dairy milk!)
contains protein
has the added benefits of omega 3 and 6 essential fatty acids in the ideal 1:3 ratio that promotes brain and heart health and is anti-inflammatory in the body
a good alternative for those allergic to soy, nuts and gluten
provides more iron than cow's milk
WHAT DO YOU USE HEMP MILK FOR?
Well, let me tell you!
My friend Lisa is the one who passed this recipe along to me and she also relayed the many ways it can be enjoyed:
blend it into smoothies for an added boost of protein
fabulous in coffee or tea
for making chia pudding
as a base for overnight oats
for simply drinking straight to quench thirst!
if you plan to use this for drinking or in coffee adding a pinch of cinnamon is a nice touch

TIPS AND TOOLS TO MAKE HEMP MILK
I used my bullet blender for this and it was powerful enough but I did soak my dates first. If you have a high powered blender like a Vitamix or Blendtec, that step probably isn't necessary.
I  buy the large bag of hemp seeds at Costco. In addition to using it for hemp milk, I also add a few tablespoons directly to my green smoothies as a whole food protein source.
HOW LONG DOES HOMEMADE HEMP MILK LAST IN THE FRIDGE?
You can keep your tightly sealed glass jar of hemp milk in the fridge for up to three days. Give it a really good shake before using. You DO need to keep this milk in the fridge as it will definitely spoil at room temperature.
Remember this is freshly made without any preservatives.
Enjoy!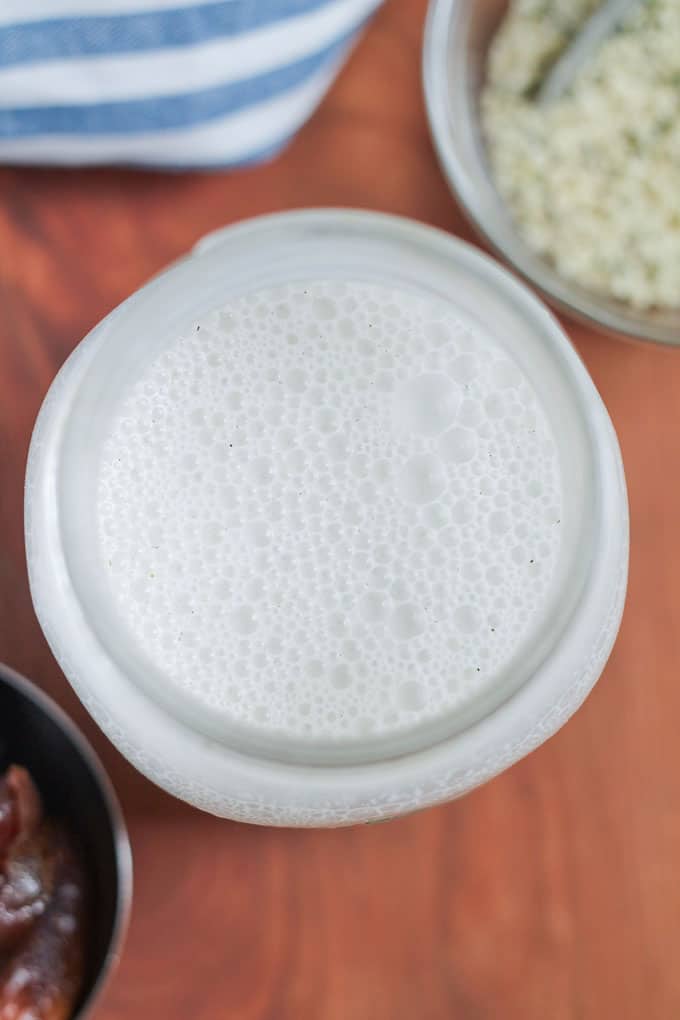 MORE HEMP SEED RECIPES:
Hemp Seed Cookie Dough for One
Sunbutter Cups with Hemp Seeds
Chocolate Peanut Butter Hemp Seed Balls
Healthy Fruit, Nut & Seed Bars
Originally posted March 29, 2019. Updated October 3, 2019.
Be sure to follow me on social media! I love pinning to Pinterest, sharing on Facebook and posting pics to Instagram. See you there. 🙂
As an Amazon Associate I earn from qualifying purchases.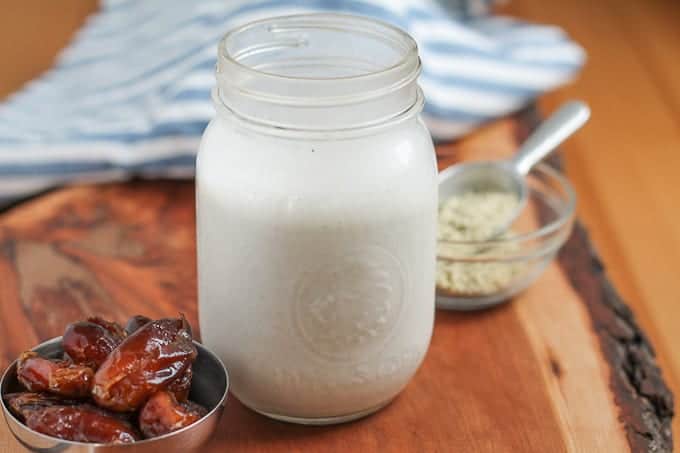 How to Make Hemp Milk
How to Make Hemp Milk. This non dairy milk is so easy to make yourself with no straining required!
Keyword:
dairy free milk, gluten free recipe, hemp milk
Instructions
Blend all ingredients in a high powered blender and pour into a large glass jar with a lid. If using a Nutri Bullet type blender: make this recipe in 2 batches and soak your dates in hot water for 5 minutes beforehand to soften them.

Store in the fridge for up to 3 days, shaking well before using.
Nutrition Facts
How to Make Hemp Milk
Amount Per Serving
Calories 160
Calories from Fat 99
% Daily Value*
Fat 11g17%
Potassium 34mg1%
Carbohydrates 5g2%
Protein 9g18%
Vitamin A 130IU3%
Calcium 35mg4%
Iron 3.5mg19%
* Percent Daily Values are based on a 2000 calorie diet.