So. Coffee.
I know that awhile back I proclaimed, ever so confidently, that I had quit drinking coffee. Obviously, that proclamation did not last. 😉 I feel no shame. I did quit for a few weeks and I really feel that I've got a handle on my intake of coffee. My strategy, that has held strong for a few months now, is to have two cups in the morning. It is not a breakfast replacement anymore. I start the day with some fresh squeezed lemon and water, then I get to grinding my beans.
Instead of skipping coffee altogether, now I take more care in choosing what kind of I drink. I take the mentality of quality over quantity. Coffee is one of those items that is highly sprayed with pesticides and also has a terrible reputation for not being ethically produced. I don't want to get all preachy but please investigate where your coffee comes from. I love the beans I buy from Chocosol Traders.
Now, to switch things up a bit I thought I'd do a little DIY Chai spice blend with my morning cuppa joe. It's super easy and done with spices you probably already have in your cupboard.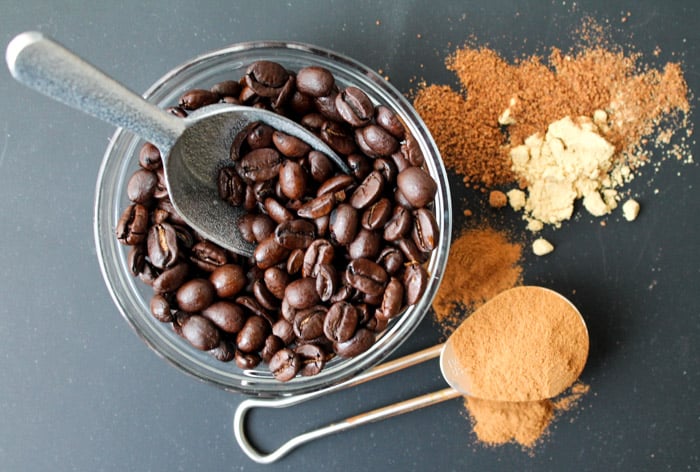 Simply grind your beans and add in the spices. I used cinnamon, nutmeg and ginger.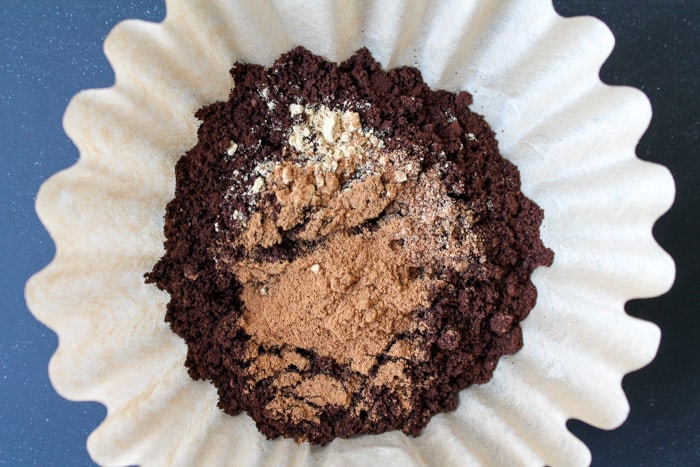 Stir everything well and get percolating!
It smelled amazing as it brewed away on the counter. I was so pumped to try it out. 🙂
The result turned out exactly how I had hoped. It got my mind spinning of how I could make other flavoured coffees. Maybe some vanilla bean with the ground coffee or even grind up some hazelnuts and toss those in. The combinations are limitless!
I slurped back my two cups, popped a couple of Chocolate Chia Power Balls in mouth and jetted off to the gym. I gave my morning a two thumbs up. 🙂

As an Amazon Associate I earn from qualifying purchases.
Chai Spiced Coffee
Keyword:
chai spiced coffee
Instructions
Mix all ingredients together well and brew
Nutrition Facts
Chai Spiced Coffee
Amount Per Serving
Calories 2
Calcium 7mg1%
Iron 0.1mg1%
* Percent Daily Values are based on a 2000 calorie diet.