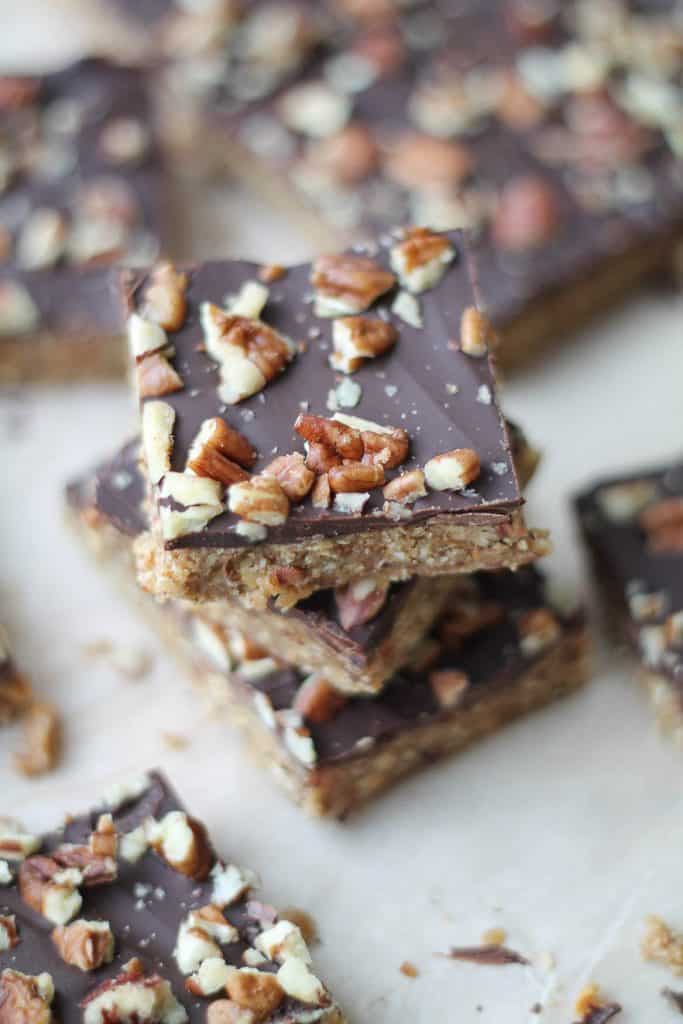 Life is funny.
It was just a few weeks ago that I was writing that I had such an uneventful life with no really exciting day-to-day escapades to regale you with. That, my friends, has changed. These last few weeks have been a whirlwind. We suffered a huge loss, weathered a health scare and made a huge life decision.
I'll fill you in on the last two details in the next few weeks, but suffice it to say, BIG stuff has been happening.
I've been cooking up a storm lately and have lots of great meals to share, but today, being Friday, we are celebrating a little with a tasty treat. These No Bake Chocolate Pecan Bars are so decadent you would never guess they are made from simple whole foods and sweetened with dates and maple syrup.
Can you say clean eating? I can. It's spelled No Bake Chocolate Pecan Bars. 😉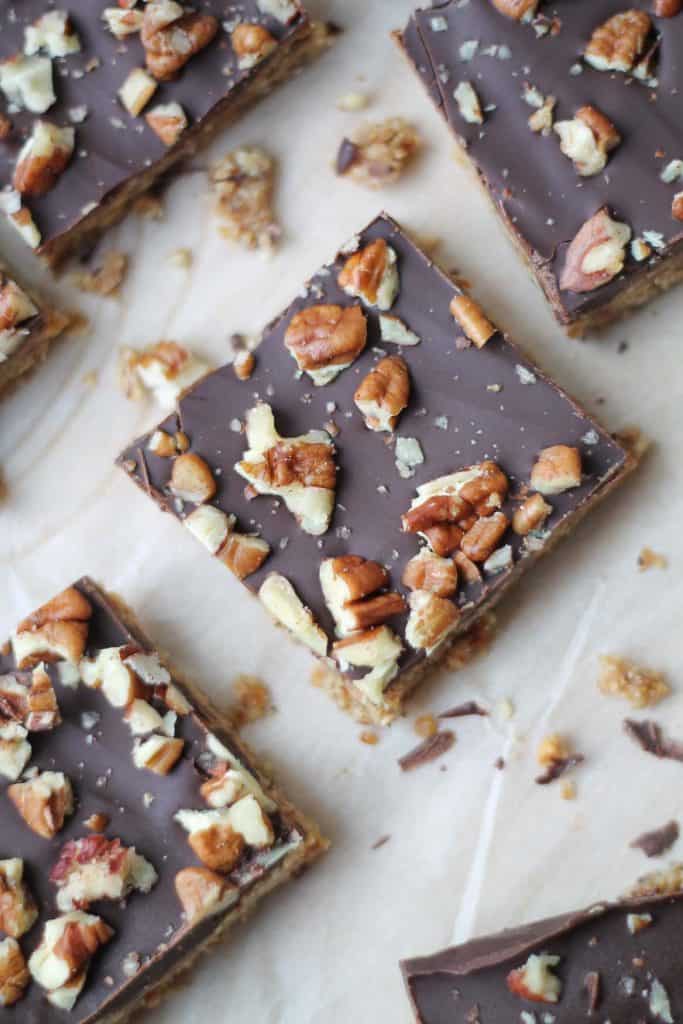 I used pecans in this recipe because I love that 'Turtles' taste. I know that the store bought Turtles are pure chemical, GMO crap so, I fork over the big bucks for pecans out of the bulk bin. If you wanted to cut the cost a bit choose walnuts, peanuts, any nuts really. They all should work. But the way I look at it, pecans are an investment in me. I disagree when people say you shouldn't reward yourself with food. I think spending your dollars on the best quality food you can is the best indulgence of all.
Instead of fancy shoes, I have organic cheese. No pricey perfume, either. It's toxic anyway! We bought a good blender in place of expensive scents. Green Smoothies serve me better than Chanel Number 5.
And pecans? Well, that goes without saying. Worth every penny. Yum.
Have a great weekend, all!
Yields 16
No Bake Chocolate Pecan Bars - Gluten Free & Vegan
Ingredients
2 cups pecans + 1/2 cup crushed pecans for the top
1 cup oats (use certified gluten free for allergies)
3/4 cup pitted medjool dates
1/3 cup peanut butter
2 tbsp. maple syrup
1 cup dark chocolate chips
2 tsp coconut oil
Instructions
Line a 9x9 with parchment paper and set aside
Add the 2 cups of pecans and the oats to a food processor and pulse until the nuts are pulverized ant the oats are like flour. Add the dates, peanut butter and maple syrup to the food processor and buzz it again until it starts to form a dough. It should stick together when you pinch it between your fingers
Press it into the lined 9x9 and place in the freezer while you make the chocolate topping
In a small saucepan over medium low heat, add the chocolate chips and coconut oil. Stir until the chips have melted and the mixture is smooth. Take the base out of the freezer and pour the melted chocolate evenly over the top. Spread it with a knife to make it even if you need to. Sprinkle the top with the 1/2 cup of crushed pecans
Put back into the freezer to set. This should take about 30 minutes to an hour
Slice into bars
Keep in the fridge or freezer
7.6.7
37
https://thehonoursystem.com/no-bake-chocolate-pecan-bars-gluten-free-vegan/