Alrighty folks, it's Christmas Eve! You may have noticed the theme of sweet stuff around here for the last little while. Tasty morsels like Rice Crispy Chocolate Bars, Rice Crispy Cookies, and Health Fudge. All delicious and worthy of any cookie or treat tray. To round things out, I have one more recipe adapted from my Mom's cookbook.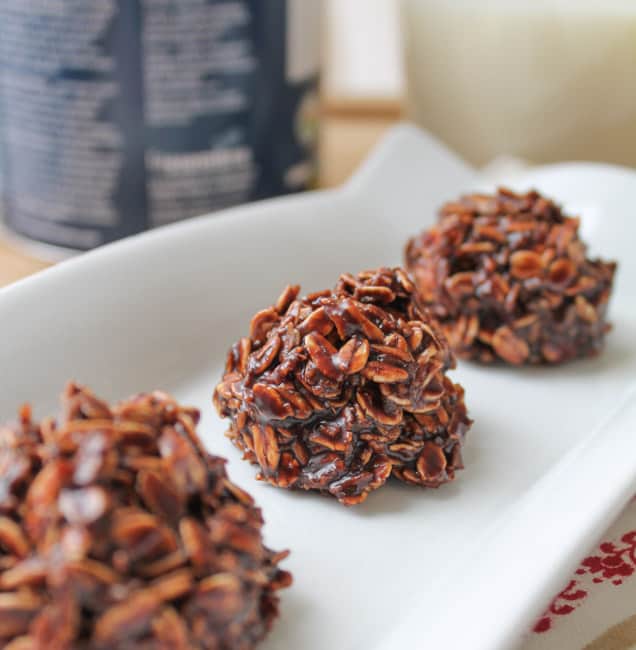 This recipe was tucked away loosely on a separate piece of paper. It was written by a woman named Margaret, who worked in our home, helping with things like cooking and cleaning when my Mom became to sick to take care the massive operation that was taking care of our household of six. My Mom really liked Margaret and so did I. She has spiky white blond hair, chubby cheeks and a big, fun personality. She liked to cook and I think my Mom absolutely loved having someone else cook for her for a change. Margaret's dishes were all so different from my Mom's usual rotation and she would always ask Margaret to write down the ones she especially liked.
This was one of them. It was called Chocolate Rocks. They are fudgy, laced with coconut and full of the goodness of oats.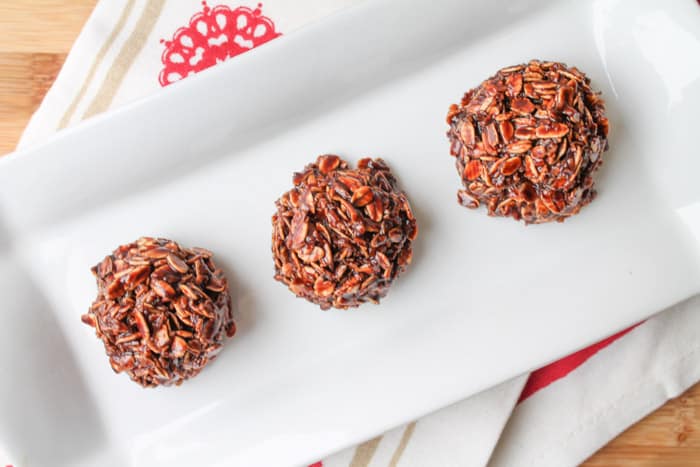 It wasn't made with coconut sugar/oil and it didn't specify whether or not the oats were gluten free but the idea remains the same. Simple, easy and really good. Really, really good. 🙂
When I say easy, I mean, can you stir? 😉 Melt together your coconut oil (non-vegans can use organic butter) with the coconut sugar and your milk of choice then stir in the cocoa and oats. Boom. Macaroons.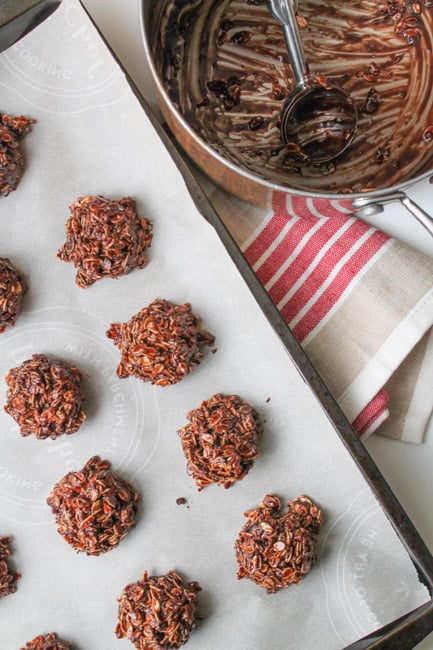 I'm willing to bet these 'chocolate rocks' will be a hit at your home during the holidays like they have been at mine (we've made this twice in the last couple of weeks).
All the best wishes for Christmas everyone!!
As an Amazon Associate I earn from qualifying purchases.
Fudgy Coconut & Oat Macaroons – Vegan & Gluten Free
Keyword:
fudgy coconut oat macaroons
Instructions
In a medium sauce pan melt together coconut oil, sugar, and milk over medium low heat until blended well

Remove from heat and stir in cocoa powder. Mix well

Stir in vanilla and oats and mix well again

On a parchment lined baking sheet, using a small disher, scoop out heaping tablespoon sized macaroons. Refrigerate for 30 minutes to set

Store in the fridge in a sealed container