These homemade Alabama Firecrackers will be the fiery hit of your next bash! Simply combine ingredients and let them do their magic. This seasoned cracker recipe is a super easy appetizer to get ready the day before your party or picnic.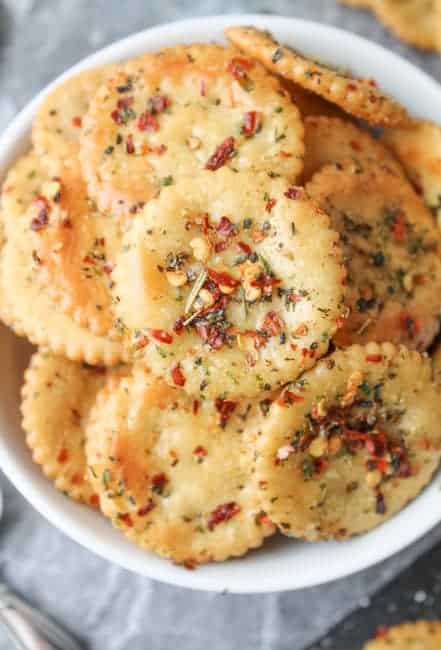 I love these Alabama Firecrackers whenever I need a great appetizer that I know will impress the masses. These crackers are delicious AND unique.
It's the Oscars this Sunday!
So exciting.
I'm a big fan of all of the awards shows, but the Oscars is always the crème de la crème. The glitz and glamour is over the top.
The gowns, the hairstyles, the million dollar jewels and the million dollar smiles all completely dazzle me.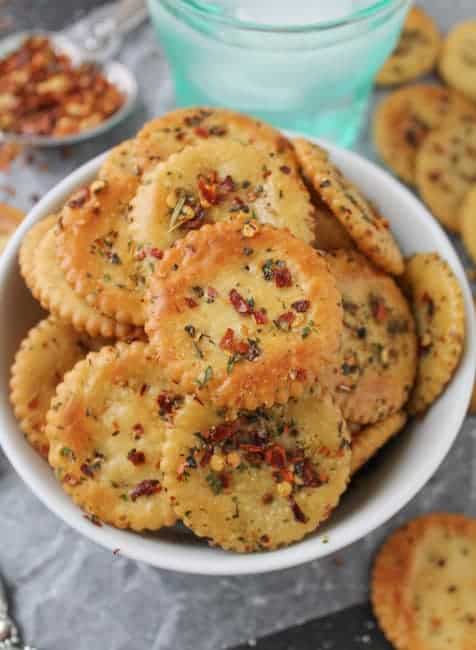 So when my fellow blogger Haley, who writes the Cheap Recipe Blog, asked me if I was interested in contributing to group of recipes with an Oscar theme I was so in.
Each blogger chose one of the nominated Best Picture films and was tasked to create something themed around that movie.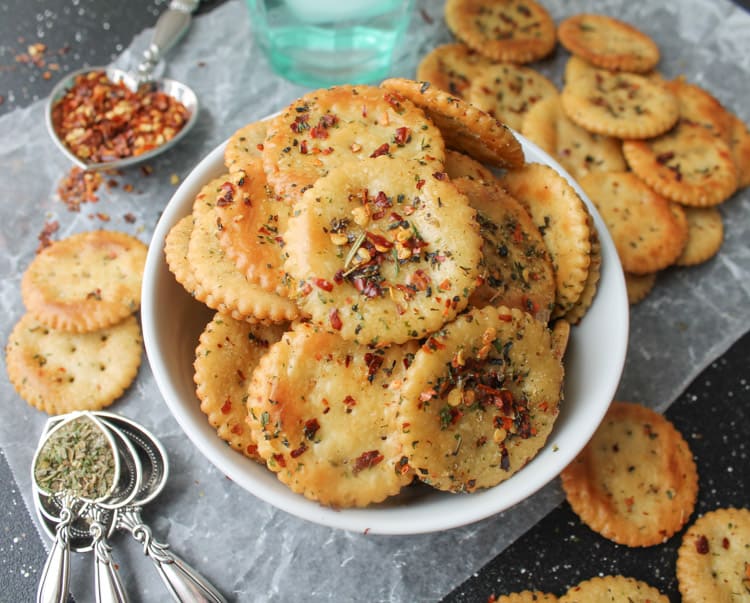 Set in the cities of Montgomery and Selma, Alabama, Selma recounts the tale of Martin Luther King's crusade to change the laws in the South, to allow the black population equal rights to vote. David Oyelowo's portrayal of MLK was kind of chilling. The way he embodied the mannerisms and cadence of King's sermons during the church scenes was uncanny.  I felt so riled up and wanted to join the march! It's a shame Oyelowo himself wasn't nominated for the lead role.
It's a heavy topic, but this post is supposed to be celebratory. This IS an Oscar Party after all. So let's talk snacks! I searched out Alabama themed appetizers that would fit the location of the movie Selma, and struck gold.
These Alabama Firecrackers were a massive hit with both us and my lucky co-workers taste testers.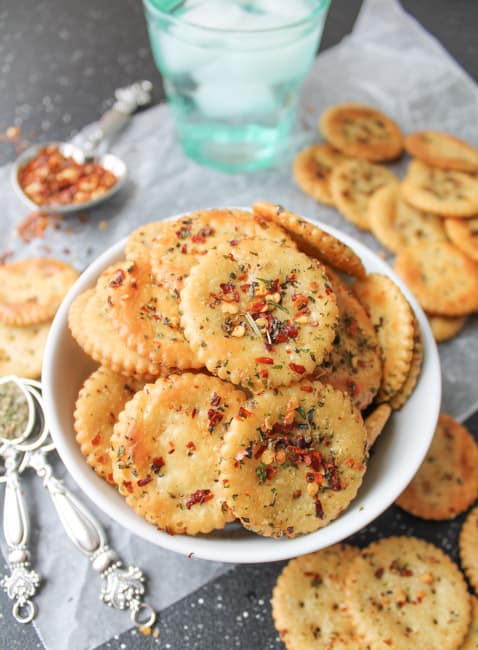 Easy to make and something different, yet familiar. Your party guests are going to gravitate to them, for sure. Maybe even grab a creamy dip to offset the spice. Because, there is spice. That's why they're called firecrackers!
HOW TO MAKE ALABAMA FIRECRACKERS
I used two boxes of these crackers: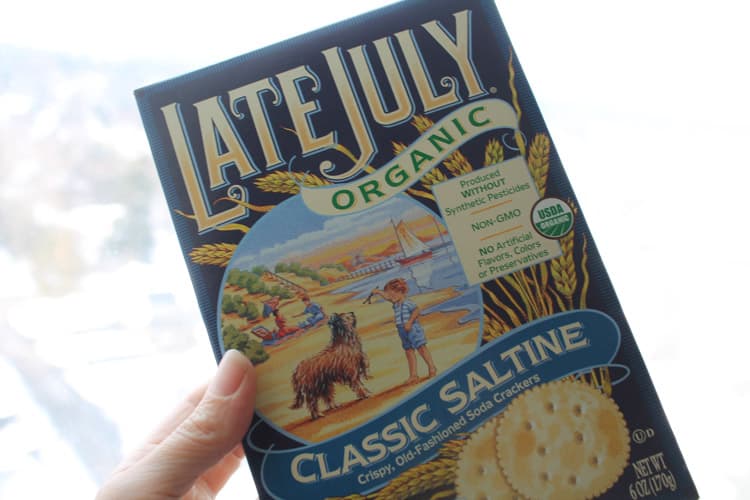 Usually, I would be advocating making your own crackers from scratch, but lets be honest. I'll be too busy spot shining the bathroom and hiding things under the bed/in the closets before the guests arrive to be baking crackers. 😉
These Alabama Firecrackers are eas-y.
Place your crackers in a large Ziploc and pour in your olive oil.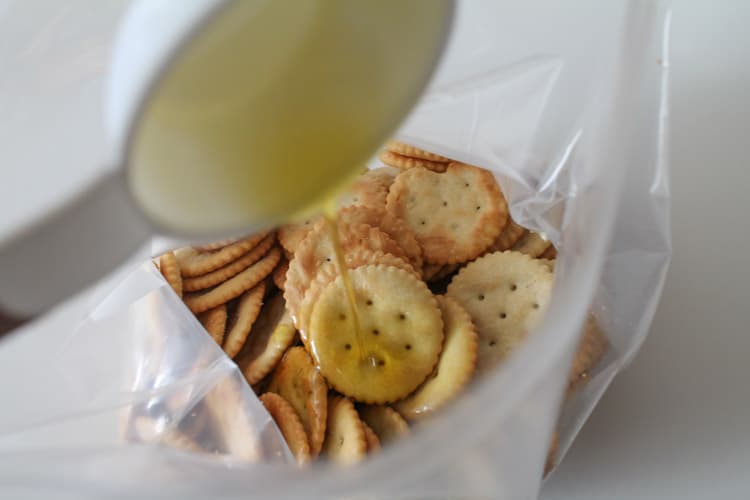 Sprinkle with Italian seasonings and then the heat.
Chili flakes city.
You can moderate the chilis if you like, but they really are what makes this snack fun and unique. Like I said earlier, you could compliment it with something creamy to dip.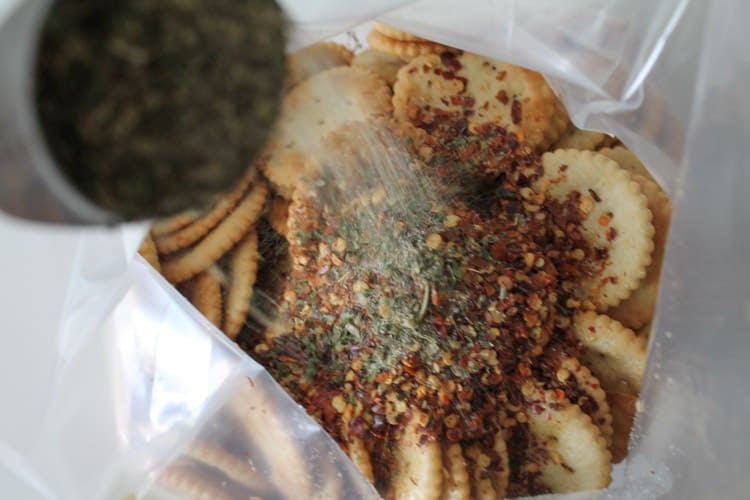 So back to easy.
Leave the crackers overnight in the Ziploc bag and you are set for your party the next day.
Did I mention they were easy? 😉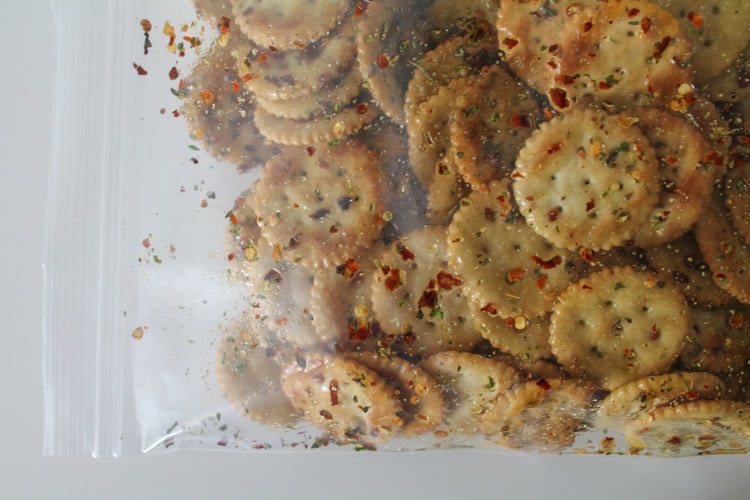 Spicy, rich, crispy and totally munchable!
I hope you try these out.
They were super fun. 🙂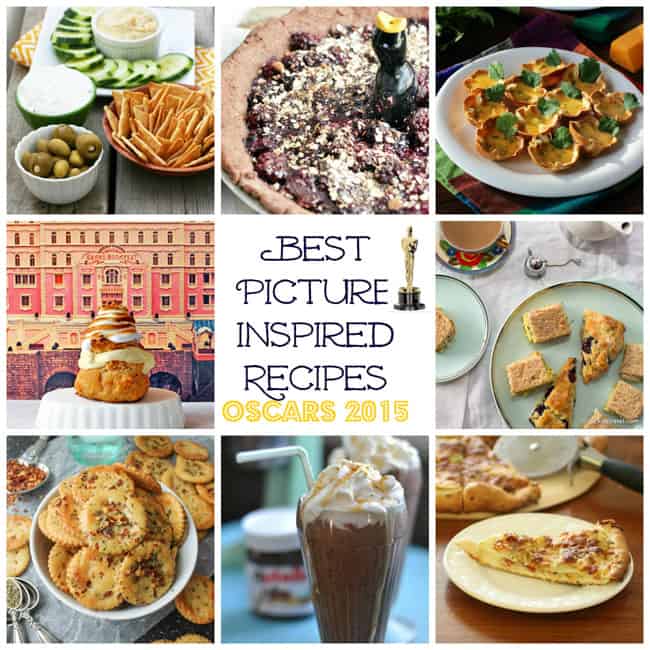 Ingredients
2 170g. boxes of saltine crackers
3/4 cup olive oil
2 tbsp. Italian seasoning
3 tbsp. chili flakes
Instructions
Empty cracker boxes into a large Ziploc bag and cover with the olive oil. Coat the crackers with the oil and sprinkle in the spices
Seal the bag and turn it over and over until the crackers are all well and evenly coated.
Leave at room temperature in the sealed bag overnight, turning it over every so often
Serve with a creamy dip if desired
7.8.1.2
464
https://thehonoursystem.com/alabama-firecrackers-best-picture-oscar-themed-recipes/
Check out the rest of the Oscar themed treats below:
………………………….
American Sniper: The $10 Mezze Platter from Cheap Recipe Blog
Birdman: Vegan Blackberry Whiskey Pie With Chocolate Pie Crust from Nellie Bellie
Boyhood: All-Natural Texas Queso Tortilla Cups from Carpe Season
Grand Budapest Hotel: Lemon Chantilly Cream Puffs from Femme Fraiche
The Imitation Game: High Tea from Pickles Travel
The Theory Of Everything: Boozy Nutella Milkshakes from Dining With Alice
Savoury Table: Golden Potato Bacon and Rosemary Pizza