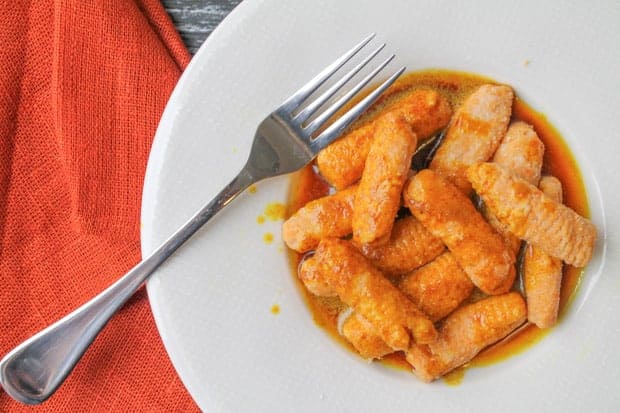 My obsession with the delicious sweet potato continues 🙂 I've stuffed them, turned them into a rich gratin and, today I'm sharing Sweet Potato Gnocchi. I used a combo of quinoa flour and coconut flour to keep things gluten free. Pairing the gnocchi with a curried brown butter was the perfect accompaniment. The spicy with the sweet.
Making your own gnocchi is kind of something you have to do by feel. Potatoes all vary in size and the amount of flour you add depends on the potato to flour ratio so your own judgement is in play here. I used large potatoes because if I'm going through the process of making my own gnocchi from scratch then I'm making big batch. Work smart, people!
The steps aren't hard, just time consuming. Firstly, bake up those potatoes and peel the skins off.
Mix in your egg and then your flours. I intended to use only quinoa flour but due to the massive size of my potatoes I ran out of it! But, like any good food blogger, I have a pretty well stocked pantry and I decided on adding in coconut flour. It was a good call as the sweetness fit right in 🙂
Once your dough is formed, break it into four smaller balls, then, on a floured surface, form ropes out of the balls. Place the ropes onto a baking sheet and pop into the fridge for 30 minutes to set. Then cut your ropes into even inch squares.
To form the gnocchi, I used a gnocchi board that I bought at Stir Kitchen Store awhile back. They are inexpensive and really make it seem much more authentic. I got comfortable at the kitchen table and totally channeled my inner Nonni while I made my homemade gnocchi on my own gnocchi board. Molto bene!
Cooking gnocchi is the easiest part. Once your water has boiled, pop in your gnocchi and when it floats it's done. Boom!
The curried brown butter sauce is very quick and simple, which is nice after spending the entire afternoon making the gnocchi 😉 Toss the butter into a small saucepan over medium low heat until it's browned then stir in your spices. Drizzle over your gnocchi and don't forget some shaved Parmesan cheese. I consider it a necessity and you should listen to your Nonni 🙂
Bon Appetito!

As an Amazon Associate I earn from qualifying purchases.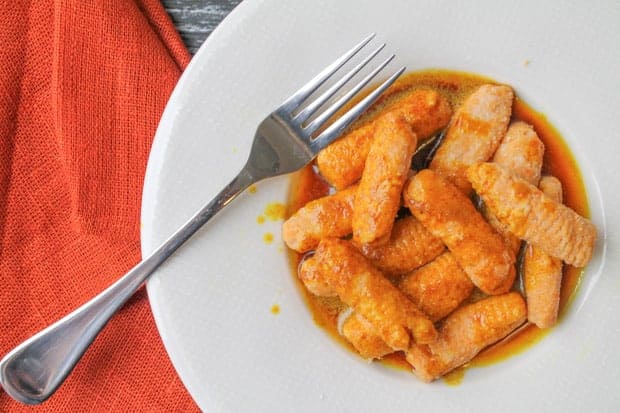 Sweet Potato Gnocchi with Curried Brown Butter – Gluten Free
Keyword:
sweet potato gnocchi
Instructions
Mash the baked/peeled potato and add in the egg, sea salt & pepper and 2 cups of flour

Mix lightly with a fork and add more flour as needed. Your dough will be slightly sticky, but should still be workable. Try not to over-work it or your gnocchi may be a little tough

Transfer your dough to a floured surface and divide it into 4 balls. Roll them into long ropes, about ½ inch thick. Transfer to a parchment lined baking sheet and refrigerate for 30 minutes

Cut 1 inch pieces with a floured knife. Roll the pieces out on a gnocchi board or use a fork. Transfer the pieces onto a parchment lined baking sheet (I needed 2 sheets as my yield was over 80 dumplings!)

At this point, if you want to freeze some of your dumplings, pop the baking sheet into the freezer for 15 minutes then transfer them into a ziploc bag

Bring a pot of water to boil, throw in your gnocchi, and when they float they are cooked

Meanwhile, over medium heat, melt your butter. Turn the heat down to medium low and stir until the butter is browned and fragrant. Add in the spices and stir well for 2- 3 minutes
Nutrition Facts
Sweet Potato Gnocchi with Curried Brown Butter – Gluten Free
Amount Per Serving
Calories 207
Calories from Fat 54
% Daily Value*
Total Fat 6g 9%
Cholesterol 23mg 8%
Sodium 81mg 3%
Potassium 155mg 4%
Total Carbohydrates 29g 10%
Protein 5g 10%
* Percent Daily Values are based on a 2000 calorie diet.