This gluten free Homemade Ranch Dressing recipe is a lighter version using Greek Yogurt. You can re-create the classic ranch dressing from scratch. Super easy, healthy and tastes like the real thing!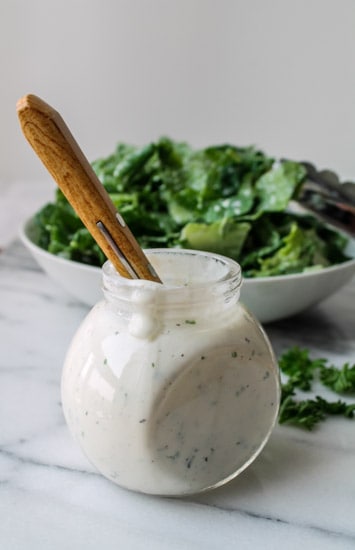 Does anyone else remember having salad with copious amounts of ranch dressing and feeling all proud that you were eating healthy?
Yeah, not so much.
I loved ranch dressing growing up for dipping carrots into and pouring over salads. However, I can't recall the last time I had it. I can't remember the last time I had any pre made, store bought salad dressing for that matter!
I've been shaking up my own dressings for years now. With all the garbage chemicals in the bottled versions it's something to easy not to do.
Typically, I stick to vinaigrettes so I thought it would be cool to try and recreate a healthier ranch dressing and relive my childhood a bit.
Stirrup pants, not required. 😉
How to make homemade Ranch Dressing
First thing was to get some seasonings together to mimic those in the pre made packages.
I used a cornucopia of spices.
Some dill, some onion powder,  garlic powder, a bit of thyme, sea salt and coarse black pepper.
I also used some fresh chopped parsley because I had some.
You could use dried or fresh seasonings.
Go with whatever you have.
For the base of this dressing I used Greek yogurt. There was a 1/4 container left in the fridge from the chipotle yogurt I used for my Healthier 7 Layer Dip, so into this dressing it went.
I added a bit of milk to thin it out a bit.
Add in the seasonings and give it a really good stir.




Store it in an airtight glass jar and give it an hour or two in the fridge to set and allow the flavours to develop.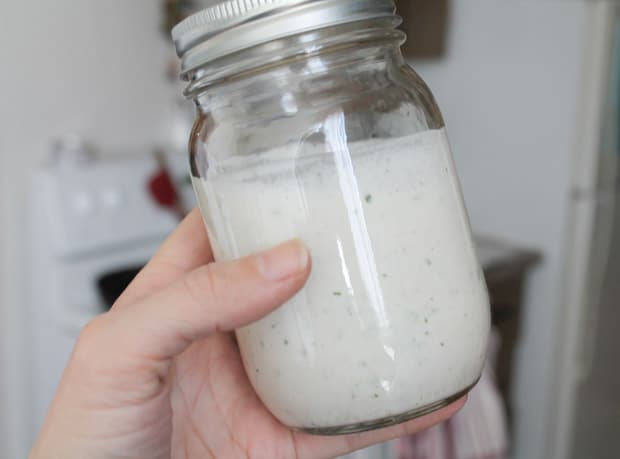 This is a healthier version of what you might be used to and isn't quite as rich as the bottled version.
That being said I really liked it. Joe gave it thumbs up and that's like money in the bank. 😉
The flavours were so close to the 'Hidden Valley' and the Greek yogurt brought the creaminess. I chopped up a cold chicken breast from the fridge (yesterday's Baked Honey Mustard chicken) and tossed it in with a huge bowl of greens dressed in the ranch-y goodness.
Healthy and satisfying!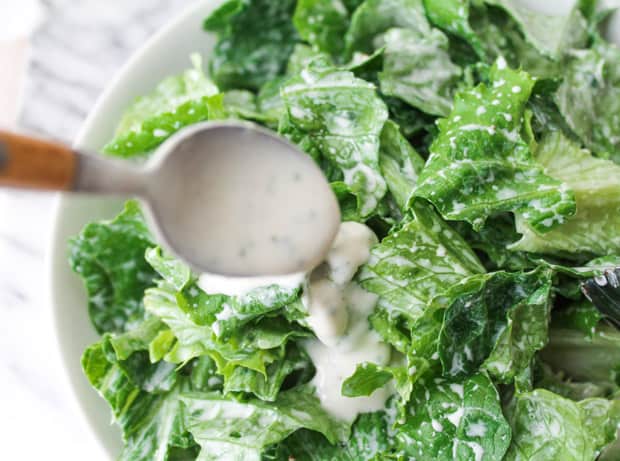 MORE GLUTEN FREE DRESSING RECIPES:
*Originally posted February 7, 2014. Updated May 11, 2019*
Be sure to follow me on social media! I love pinning to Pinterest, sharing on Facebook and posting pics to Instagram. See you there. 🙂
As an Amazon Associate I earn from qualifying purchases.
Homemade Ranch Dressing
Course:
Salad, Side Dish, Snack
Keyword:
gluten free recipe, ranch dressing, salad dressing recipe
Instructions
Whisk the yogurt and milk together until well combined

Whisk in the parsley, followed by the remaining seasonings

Store in the fridge in an glass jar for an hour to set before serving

Shake the jar well before using

Will last for at least a week in the fridge (will depend on the best before date on the yogurt)