This recipe is a healthier version of Homemade Ranch Dressing without sour cream. You can re-create the classic ranch dressing from scratch. Super easy, healthy, and tastes just like a restaurant!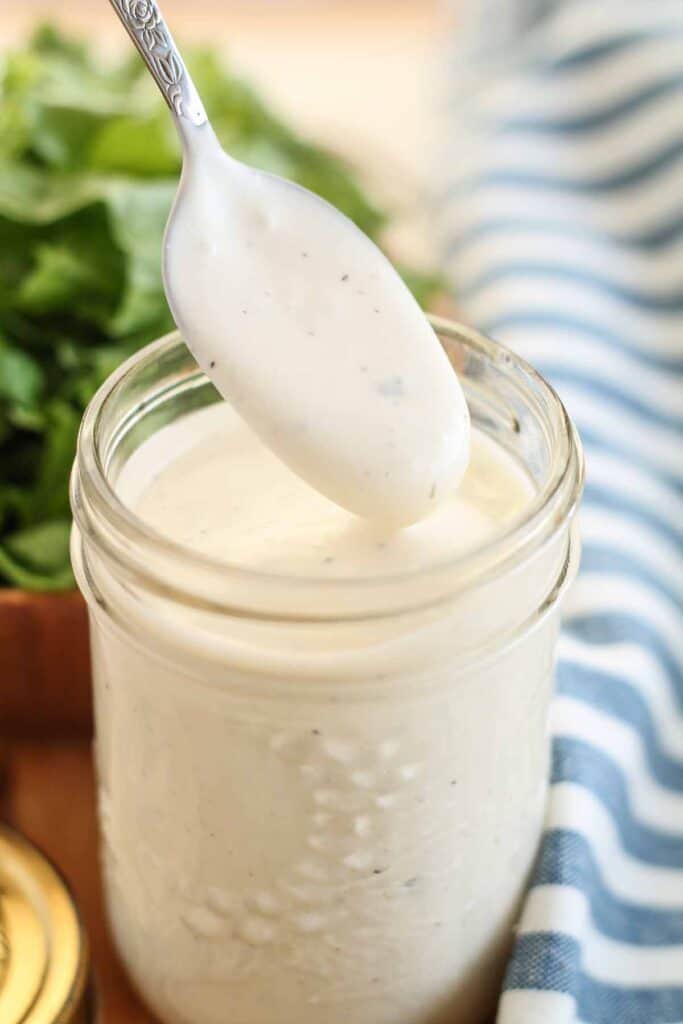 Does anyone else remember having salad with copious amounts of ranch dressing and feeling all proud that you were eating healthy?
Yeah, not so much.
I loved ranch dressing growing up for dipping carrots into and pouring over salads. However, I can't recall the last time I had it! Time to change that.
So how do you make ranch dressing from scratch?
I've been shaking up my own dressings for years now. With who knows what in the bottled products it is a fairly easy swap and I make salad dressing all the time.
Typically, I stick to vinaigrettes so I thought it would be fun to recreate a healthy homemade ranch dressing and relive my childhood a bit.
Stirrup pants, not required. 😉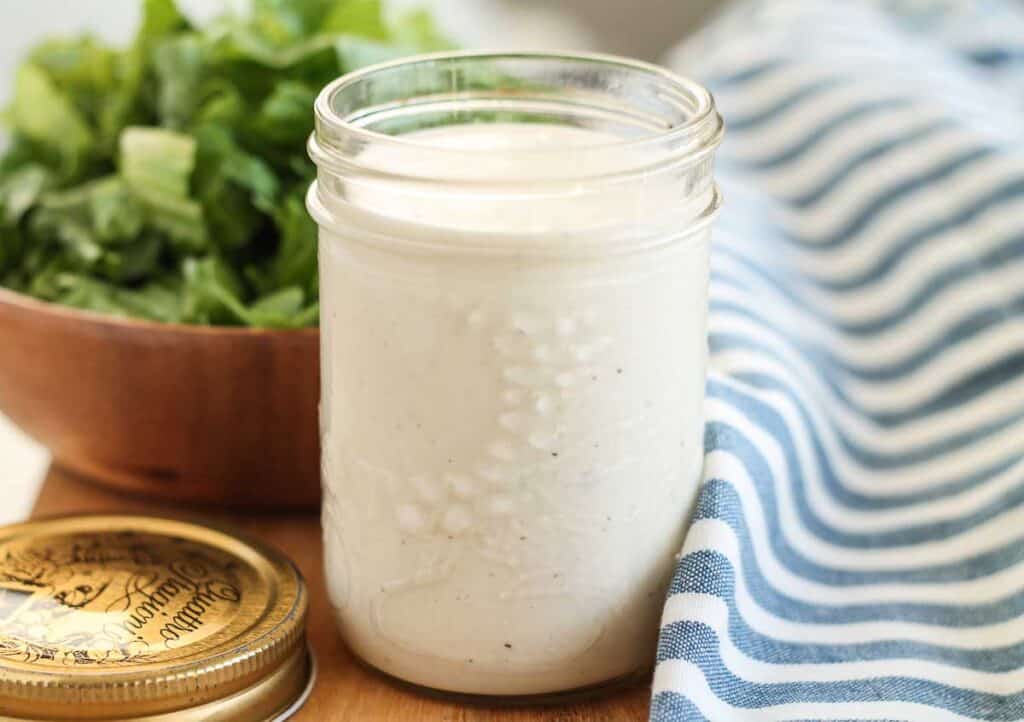 HOMEMADE RANCH DRESSING
First thing is to assemble your own personal, homemade ranch dressing mix.
A fragrant cornucopia of spices:
dill
onion powder
garlic powder
thyme
sea salt
coarsely ground fresh black pepper.
TIP! Make sure the pepper is coarsely ground because you want the occasional hit of a big piece of peppercorn in your dressing.
I also use some fresh chopped parsley because I happened to have some in the crisper but you could totally use dried parsley.
Go with whatever you have.
For the base of this dressing, we are using Greek yogurt.
TIP! Be sure to use a thick, Greek yogurt and not the regular kind of yogurt for your dressing to have the right consistency. Balkan yogurt would work also. The difference between Greek yogurt and Balkan yogurt is Balkan has lower protein and higher fat.
I add in a bit of milk for added creaminess.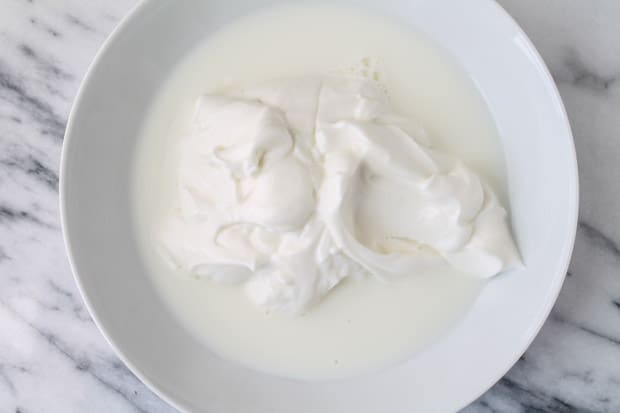 Whisk it up until the mixture is nice and smooth and creamy.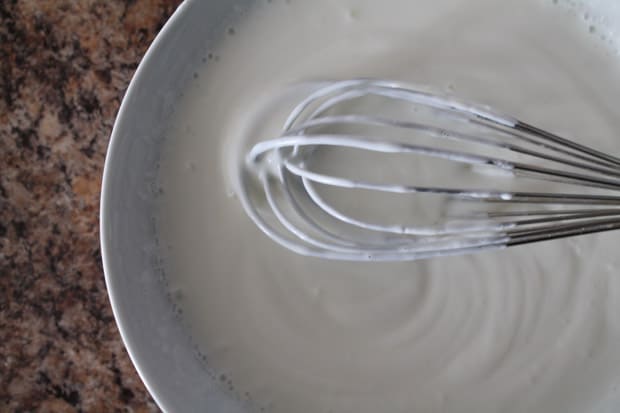 Doesn't the fresh parsley look pretty? I love a good pop of colour.
Add in the rest of the seasonings and give it all a really good stir.
And that is it! Simple, right? Homemade ranch dip in five easy steps.
HOW DO YOU STORE HOMEMADE RANCH DRESSING?
Store it in an airtight glass jar and give it an hour or two in the fridge to set and allow the flavours to develop when it has first been made. After that keep unused portions in the sealed mason jar in the fridge for up to a week.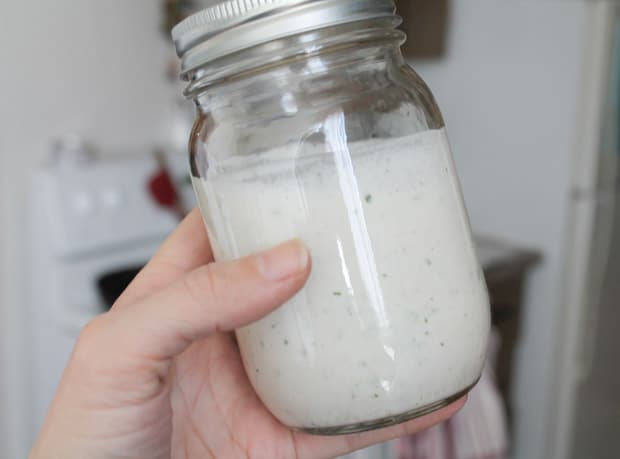 This is a healthier version of what you might be used to and isn't quite as rich as the bottled version.
TIP! If you want a creamier, richer version, you could totally use sour cream instead of Greek yogurt.
That being said I really like it. Joe gives it thumbs up and that's like money in the bank. 😉
The flavours are so close to the 'Hidden Valley' and the Greek yogurt brings enough creaminess for me.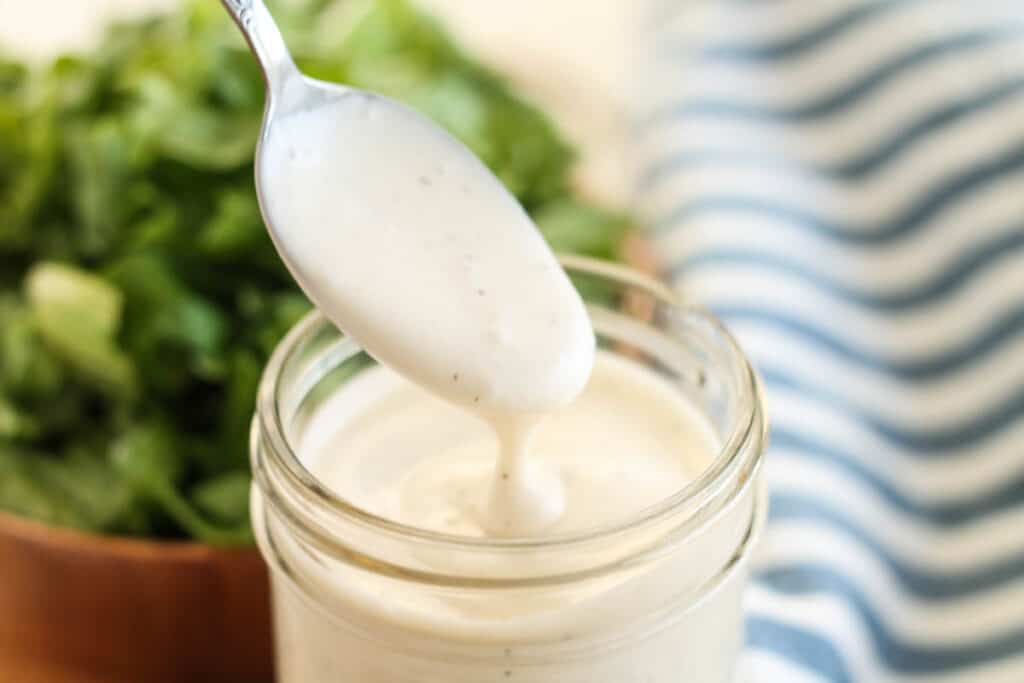 SERVING IDEAS FOR THIS RECIPE
I chopped up a cold chicken breast from the fridge (yesterday's dinner was Baked Honey Mustard chicken) and tossed it in with a huge bowl of greens dressed in the ranch-y goodness.
More serving ideas:
as a dip for cut veggies
in this Ranch Chicken Taco Salad
stir in some adobe sauce for a spicy ranch dressing
as a salad dressing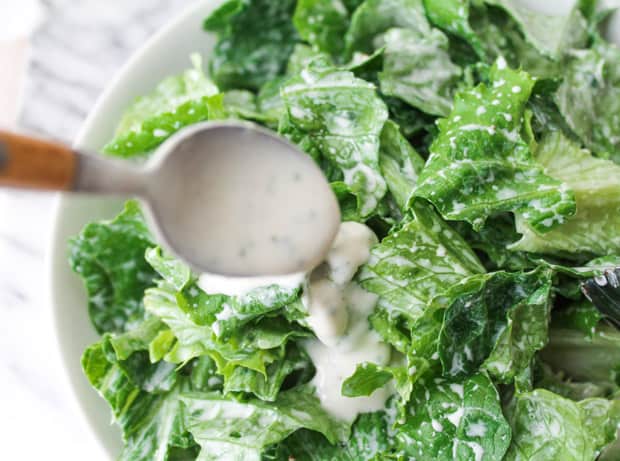 Is it cheaper to make your own ranch dressing? It really is about the same as far as cost goes, because store bought dressings can be pretty cheap, but the main idea is control of your ingredients.
MORE HEALTHY HOMEMADE DRESSING RECIPES:
*Originally posted February 7, 2014. Updated December 8, 2020*
Be sure to follow me on social media! I love pinning to Pinterest, sharing on Facebook, and posting pics on Instagram. See you there. 🙂
As an Amazon Associate I earn from qualifying purchases.
Homemade Ranch Dressing
This recipe is a healthier version of Homemade Ranch Dressing without sour cream. You can re-create the classic ranch dressing from scratch.
Course:
Salad, Side Dish, Snack
Keyword:
healthy ranch dresssing, homemade ranch dressing
Instructions
In a large mixing bowl, whisk the yogurt and milk together until well combined.

Whisk in the parsley, followed by the remaining seasonings.

Transfer to a mason jar with a tight-fitting lid and refrigerate for two hours.

Shake the jar well before using.

Keep unused portion in the fridge for up to a week.
Nutrition Facts
Homemade Ranch Dressing
Amount Per Serving
Calories 29
Calories from Fat 9
% Daily Value*
Fat 1g2%
Cholesterol 3mg1%
Sodium 211mg9%
Potassium 70mg2%
Carbohydrates 2g1%
Protein 4g8%
Vitamin A 73IU1%
Vitamin C 1mg1%
Calcium 51mg5%
Iron 1mg6%
* Percent Daily Values are based on a 2000 calorie diet.