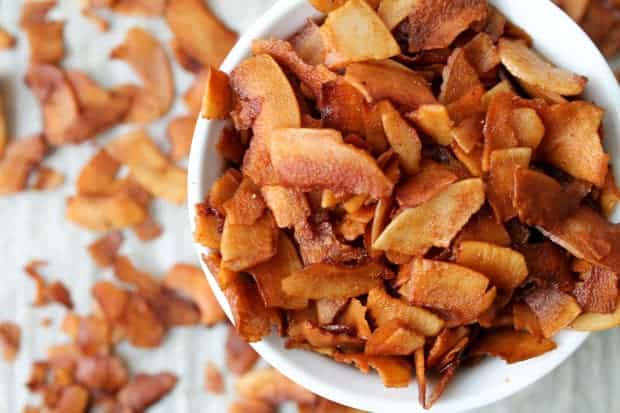 OK people, let's talk bacon. I've heard that for vegetarians and vegans one of the hardest things to give up is bacon. I guess I can see why. Bacon is pretty delicious. But whether or not you eat meat, bacon is probably not something you should be eating with any regularity. It is full of a host of additives that are extremely unhealthy, not to mention the obscenely high amount of sodium. Giving up bacon for all diets is a smart idea.
Now speaking of smart ideas, someone out there thought to turn flakes of coconut into something that really resembles bacon in both looks and taste. I found this recipe last week when the photo for it was next to my avocado cookie photo on foodgawker. I was admiring my own work and thinking how good my cookies looked when I spied Connoisseurus Veg's shot of coconut bacon. "What's this?" I thought to myself. "Bacon from coconut?" From that moment on I was on a mission.
The recipe had a relatively short ingredient list and I had all of the components except for one. Liquid smoke. I found it in the hot sauce aisle at the grocery store and I was off and running with Project Fake Bacon.
I used my own Faux Soy Sauce for this in place of the regular soy sauce called for in the recipe. I like my version because it is gluten free and has no soy! 😉
After mixing all the flavourings in a large bowl I added in the flaked coconut and stirred it well.
Here's my coconut ready for the oven …          
… and here's my coconut transformed into bacon bits!
I was super impressed how much the appearance was so similar to that of crumbled bacon.
What about the flavour? Was it bacon-y? I'm going to say … Yes! It was pret-ty darn close. I would recommend it as a sub for bacon in things like a BLT or on a salad. Being a non-vegan, I enjoyed mine sprinkled on top of some scrambled eggs doused with hot sauce and was a great addition.
It was a fun experiment and when I gave it to some co-workers to taste test, none of them guessed it was coconut but, all of them knew it was some kind of bacon. Try it for yourself!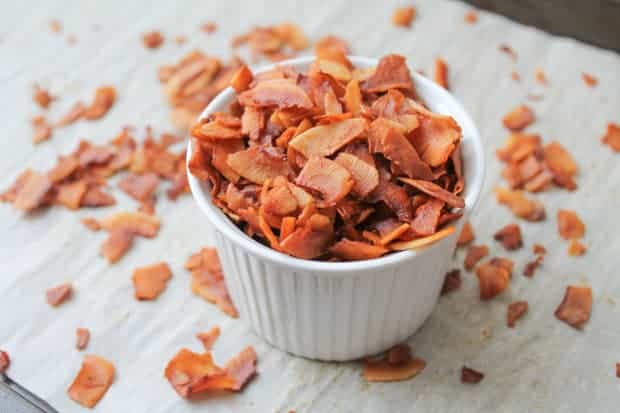 Lightly adapted from this recipe.

Coconut 'Bacon' – Vegan & Gluten Free
Ingredients
1 tsp liquid smoke
1 tsp olive oil
1 tbsp faux 'soy' sauce (or use regular soy sauce)
1 tsp maple syrup
1 tsp apple cider vinegar
¼ tsp smoked paprika
1 1/2 cups unsweetened coconut flakes
Instructions
Preheat oven to 325 and line a baking sheet with parchment paper.
Mix together all the seasonings in a bowl then add in the coconut and coat it well
Spread the coconut in an even layer on the parchment lined sheet and bake for about 15 minutes, stirring every 3-5 minutes watching that it doesn't burn. An oven thermometer comes in handy here
Remove from oven and let cool. I stored mine in mason jar on the counter
7.6.7
278
https://thehonoursystem.com/coconut-bacon-vegan-gluten-free/