Crunchy Sesame Chicken Slaw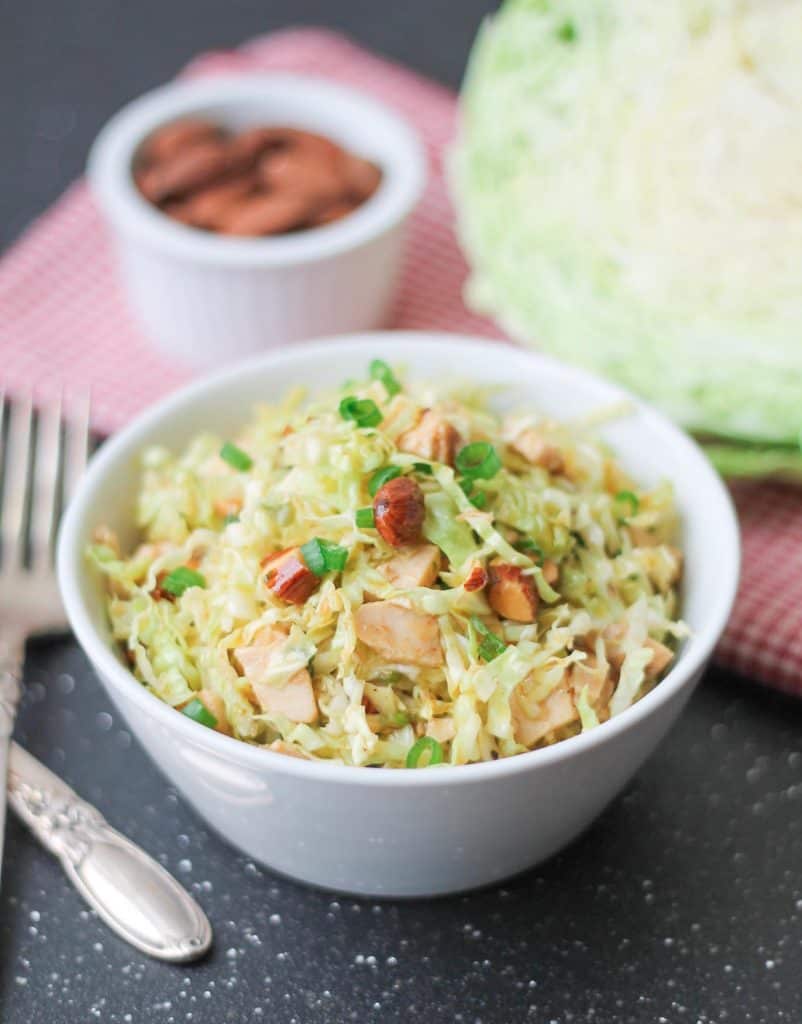 There's something so summery about a good slaw. I know there are a lot of folks super excited about fall arriving soon, and all of it's pumpkins and lattes and the like, but I don't count myself among them.
I love summer.
Living in Canada means seasons. We live in the eastern part of the country, in a sweet lakeside city just west of Toronto where the winter is long and cold. The first few snowfalls are picturesque and evoke childhood memories of sledding and snowmen. The next seventy-five snowfalls however, are not so romantic. So I grip tightly to summer and this Crunchy Sesame Chicken Slaw is helping me.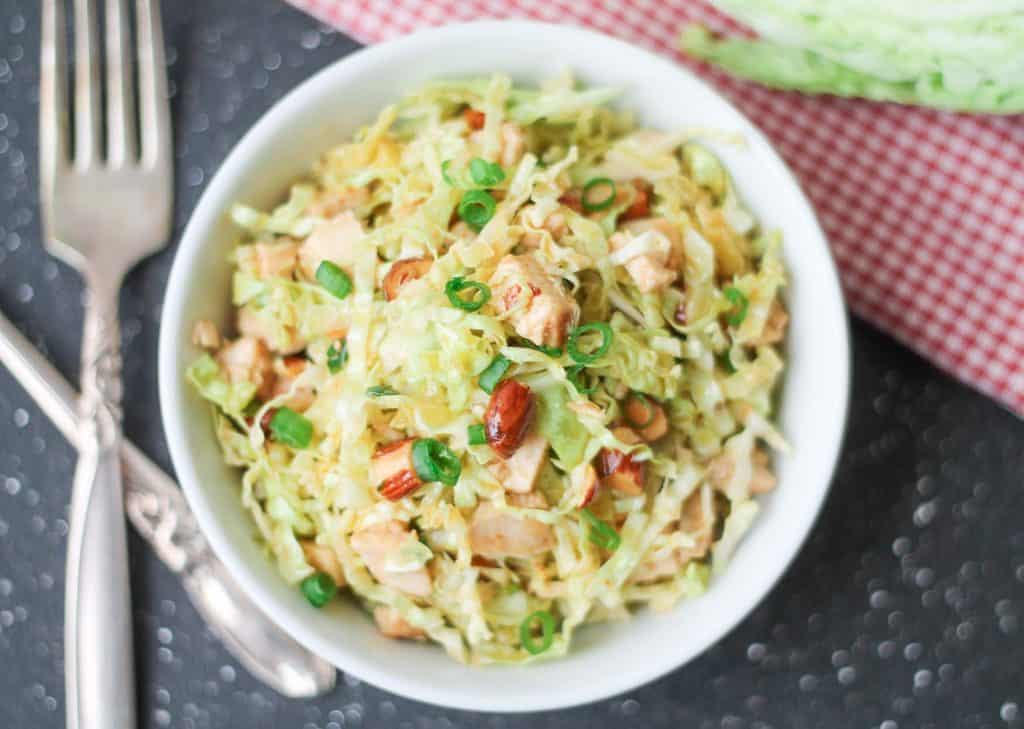 The perfect vehicle for leftover chicken, this sweet, tangy slaw is pulled together with the smoothness of toasted sesame oil. I love me some toasted sesame oil. Yum. I also love the shit out of cabbage! It stays forever in your crisper, which is useful because once you start shredding up a cabbage it just seems to grow and grow. It takes us a good two weeks to use up an entire cabbage. Cabbage is also a part of the all important cancer fighting cruciferous vegetable family and I'm always looking for ways to incorporate more of those into our diet.
You know what else cabbage has?
The crunch factor.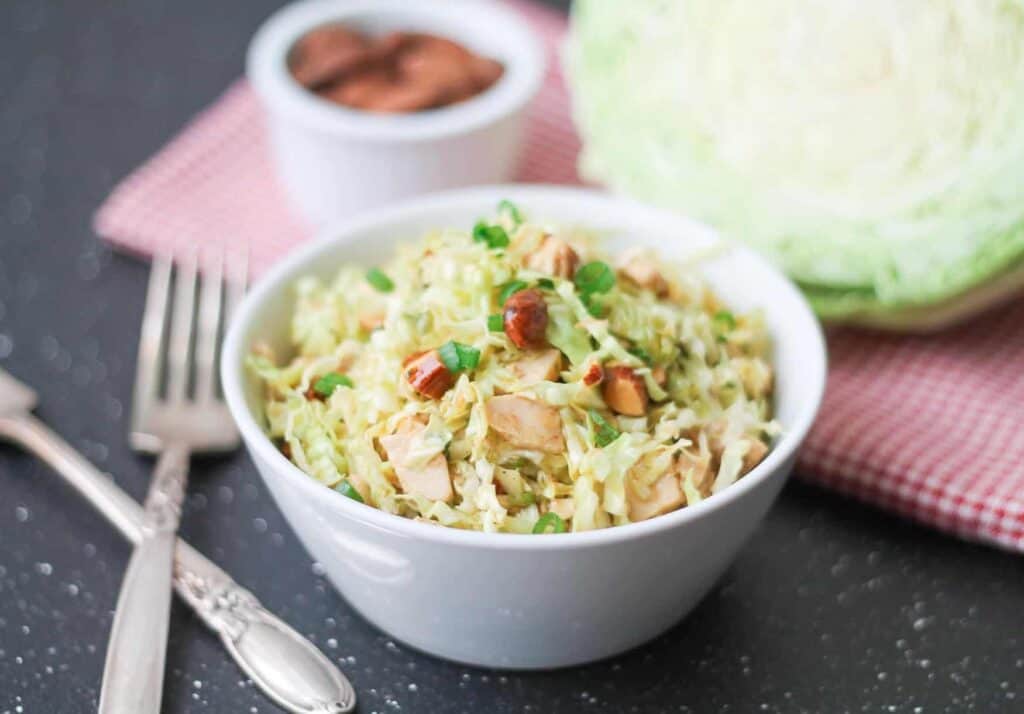 And I didn't stop there with the crunch. This slaw also has a good handful of chopped roasted almonds. Adding nuts or seeds to salads is a great way to elevate your dish to the next level. Each one you bite into is like finding a tasty little jewel. 🙂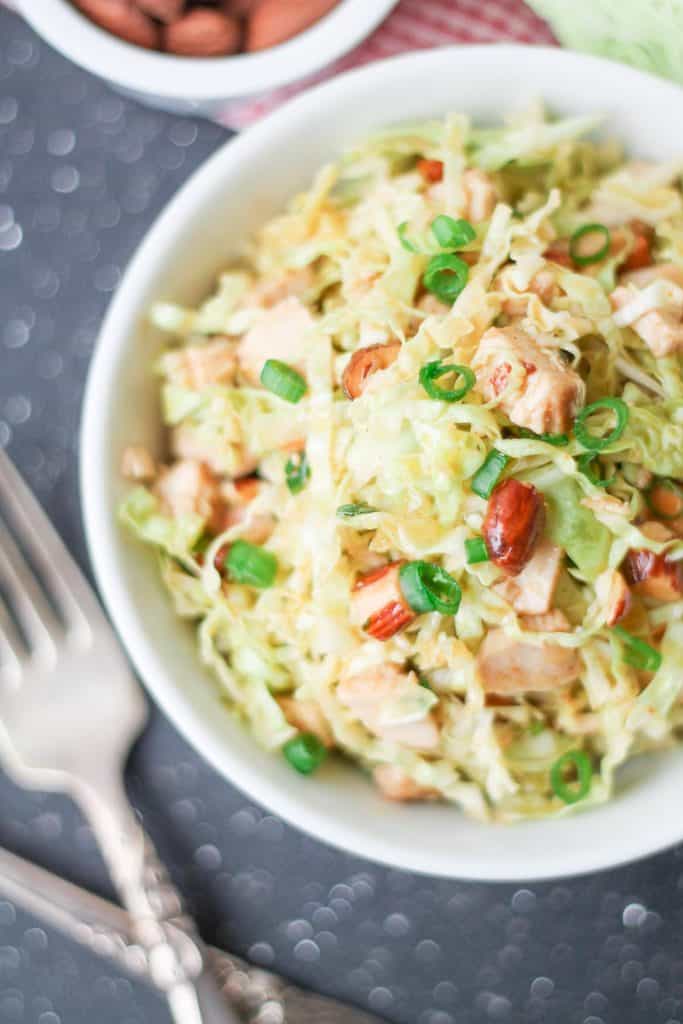 As an Amazon Associate I earn from qualifying purchases.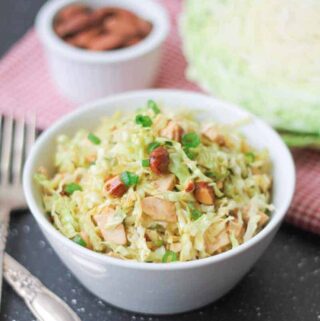 Crunchy Sesame Chicken Slaw
Instructions
In a large bowl, combine the cabbage, chicken, almonds and green onions. Set aside

In a small saucepan, over medium low heat, stir together the olive oil, vinegar, coconut sugar, coconut aminos and sesame oil. Stir until the sugar dissolves and remove from heat. Pour over cabbage mixture and toss well to coat

Store leftovers in a sealed container in the fridge for up to a week
Nutrition
Serving:
4
Calories:
555
kcal
Carbohydrates:
15
g
Protein:
32
g
Fat:
40
g
Saturated Fat:
7
g
Cholesterol:
89
mg
Sodium:
289
mg
Potassium:
511
mg
Fiber:
3
g
Sugar:
7
g
Vitamin A:
860
IU
Vitamin C:
22.9
mg
Calcium:
75
mg
Iron:
2.4
mg