Five Sweet Treats For Valentine's Day
Well everyone, the day has arrived. It's Valentine's Day! I had grand illusions of an amazing, decadent dessert in honour of St. Valentine but life crept up on me these last couple of weeks. Between working some extra hours to cover for a sick so-worker and obsessively watching the Olympics, I wasn't able to create the masterpiece I had envisioned. So instead I'm linking you up with five must try recipes from the blogosphere.
First up is the Best-Ever Chocolate Quinoa Cake  pictured above courtesy of Sarah at Making Thyme for Health. This cake is made from quinoa! If there's one thing I love it's anything with quinoa. Oh, and chocolate. 🙂 I feel like I can taste the cake just looking at the photo. It looks like a 'special occasion' dessert so if you're looking to impress a certain someone this Valentine's, this might be a sure thing. 😉
Next up: chickpea based Salted Chocolate Peanut Butter Bars. This recipe is from To Her Core which is a blog written by a gal name Dearna from Australia. The amazing thing about being a part of the blog community is connecting with people from all over. Ironically, Dearna lives in the town of Hobart, Tasmania which is next to a small town called Wynyard where my best friend lived as an exchange family as a teenager. The world is made so small by the power of the internet. Anyway, I love chickpeas and can't wait to experiment with baking them.
Number three is a Decadent Brownie recipe, made healthier with whole wheat flours and natural sweeteners like applesauce. Another great reason to check out this post? The cute Valentine's Day story about when Gretchen, who is half of the duo behind Two Healthy Kitchens along with BFF Shelley, knew that the fella she was dating was THE one. So cute.
Now how about some Red Velvet Cupcakes made without any creepy ingredients and coloured red naturally with fresh beet juice? This recipe comes from fellow Canadian blogger Eye Candy Popper and she promises that you won't taste the beets one bit! These cupcakes look mouth-watering and how fitting to serve up something red for Valentine's?
Finally one of my own. I asked my Valentine which was his favourite sweet treat on the Honour System. His answer was these Peanut Butter & Chocolate Chip Freezer Fudge and I can't disagree. These babies are super delicious and easy to boot.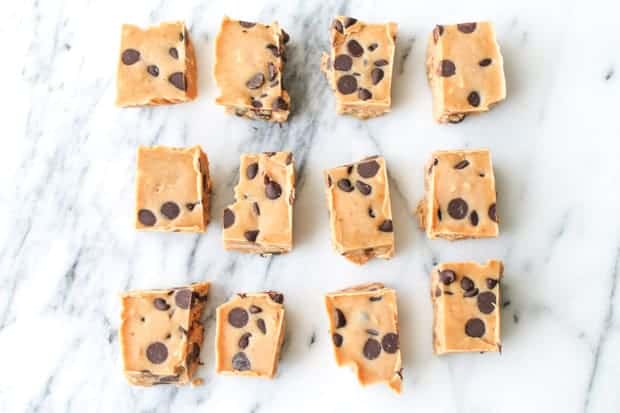 I hope you enjoyed this little link love post and have yourself a lovely Valentine's Day. It's supposed to be a full moon so it could be an interesting evening! 🙂